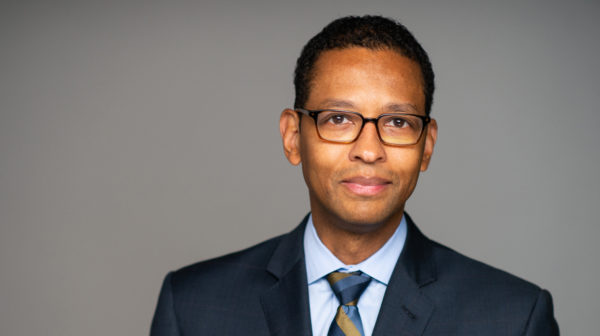 National Football League executive and Vanderbilt Board of Trust secretary Adolpho A. Birch III will visit campus for a suite of engaging lectures and activities on April 23-24. The events are part of the Chancellor's Lecture Series, designed to bring noteworthy experts and alumni to campus for enriching and personalized interactions with the Vanderbilt community.
In the days leading up to the National Football League draft, taking place in Nashville April 25-27, Chancellor Nicholas S. Zeppos will host Birch, the NFL's senior vice president of labor policy and league affairs, for a variety of discussions and panels on issues related to sports, law and society.
Tuesday, April 23
4 – 5 p.m.

Reaching the End Zone: Preparing for Success in College and Beyond
Black Cultural Center Auditorium
Open to all; R.S.V.P. at vu.edu/cls-birch

6 – 7:30 p.m.
Wednesday, April 24
8:30 – 9:30 a.m.

Breakfast with Office of General Counsel Staff
Spaces limited; express your interest by emailing oocevents@vanderbilt.edu

12 – 1 p.m.

Lunch & Learn: The Student-Athlete Experience
East Multipurpose Room, Recreation and Wellness Center
Open to all; conversation geared towards students and staff involved with athletics.
R.S.V.P. at vu.edu/cls-birch

5:00 – 6:30 p.m.

College Athletics, The Draft, and the Business of Professional Sports – A panel discussion featuring Adolpho A. Birch III, John Ingram and Carolyn Peck. Moderated by Chancellor Nicholas S. Zeppos. Panel starts at 5:30 p.m.; reception beforehand.
Student Life Center, Ballroom A
Open to all; R.S.V.P. at vu.edu/cls-birch
Birch, the son of the late Tennessee Supreme Court Chief Justice A.A. Birch Jr, graduated from Vanderbilt Law School, where he was Zeppos' student, in 1991. His responsibilities at the NFL focus on negotiation and oversight of critical league policies protecting the integrity of the game, including substances of abuse, steroids, gambling and conduct. He also has overseen the league's player engagement efforts, which focus on continuing and financial education, career development, career transition and clinical assistance, as well as its government affairs operations. He joined the Vanderbilt Board of Trust in 2014.
The Vanderbilt Chancellor's Lecture Series strives to connect the university and the Nashville community with leaders and visionaries who are shaping our world. For more information about the series, visit the Chancellor's Lecture Series website, email cls@vanderbilt.edu, or follow @Nick_Zeppos on Twitter.