Media Inquiries
Latest Stories
Chancellor Nicholas S. Zeppos presented prestigious university awards to seven faculty members at the Spring Faculty Assembly. The awards recognize teaching, research, service and commitment to diversity, and recipients are honored for their contributions and commitment to the university.
"It's so important for us to come together, connect and celebrate the extraordinary achievements of our colleagues and our peers," said Zeppos. "These awards not only honor your dedication to our university, but also recognize the ways that you contribute to our mission and drive the change that matters so significantly."
Recognized during the April 4 ceremony at the Student Life Center were:
Two teaching awards are presented annually. The Madison Sarratt Prize for Excellence in Undergraduate Teaching was established by the Board of Trust in 1964. The Ellen Gregg Ingalls Award for Excellence in Classroom Teaching was endowed by the Ingalls Foundation of Birmingham, Alabama, in 1965. Final selection for both awards is made by the chancellor on the basis of nominations made by undergraduates of all schools and colleges.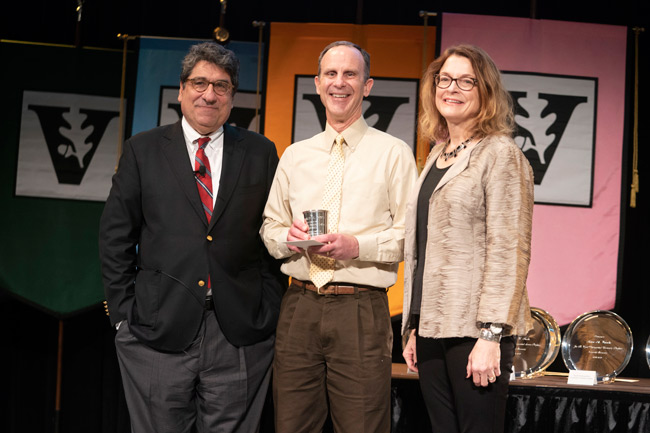 Gerald Roth, professor of the practice of computer science, earned his doctorate in computer science from Rice University and has taught at Vanderbilt since 2006. In addition to teaching, Roth is the faculty advisor for the VandyCS Club and serves as a member of the computer science department's curriculum committee. Roth's passion and enthusiasm for teaching shines through to his students, as students wrote in their nominations that he "makes data structures more interesting than most TV shows" and that "Vanderbilt should do everything possible to hire more professors like [him]."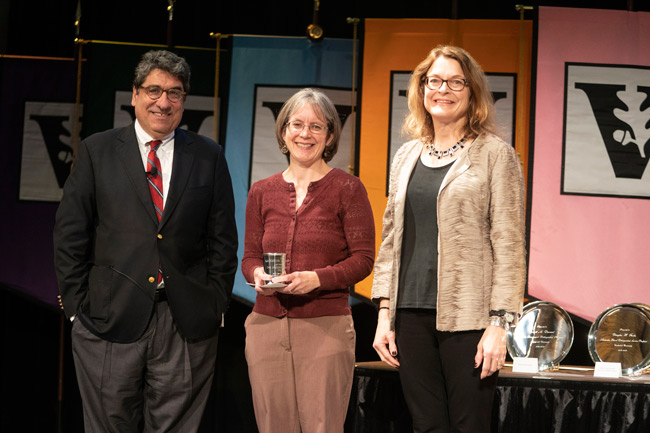 Katherine Friedman, associate professor of biological sciences, earned her doctorate from the University of Washington and joined Vanderbilt in 2001. Since then, she has mentored numerous students engaging in undergraduate research and has taught both the introduction to biological sciences and principles of genetics courses. Friedman is described as a demanding, yet fair, teacher with great enthusiasm and commitment to her students. In their nominations, students said of Friedman: "Dr. Friedman is the first science professor that I have had that is not only an excellent scientist, but also an excellent teacher."
The Harvie Branscomb Distinguished Professor Award recognizes the overarching contributions of a faculty member in creative scholarship, inspiring teaching and service to students and the university. The award was established in 1963 to honor retiring Chancellor Harvie Branscomb.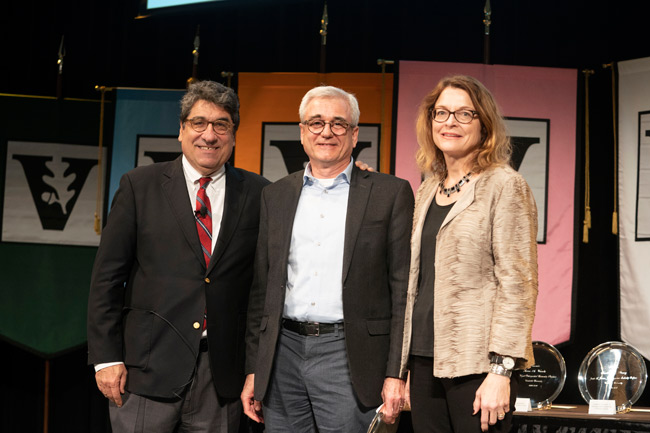 Benoit Dawant, Cornelius Vanderbilt Professor of Engineering and director of the Vanderbilt Institute for Surgery and Engineering (VISE), received his doctorate from the University of Houston and joined the faculty of the Electrical Engineering and Computer Science Department in 1988. Dawant's research focuses on image analysis to develop algorithms and methods that assist clinicians in their medical procedures. His research's implication for improved societal health, strong teaching record and service through his leadership of VISE clearly demonstrate his commitment to the advancement of his colleagues, students and the university.
The Alexander Heard Distinguished Service Professor Award was created on the occasion of the retirement of Chancellor Alexander Heard in 1982 and honors faculty members' contributions to the analysis and solution of contemporary social problems.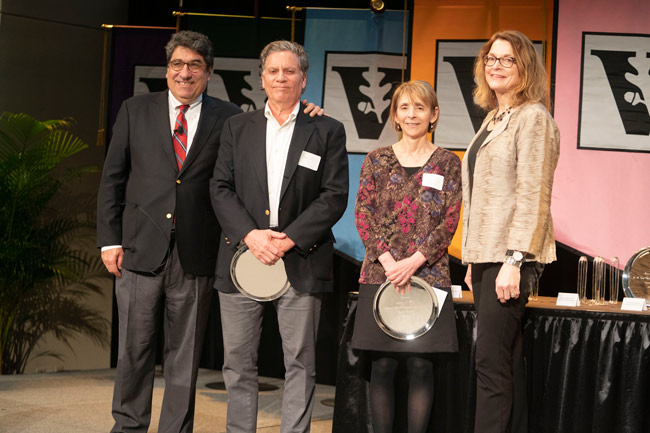 Lynn Fuchs, Dunn Family Chair in Psychological Assessment, and Douglas Fuchs, Nicholas Hobbs Chair of Special Education and Human Development, study the academic development and education of children with learning disabilities. Both earned their doctorates at University of Minnesota and are investigators at the Vanderbilt Kennedy Center. Together they have received numerous awards for their work, including the Distinguished Contributions to Research Award from the American Educational Research Association in 2014 and recognition from Forbes in 2009 as "revolutionary educators." Their pioneering work has contributed to national and global understanding of best educational practices for teaching students with learning disabilities.
The Joseph A. Johnson, Jr. Distinguished Leadership Professor Award recognizes faculty leadership in equity, diversity and inclusion in the university's academic endeavors and community. Established in 2016, the award honors Johnson, who in 1954 became the first African American to earn a Vanderbilt degree. In 1958, he became the first African American to earn a doctorate at the university.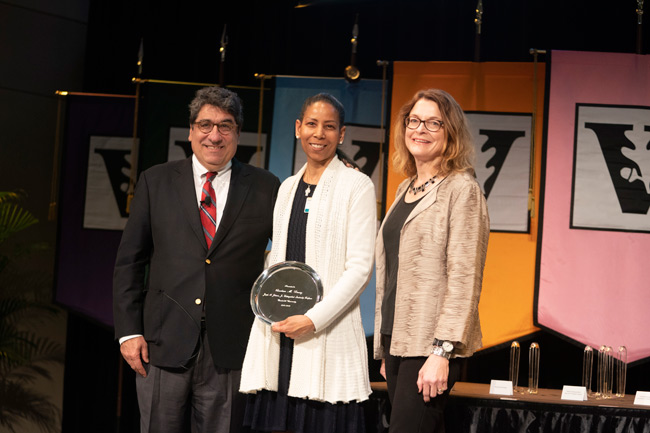 Charlene Dewey, assistant dean of educator development and associate professor of medicine, received her Doctor of Medicine from the Morehouse School of Medicine, where she was recognized as a community leader with the Ciba Geigy Award for Academic and Community Leadership. After earning her master's in medical education with an emphasis on curriculum design and instruction, Dewey joined the Vanderbilt faculty in 2007. Dewey's strong record of leadership through her work on the Faculty Senate, role modeling to other female physicians and appointment as the co-director of the Center for Professional Health propel her continued achievements in equity, diversity and inclusion throughout the university.
The Joe B. Wyatt Distinguished University Professor Award was created to honor Chancellor Joe B. Wyatt upon his retirement in 2000 and recognizes faculty accomplishments that span multiple academic disciplines.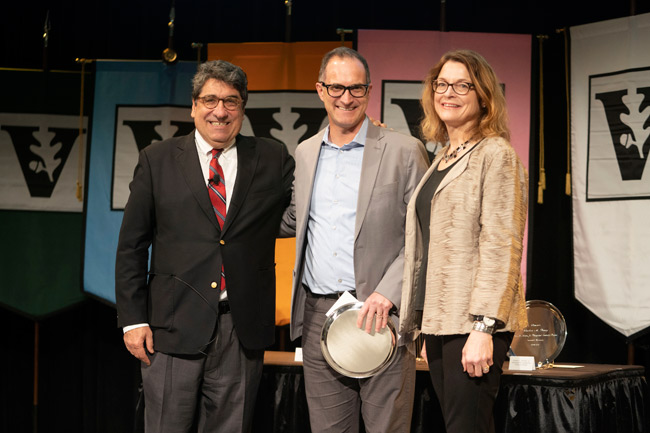 Steven Wernke, associate professor of anthropology and director of the Spatial Analysis Research Laboratory, earned his doctorate at the University of Wisconsin. Wernke is an archaeologist and historical anthropologist who studies the emergence of communities, landscapes and religious practice from the experiences of imperialism and colonialism on both sides of the Spanish invasion of the Andes. He brings interdisciplinary work to life through his research and projects that incorporate archaeology, history, pre-Hispanic and colonial studies, anthropology and cultural geography. Wernke has been described as a "truly transdisciplinary scholar." He was named a Chancellor Faculty Fellow in 2016.
Each award winner received $5000 and an engraved pewter cup (Sarratt and Ingalls) or silver tray (Branscomb, Heard, Wyatt and Johnson) to commemorate the faculty members' achievements.
Additional information about faculty awards can be found on the Office of Faculty Affairs website.
Taylor Carnes contributed to this story.