For the seventh straight year, Vanderbilt graduate students competed on March 29 to summarize years of research and discovery into a clear three-minute presentation as part of the annual Three Minute Thesis (3MT) competition.
Ibrahim Ahmed, a graduate student in electrical engineering, took home the top prize of $1,000 for his three-minute presentation, "Comfort and cost: A balancing act," centered on his research to find the critical temperature at which air conditioning systems of large buildings are no longer energy efficient. His research has included analysis of the energy consumption of HVAC systems in buildings at Vanderbilt, including the Engineering and Science Building.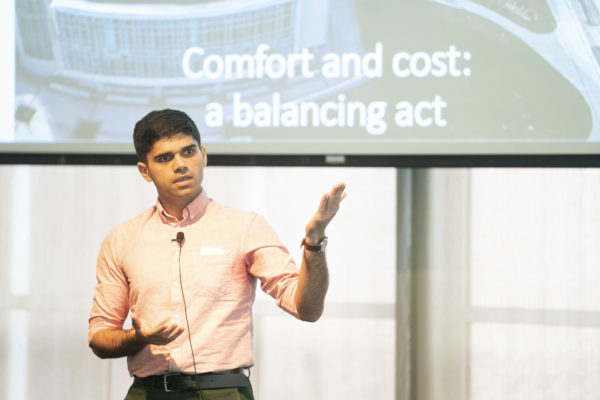 Biological sciences graduate student Jessamyn Perlmutter took second place in the competition, earning a $500 prize, for her presentation, "Mystery of the male-murdering microbe." Portia Botchway, who is pursuing a Ph.D. in learning sciences and learning environment design, took home the People's Choice Award, which included a $350 prize. She presented on "Squeegees and square inches: A case of mathematical caring and equitable engagement."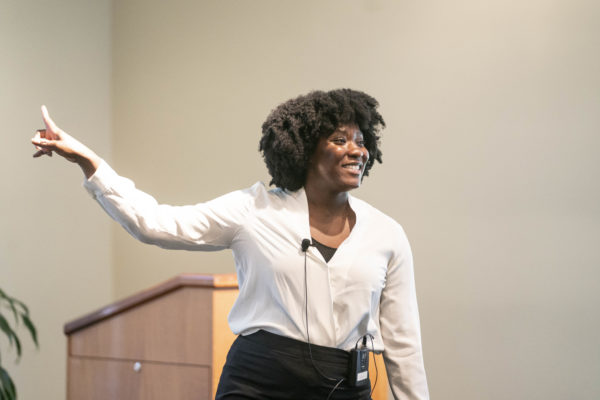 The 3MT competition, held in the Student Life Center, included a first round of presentations from all participants, judged by directors of graduate studies and faculty members from across campus. Entrants were required to present their thesis in under three minutes a way that non-technical audiences could understand. The only visual allowed was a single, static PowerPoint slide.
Ten finalists were selected from the initial 45 student entrants to advance to the final round, where five judges selected a winner and runner-up. The judging panel for finals included Vice Provost for Inclusive Excellence Melissa Thomas-Hunt, Senior Advisor in Science Policy Kei Koizumi of the American Association for the Advancement of Science, reporter and 2018-19 NPR Emerging Voices Fellow Shalina Chatlani of Nashville Public Radio, Associate Chief Academic Officer Julie Roberts of the Tennessee Higher Education Commission and Environmental Health Specialist Judy Manners of the Tennessee Department of Health.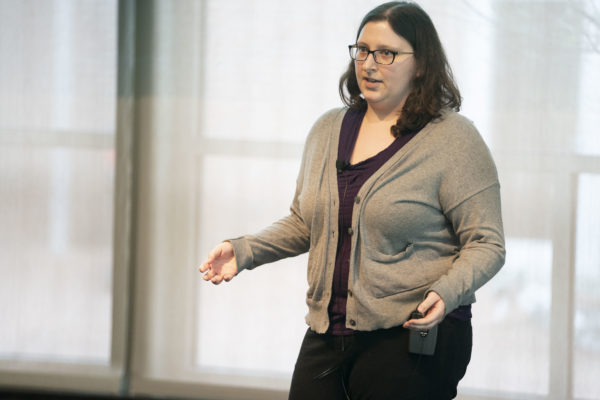 Ahmed, who is pursuing a Ph.D. in electrical engineering, took part in the 3MT event last year and applied feedback he received to this year's competition. "I learned some lessons last year and avoided any technical words in this year's presentation," said Ahmed. "If some description of my work couldn't be conveyed without adding jargon, I didn't go into detail on it. The point of the three minutes is to convey a sense of the research, not necessarily the exact steps of what you're doing."
Ahmed earned his bachelor's degree in engineering from Vanderbilt in 2016. He credits a technical communications course he took as an undergraduate, taught by Assistant Professor of the Practice of Technical Communications Courtney Johnson, with pushing him to consider how he describes his research to audiences beyond engineers. "I took the lessons I got from that course to heart, and it was a prime cause for my success in 3MT," Ahmed notes.
This year's 3MT, which included a keynote talk from Koizumi, concluded with a presentation of the awards to Ahmed, Perlmutter and Botchway, closing remarks from Chancellor Nicholas S. Zeppos and a reception where the audience, judges and participants could discuss the research well beyond three minutes.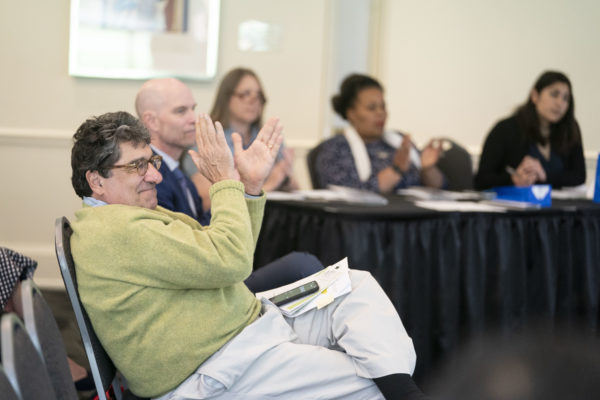 The annual competition is organized by the academic affairs committee of the Graduate Student Council, and this year's event was supported by the Graduate School, the Wond'ry, Peabody Library, the Russell G. Hamilton Graduate Leadership Development Institute and the Writing Studio, which hosted a writing workshop for participants ahead of the competition.
More information on the Three Minute Thesis competition, including a list of past winners, is available on the Vanderbilt's Graduate Student Council website.