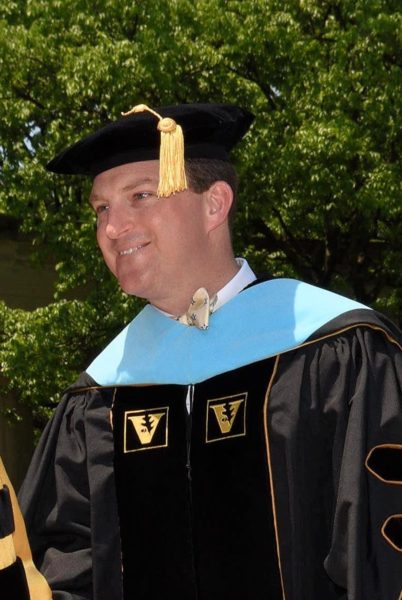 Following a national search, Vanderbilt University has named The Rev. Christopher Donald, an experienced college chaplain, as university chaplain and director of the Office of Religious Life.
Donald will begin his new role in the Office of Religious Life, a Dean of Students department in the Social Justice and Identity cluster, in June.
Donald served as college chaplain and director of religious life at Millsaps College in Jackson, Mississippi, where he was instrumental in increasing interfaith activities and dialogue on campus.
"I am pleased to welcome Chaplain Donald to the Vanderbilt community, where I know he will continue to strengthen the Office of Religious Life's commitment to interfaith engagement. His passion for working with students is evident, and I know his student-centered approach to religious and spiritual life will be a true asset to Vanderbilt," said Provost and Vice Chancellor for Academic Affairs Susan R. Wente.
During his tenure at Millsaps, Donald led numerous social justice initiatives, such as the Millsaps Challenge, which focused on racial reconciliation within the city of Jackson. Donald also sponsored Millsaps Pride, an LGBTQ+ student group and advised the campus Black Student Union.
"We at the Divinity School look forward to continuing our strong working relationship with the Office of Religious Life under Christopher's leadership. It is vital, in times like we are living in, that we continue the necessary work of building and maintaining a strong interfaith community on our campus," said Emilie M. Townes, dean of Vanderbilt Divinity School and E. Rhodes and Leona B. Carpenter Professor of Womanist Ethics and Society.
Throughout his career, Donald has proved to be a versatile leader, using his chaplaincy skills in a variety of arenas. He served as project director of the Initiative for Compassionate Care and Empathic Leadership at the University of Virginia School of Nursing; as a United Methodist Church pastor; and in other leadership roles.
Donald received his bachelor's degree in history and government from the College of William and Mary. He graduated magna cum laude from Duke University with a master's of divinity, and earned his doctorate of education from Vanderbilt's Peabody College of education and human development. He also completed Clinical Pastoral Education (CPE), including training in multicultural and multifaith pastoral counseling and care, at the University of Virginia Medical Center.