Media Inquiries
Latest Stories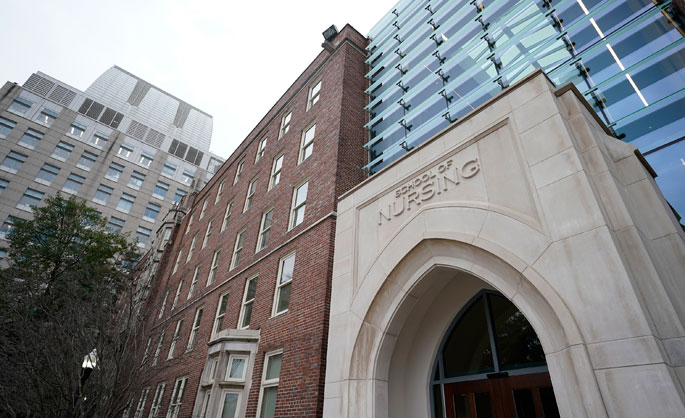 Vanderbilt University continues to earn high marks in the U.S. News & World Report best graduate schools rankings, with the schools of nursing, education and medicine climbing the 2020 rankings.
Released today, the rankings show that Vanderbilt University School of Nursing's master's program jumped from 14th to 8th. The school's Doctor of Nursing Practice program rose from 11th to 5th. Among individual programs, six specialties ranked in the Top 5:
Family Nurse Practitioner, 2nd
Psychiatric–Mental Health Nurse Practitioner, 2nd
Adult–Gerontology Acute Care Nurse Practitioner, 3rd (tie)
Adult–Gerontology Primary Care Nurse Practitioner, 3rd (tie)
Nursing Informatics, 3rd
Pediatric Primary Care Nurse Practitioner, 4th
"We're thrilled with Vanderbilt University School of Nursing's significant rise in the U.S. News & World Report rankings," said Linda D. Norman, VUSN dean and the Valere Potter Menefee Professor of Nursing. "It's rewarding that the hard work by our faculty, staff, students and alumni over the past several years is being recognized. Such an accomplishment only reinforces our commitment to excellence and innovation in educating future nurse leaders and seeking solutions to health care challenges."
Vanderbilt's Peabody College of education and human development jumped from 8th to 6th. Peabody has consistently held a Top-10 spot for the past 25 years. Its Educational Administration and Supervision specialty remained at No. 1, a position it has held for the past 12 years. Special Education returned to the No. 1 spot after being ranked 2nd in 2018. Peabody had six additional programs ranked in the Top 10:
Educational Psychology, 3rd (tie)
Education Policy, 4th
Curriculum and Instruction, 5th
Elementary Education, 5th
Secondary Teacher Education, 7th
Higher Education Administration, 9th
Vanderbilt University School of Medicine ranked 16th among Medical Schools-Research, with its Internal Medicine specialty ranking No. 10. Entering the rankings this year were Surgery, Radiology, Anesthesiology and Psychiatry.
Ranked programs include:
Surgery, 13th
Radiology, 15th
Anesthesiology, 16th
Psychiatry, 19th
Pediatrics, 16th (tie)
Medical Schools-Primary Care, 23rd (tie)
Vanderbilt Law School was ranked 18th (tie). Two programs were ranked in the Top 20: Environmental Law, 13th (tie) and International Law, 16th (tie). Last week, the law school was ranked 14th by the National Law Journal in its annual ranking of the top 50 "go to" law schools.
The MBA program at Owen Graduate School of Management came in at 29th (tie).  Its specialty rankings include Finance, 39th (tie) and Accounting, 47th (tie).
Vanderbilt's School of Engineering came in at 39th. Its specialties were ranked as follows:
Biomedical, 22nd (tie)
Chemical, 36th (tie)
Mechanical 37th (tie)
Civil, 40th (tie)
Environmental, 48th (tie)
Electrical, 50th (tie)
Materials, 57th (tie)
U.S. News & World Report rankings are based on expert opinions and statistics that measure the quality of a school's faculty, research and students.