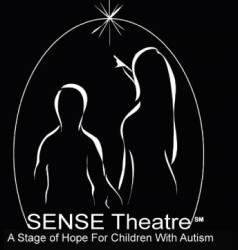 Vanderbilt Kennedy Center investigator Blythe Corbett and her winter 2019 participants of the SENSE Theatre program will bring the original musical The Makeover to life March 8 and 9 at Belmont University's Troutt Black Box Theater. The performances are the culmination of practice and hard work put in by research participants on the autism spectrum as well as trained typically developing peer actors who will join them on stage.
SENSE Theatre is a unique intervention research program that brings together theatre techniques and peer actors to enhance social competence in children and adolescents with autism spectrum disorder (ASD). The program includes theatre games, character development, improvisation, singing and the performance of a play that is written by Corbett to highlight themes relevant for persons with disabilities, such as belonging, acceptance and making friends.
Corbett, who serves as associate professor of psychiatry and behavioral sciences and psychology, created the program in 2009 by combining her extensive background in the performing arts with her research on stress as it affects adolescents on the autism spectrum. Previous randomized control trials (RCT) have shown that children who receive the treatment demonstrate significant gains in social cognition, social interaction with peers, and reduced anxiety.
Currently, Corbett and colleagues have just completed the first of a four-year multisite RCT funded by the National Institute of Mental Health (MH114906), in which 240 youth with ASD will receive either SENSE Theatre or an active control condition implemented at Vanderbilt University Medical Center, the University of Alabama in Tuscaloosa and Stony Brook University.
"The primary goal of the current study is to determine if the intervention can be implemented with fidelity at other university centers and if findings will be replicated when compared to another intervention for youth with ASD," Corbett said.
SENSE Theatre has a large research component, but coordinators also know it's about dedication, creativity and fun. Corbett and her team have worked with multiple cohorts of young actors over the years, writing and scoring original musicals and letting her SENSE Theatre participants bring the words and music to life for a supportive audience of family, friends and theatre-goers.
The Makeover is directed by University School of Nashville theatre director Lily Palmer and includes a cast of 13 youth with ASD paired with an equal number of USN high school actors. SENSE Theatre, Corbett adds, "is all about inclusion and sharing our unique talents both on and off the stage."
The latest addition to the SENSE program is Drew Basham, a 20-year-old accompanist who will perform at the upcoming showcase of The Makeover. In addition to being a talented musician and emerging songwriter, Basham happens to have autism. Initially diagnosed at age 2, Basham did not speak until he was 4 despite comprehensive treatment. At 9, it was discovered that Basham was able to play music by ear, and in high school he received a scholarship to attend the pre-college program at Vanderbilt's Blair School of Music. Most recently, he received the Borderless Arts Young Soloist 2018 and Fan Favorite awards.
"It is a delight to have Drew in the program," Corbett said. "This is the first time that our accompanist has ASD, and it is adding another inclusive and supportive element to SENSE Theatre."
Emelyne Bingham, senior lecturer at Blair, will provide the musical arrangement for SENSE and is working with Basham as he prepares the songs for the show. Bingham, who is also on the spectrum, generally works with musicians who can sight read sheet music, yet when working together, she and Basham seem to share a unique unspoken language.
"It's really fun to work with Drew, because his love of music is so infectious," Bingham said.
Tickets are now available for the March 8 and 9 performances of The Makeover at Belmont's Troutt Black Box Theater, located at 2112 Belmont Blvd., Nashville. Tickets are free, but seating is limited and advance reservation is requested.
Click here to reserve tickets for the Friday, March 8, performance. Tickets to the Saturday, March 9, performance are available by clicking here. Reservations are limited to six tickets per registrant. If you would like to reserve more than six tickets, contact Sara Ioannou at (615) 513-9562 or sara.c.ioannou.1@vumc.org.
For more information about SENSE Theatre, visit the SENSE Theatre website.