The Vanderbilt University Sports and Society Initiative continues its yearlong series "A World of Possibilities: Examining the Olympics from Diverse Angles" on Jan. 15 with Gertrude Conaway Vanderbilt Chair in German and Professor of Cinema and Media Arts Lutz Koepnick.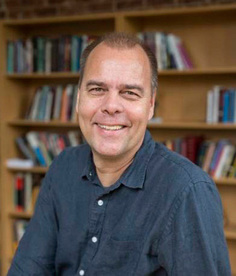 Koepnick will lead a presentation and discussion focusing on Leni Riefenstahl's controversial and landmark 1938 documentary Olympia, which covers the 1936 Olympic games in Berlin. The program is free and open to the public, and it is scheduled from 11:30 a.m. to 1 p.m. in the Football Meeting Room of the McGugin Center. Light refreshments will be served, and public parking is available in the 25th Avenue Garage.
Riefenstahl's film about the Berlin Olympics in 1936 set long-lasting standards for how to capture athletic events and dramatize them on screen. The film infused the presentation of athletic bodies, physical strength, and competitive sports with urgent political agendas. The documentary also has drawn ongoing criticism for the authorization it received by Nazi authorities. In his presentation, Koepnick will show various scenes exemplifying the technical achievements of Riefenstahl's film while also discussing the film's controversial ideological underpinnings.
The Jan. 15 program with Koepnick is just one of several more to come from the Sports and Society Initiative this semester. Upcoming programs in the series include:
Thursday, Jan. 31
11:30 a.m.–1 p.m.
Schulman Center for Jewish Life
Tuesday, Feb. 12
11:30 a.m.–1 p.m.
Football Meeting Room, McGugin Center
Thursday, Feb. 28
11:30 a.m.–1 p.m.
Football Meeting Room, McGugin Center
The Sports and Society Initiative, launched in 2018, aims to elevate awareness and understanding of the ways in which sports and society impact each other across race, gender and culture in society. The series has covered a broad array of topics, including exploring The Heritage of black athletes with best-selling author and ESPN The Magazine writer Howard Bryant; an in-depth discussion of the history and present state of the Paralympic Movement with two-time Paralympian and Assistant Professor Anjali Forber-Pratt; examining the intersection of politics, patriotism and protest as it relates to countries' national flags and anthems with award-winning songwriter, best-selling author and Vanderbilt Writer-in-Residence Alice Randall; and more.
Find more information on the series and a full listing of events on the Sports and Society Initiative website.