Vanderbilt's Sports and Society Initiative hosted ESPN The Magazine writer and best-selling author Howard Bryant for a lecture at the McGugin Center Sept. 11. Bryant's talk centered on the heritage of the black athlete and the intersection of politics and patriotism from the perspective of black athletes.
"The black athlete is the most important, the most influential and the most visible black employee this country has ever produced. The black athlete is the one who made it," Bryant said. "When you think about where we've gone as a people, the pathway had always been from physical labor to education—and that physical labor to education through college did not come (first) through medicine, it did not come through law, it did not come through anything first but sports.
"These guys are the ones who made it, and because they're the ones who made it in our culture, we look to them to provide leadership," he said. Bryant is author of The Heritage: Black Athletes, a Divided America, and the Politics of Patriotism.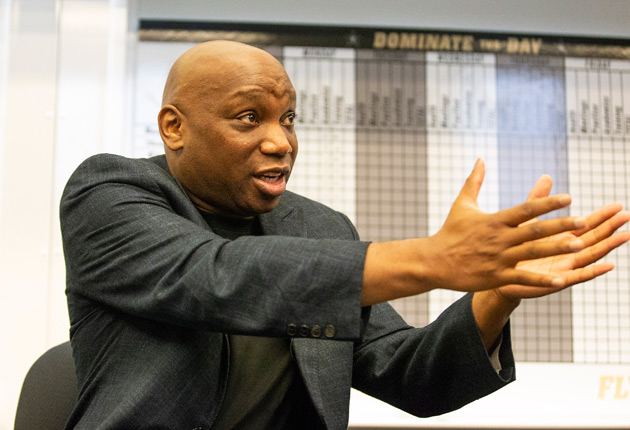 Bryant spoke openly about his thoughts on the issue of NFL players kneeling during the National Anthem, and provided insight into how patriotism and sports initially became so closely intertwined and how the relationship has evolved over time.
"Howard Bryant's talk about race, sports, politics and patriotism was brilliant and timely, and we were so fortunate to have him on campus," said Andrew Maraniss, visiting author in Vanderbilt Athletics. "I was especially pleased with the mix of people who came out to see him: students, student-athletes, faculty, staff, alumni, retirees and professionals on their lunch hour. Women, men, young, old, black, white, Asian, Latino. It was a great example of the power of sports to bring people together, not only for athletic contests but to engage with each other on important topics for society."
The Sports and Society Initiative, established in January 2018, aims to elevate awareness and understanding of the ways in which sports and society impact each other across a variety of disciplines. For 2018-19, the series "A World of Possibilities: Examining the Olympics from Diverse Angels" will encompass 14 thought-provoking, educational and entertaining events, including film screenings, panel discussions and presentations by scholars, journalists and authors. The Jean and Alexander Heard Libraries also has developed a research guide that provides information on books corresponding to each program in the series.
Upcoming programs in the series include:
The Paralympic Movement
Tuesday, Oct. 9
11:30 a.m.-1 p.m.
Football Meeting Room, McGugin Center
Vanderbilt assistant professor of Human and Organizational Development Anjali Forber-Pratt, a U.S. Paralympic Team wheelchair racer, will lead this session on the history and current state of the Paralympic movement and the achievements and challenges of athletes with disabilities.
Coach Temple and the Tigerbelles
Thursday, Oct. 18
11:30 a.m.-1 p.m.
Football Meeting Room, McGugin Center
Producer Tom Neff will present a discussion and sneak preview of his new film, premiering that evening at the Nashville Public Library, on the greatest track team in history, Coach Ed Temple's TSU Tigerbelles.
The Media and the Olympics
Thursday, Nov. 15
11:30 a.m.-1 p.m.
First Amendment Center
Join us for this engaging event in which Vanderbilt alumnus Dave Sheinin of the Washington Post and Teresa Walker of the Associated Press will share stories from their experiences covering the Olympics in Russia, China and Brazil.
Flags and Anthems
Thursday, Nov. 29
11:30 a.m.-1 p.m.
Football Meeting Room, McGugin Center
Learn more about the meaning behind various countries' flags and anthems with best-selling author and Vanderbilt Writer-In-Residence Alice Randall.
To learn more about the Sports and Society Initiative and its series of programs, visit vanderbilt.edu/sportssociety.