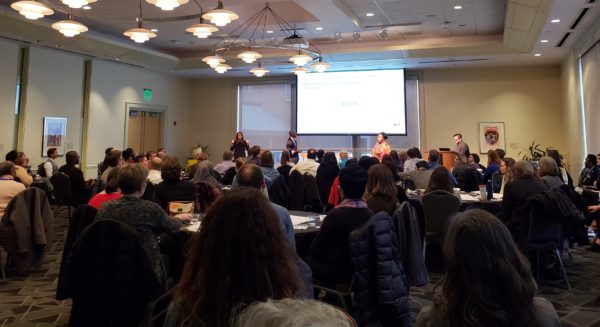 Vice Chancellor for Equity, Diversity and Inclusion and Chief Diversity Officer James E. Page Jr., and Vice Provost for Inclusive Excellence Melissa Thomas-Hunt hosted the second of two diversity town halls on Dec. 6. More than 100 members of the Vanderbilt community attended the 90-minute program, which was held in the Student Life Center Board of Trust Room and covered several topics related to equity, diversity and inclusion at Vanderbilt.
The program began with Page and Thomas-Hunt answering pre-submitted questions and sharing the subjects addressed at the earlier Nov. 13 town hall. "One topic that came up was the need to understand the data and decide what surveys are needed to understand issues such as pay equity and how people feel engaged, respected, included and satisfied at Vanderbilt," Page said. "We hope to use this data to guide and set our priorities for immediate action and inclusion in a long-term strategic plan."
Like the first town hall, the second provided time for table discussions centered on questions from Page and Thomas-Hunt, including one asking if attendees felt they could be successful at Vanderbilt without compromising important aspects of their identity. This question prompted a larger group discussion facilitated by Page and Thomas-Hunt about what it means to be successful at Vanderbilt and the ways in which Vanderbilt could foster a more inclusive environment.
Thomas-Hunt mentioned that she wants to provide leaders with the tools they need to respond when uncomfortable situations or incidents occur. "It is important to empower our leaders with the resources, education and ability to stretch their muscles in this area, so that when situations arise, they are prepared and know how to meaningfully engage."
The discussion also included a suggestion for increased equity, diversity and inclusion trainings and educational resources across Vanderbilt's campus. Page stated that this is an area on which he plans to focus. "I'm hoping for my office to become an enabler of skills around equity, diversity and inclusion across the organization," he said. "While we have done things in the past like workshops and bringing in speakers, I'm hoping we can do a lot more around teaching our experts—the people doing this work in different pockets across the organization—how to do their job even better."
Additional suggestions from those in attendance at the town hall included: developing additional opportunities for staff, students and faculty to engage in discussions around equity, diversity and inclusion, providing more support for community members who identify as parents, creating a culture that actively resists microaggressions and establishing better response mechanisms and systems so that when an issue is reported, there is a more transparent process for how it will be addressed.
Ultimately, Page and Thomas-Hunt hope that these town hall sessions created a space for bold and honest dialogue around Vanderbilt's culture and opportunities to be an even more inclusive community. According to Page, "We hope that through these town hall sessions community members felt empowered to share their ideas, concerns and perspective on how we can begin to build a culture of transparency, action and follow through around equity, diversity and inclusion at Vanderbilt."
Page and Thomas-Hunt closed the town hall by noting that additional information and updates from the town halls would be posted on the website. The Equity, Diversity and Inclusion website and the Provost's Office for Inclusive Excellence website both offer resources and information on a number of topics related to diversity at Vanderbilt.