By Andrew Maraniss, BA'92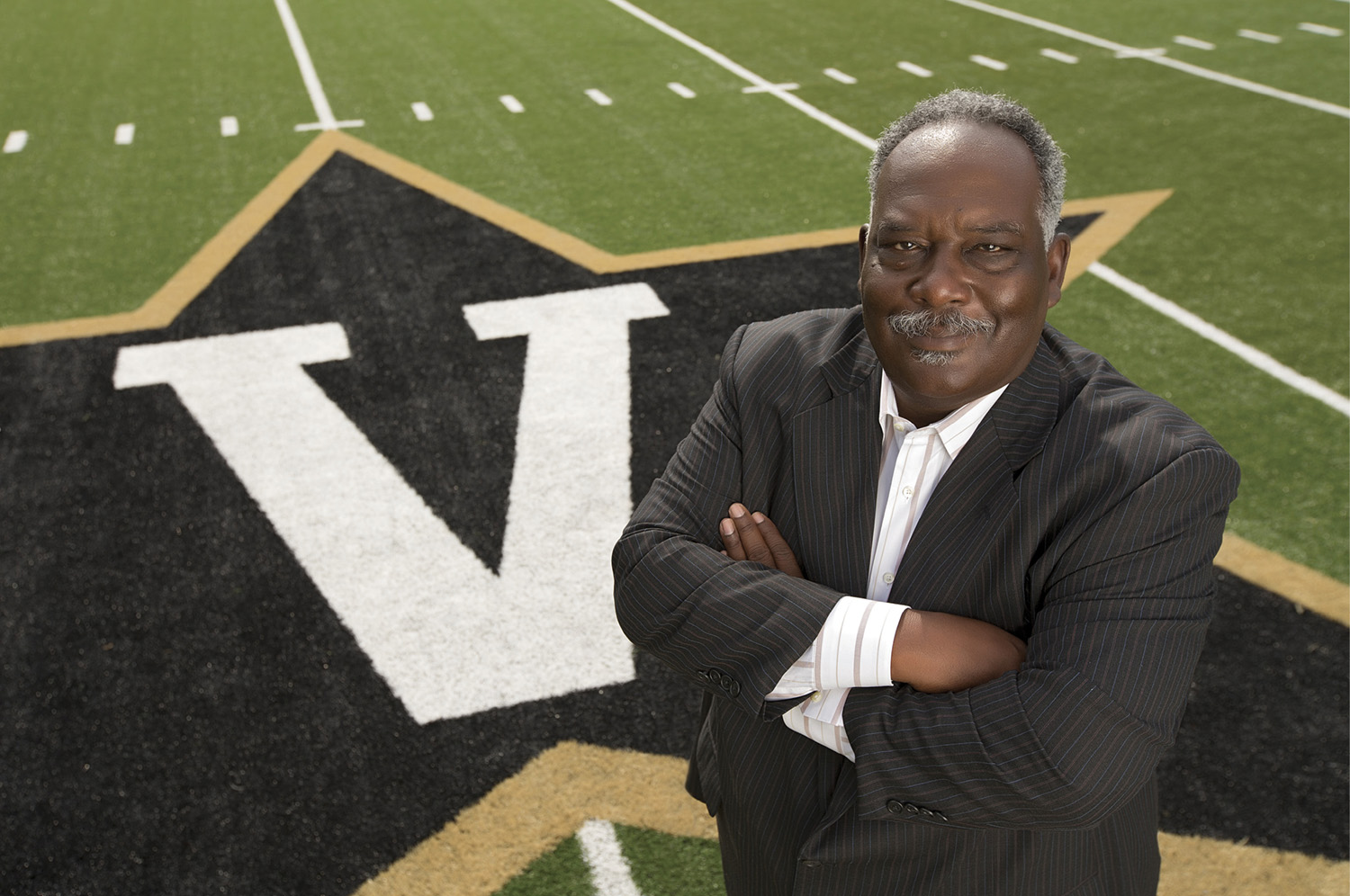 As a young man, David Williams was a track star in Michigan. Running the third leg of his high school and collegiate relay teams, he learned the importance of passing the baton.
Now, as 70-year-old Williams nears the end of a 15-year run leading Vanderbilt athletics—and his 27th year as a senior administrator in higher education—he is ready to hand over leadership of a department that has made enormous strides during his tenure. He announced his retirement from the position Sept. 11.
In 2003, when Vanderbilt issued a change to the athletics department's leadership and reporting structure, the move became the butt of jokes in national news outlets. Critics said Commodore athletics would become nothing more than intramurals.
That fundamental misunderstanding of the reorganization was far from the truth, but there was no denying Williams inherited a Vanderbilt athletics program in need of a turnaround. Vanderbilt had never won a national championship in any sport; the football team hadn't been to a bowl game since 1982; the school had never had a black head coach in any sport; and it had no relationship with its most historically significant former player, Perry Wallace, BE'70.
Fast-forward to today, and that's all changed. Williams, the first African American to head up an athletics department in SEC history, has presided over a golden era in Commodore athletics both on and off the field. During his tenure Vanderbilt brought home four national championships, while the football team played in five bowl games, breaking a 26-year drought in 2008.
Williams—a former Detroit public schoolteacher who has continued to teach at Vanderbilt Law School and Peabody College, and for some undergraduate courses throughout his career at the university—was never content with on-the-field success as the only measuring stick for the strength of the athletics program. Under his leadership the university launched several groundbreaking programs that expanded service and work opportunities for student-athletes, all while achieving remarkable academic success.
Student-athletes at Vanderbilt have earned higher than a cumulative 3.0 GPA for the past 13 years. For the 2016–17 school year, a total of 11 Commodore athletic programs finished with perfect Academic Progress Rates, a benchmark used by the NCAA to monitor academic achievement.
"It has been a remarkable run, and I have cherished the opportunity to work with so many passionate and committed students, coaches and staff," says Williams, who also has served as Vanderbilt's general counsel, university secretary, and vice chancellor for university affairs during his time at the university.
Chancellor Nicholas S. Zeppos says Williams is a "visionary leader" who has transformed Vanderbilt athletics while upholding the educational mission of the university. "We are all deeply grateful for David's commitment to build a program where student-athletes can thrive—competing in one of the nation's toughest athletics conferences, flourishing within a rigorous academic environment, and developing the leadership qualities that will bolster their success and impact beyond Vanderbilt."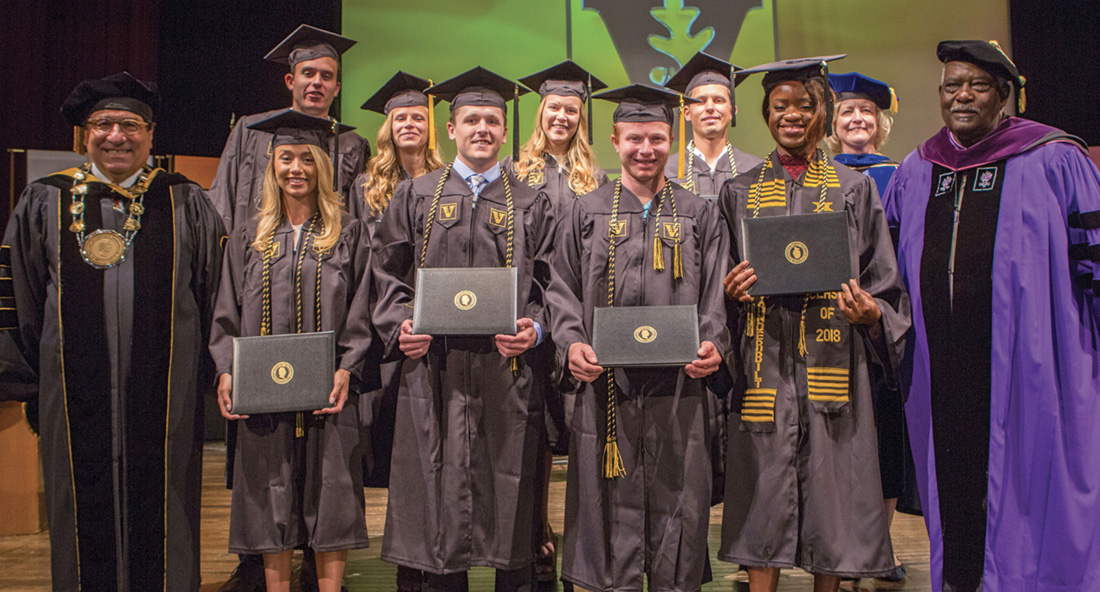 'AN ARDENT ADVOCATE'
The remarkable evolution of the Vanderbilt athletics program under Williams came during a time of enormous change in Nashville, the SEC and across the NCAA.
Professional sports competition in Nashville has taken hold with the ascendance of the NHL Predators, NFL Titans and, most recently, a pro soccer franchise. Nashville's population has boomed to unprecedented levels, as have the food and entertainment options in the city. High-definition TV, Facebook, Twitter, Instagram, streaming video and the SEC Network all appeared on the scene, providing new opportunities—and challenges.
As athletics director at the only private university in the SEC and in the league's largest city, Williams' perspective has been invaluable, says SEC commissioner Greg Sankey.
"David has been a significant contributor to the success of the Southeastern Conference over the last decade and a half. He is true to the ideals of college athletics, an ardent advocate for all student-athletes, and an effective representative for Vanderbilt University," Sankey says. "His perspective has been highly respected among his peers."
That respect translated into national leadership positions. Williams served six years as chair of the NCAA Infractions Appeals Committee and has served on the board of directors for the University of Detroit–Mercy, where he earned his J.D. and M.B.A.
Williams continues to play a role in the community. He has served on more than 10 nonprofit boards in the Nashville community, including chairing the boards of the United Way, Nashville Public Education Foundation, and the Nashville branch of the Atlanta Federal Reserve. He also served as treasurer of the Nashville Symphony board.
In mid-October, Williams received the first-ever Legacy Award from the Association of Vanderbilt Black Alumni; the award will bear his name going forward. Last year he was named "Tennessean of the Year" by the Tennessee Tribune.
Just two days after announcing his retirement, Williams was among a handful of community leaders honored by the YWCA of Nashville's AMEND Together program, an effort led by former Commodore basketball star Shan Foster, BS'08, that encourages men to become involved in efforts to end violence against women.
At that awards ceremony, Williams and Foster both credited the other for where they are today. While Williams beamed with pride over Foster's career trajectory and the important work he's doing in the community, Foster said none of it would have been possible without Williams' wise counsel.
"He's the reason I chose Vanderbilt, he's the reason I graduated from Vanderbilt, and he's the reason I wanted to come back to Nashville and give back to the Vanderbilt and Nashville communities," Foster said.
Some Vanderbilt fans have taken to calling Williams "The Goldfather," a lighthearted moniker Williams even had inscribed on a custom pair of Nikes. But a role Williams always took quite seriously as athletics director was acting as a surrogate father for the hundreds of young men and women competing for Vanderbilt's athletic teams each year. Along with his wife, Gail, and their children, Nick, Sam, Erika and David, Vanderbilt's student-athletes were always dear to his heart.
"He treated my family like his own, and I know many other VU athletes would say the same," says Jordan Matthews, BA'13, who now plays for the Philadelphia Eagles. "If I needed anything during my years at Vandy, and afterward, he was always willing to help."
"He is the smartest guy in the room, but he never acted like it and always treated me like family," says PGA golfer Brandt Snedeker, BA'03.
Fortunately for the Vanderbilt community, Williams isn't going far. He will continue teaching at Vanderbilt Law School and is establishing a Sports, Law & Society Program at the school. "Establishing the Sports, Law & Society Program at the law school will lay a new foundation for deeper understanding of the role sports has and continues to play in shaping many of the biggest issues in our country and the world," Williams says.
Even as he passes the baton, this former track star is still running.
---
Highlights reel from the David Williams era
STUDENTS
Vanderbilt student-athletes have earned higher than a cumulative 3.0 GPA every year for the past 13 years. In the NCAA's recently released Academic Progress Rates (APR) for the 2016–17 academic year, a total of 11 Commodore athletic programs finished with perfect 1000 APR scores; Vanderbilt football finished No. 2 in the nation.
A first-of-its-kind summer internship program was created for student-athletes, allowing them to gain valuable work experience with Nashville employers. Previously, Commodore student-athletes were prohibited by NCAA rules from gaining summer employment, putting them behind their peers when it came time to find a job after graduation.
A commitment to international service trips involves student-athletes from all sports. In just the past five years, Commodore student-athletes have traveled to Morocco, Jamaica, Costa Rica, Cuba and Tanzania in partnership with the Soles4Souls charity to distribute shoes to people in need.
A proactive approach to study-abroad opportunities has opened doors for student-athletes. During the summer of 2017, Vanderbilt athletics provided full financial support for 10 student-athletes to study abroad, an opportunity often not available to student-athletes because of their demanding play and practice schedules.
An award-winning "Summer Bridge" program was introduced for incoming freshman athletes, providing workshops on everything from personal finance to study tips to Nashville history. Earlier this year the program was recognized with a Model Practices Award by the National Association of Academic and Student-Athlete Development Professionals.
A department-wide partnership was established with Buena Vista Elementary in Nashville's Germantown neighborhood. Not only has Vanderbilt athletics provided funding for various school needs such as books and classroom supplies, but student-athletes, coaches and staff also regularly visit the school to read to children, host parties and field days, and celebrate academic achievement.
ATHLETES
David Williams' tenure as athletics director has included:
The first four NCAA national championships in school history, for baseball (2014), women's tennis (2015), and twice for bowling (2007, 2018)
Five of Vanderbilt's eight all-time football bowl appearances
13 of Vanderbilt's 16 all-time NCAA baseball tournament appearances, including all three Commodore trips to Omaha for the College World Series
Vanderbilt's first SEC men's basketball tournament championship since 1951 (2012)
Construction of a long-needed, indoor multisport practice facility
Leadership in diversity efforts, including hiring two of the 13 current black head football coaches in the NCAA Football Bowl Subdivision (James Franklin and Derek Mason), and leading the long-overdue reconciliation with Perry Wallace, the first African American scholarship athlete to play basketball in SEC history and Vanderbilt's Distinguished Alumnus in 2017
---