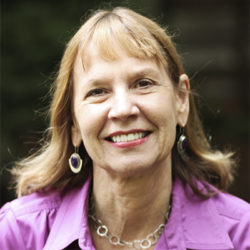 The Society for Neuroscience has paid tribute to the late Vivien Casagrande's groundbreaking research and dedication to the advancement of women in neuroscience with the Patricia Goldman-Rakic Hall of Honor Award. Casagrande, a longtime professor of cell and developmental biology, psychology, and ophthalmology and visual sciences at Vanderbilt, passed away in 2017 from cancer.
This award is given posthumously for recognition "of a neuroscientist who pursued career excellence and exhibited dedication to the advancement of women in neuroscience."
The article on the society's website notes that Casagrande "…was an internationally known neuroscientist with a remarkable record of groundbreaking research on sensory systems and development. Her research, which mapped the visual brain circuitry in a variety of species, has advanced the understanding of the development and evolution of the mammalian visual system."
Casagrande's award, announced during the society's annual meeting in San Diego earlier this month, was among five given to honor those who support the advancement women in neuroscience. "Their dedication to mentoring and encouraging the next generation of female neuroscientists will ultimately strengthen the field and lead to discoveries that advance the field," said Richard Huganir, the society's president.
The announcement noted that Vanderbilt has honored Casagrande's memory by establishing an endowed lecture series and an endowed annual travel award for an outstanding graduate student or postdoctoral fellow. In addition, funds from Casagrande's estate have been used to endow a scholarship in neuroscience at Vanderbilt.