Kathleen Seabolt, executive director of Vanderbilt's Child and Family Center, describes her work as "heart work," a deliberate pun on "hard work," because to Seabolt and her team, they are one and the same.
Since coming to Vanderbilt in November 2017, Seabolt has undertaken a reorganization of the center's curriculum and a reconsideration of its vision while staying true to its original mission: providing exceptional early childhood education and care. Her inspiration comes from the strong foundation of excellence found at the center, which has served the Vanderbilt community for more than 35 years.
"I'm truly grateful for the opportunity to be here, working with teachers and site directors that inspire me every day," Seabolt said. "The fabric of the Vanderbilt community is really something special. Coming together to further the mission of the university—to use education to make the world a better place—is what drives me."
Supporting core values
An initiative supported by Chancellor Nicholas S. Zeppos and Vice Chancellor of Administration Eric Kopstain, the reorganization and progress of the center embodies the development of the "whole person," a pillar of Vanderbilt's core values.
"We know that changing the world starts with investing in our children," Zeppos said. "There is no more important purpose in our society than to educate and develop our young people, and that starts with ensuring that our Vanderbilt community has access to the world-class research we are doing here on campus and a world-class child care center. The Vanderbilt experience does not expire for our learners after four years when they graduate, and for our early education students, it does not expire when they leave the center for school. The love of learning becomes a way of life."
Integrating research
That lifelong learning also fuels Seabolt's vision for the center, which is based on a balance of science, compassion and fun—using both the groundbreaking research taking place at Vanderbilt's Peabody College for education and human development and integrating a learning-through-play philosophy.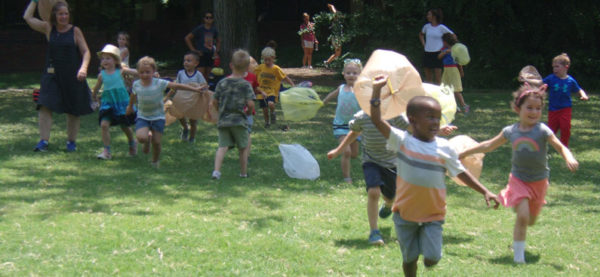 "When we are considering the 21st-century learner, we have to prepare them by resourcing their innate creativity and their ability to innovate within an enriched learning environment," she said. "Because it's that ability—to try and fail and pick yourself up and try again—that very persistence that children are so genius at. That is the piece that is going to sustain them as adults."
Amplifying strategic partnership with Peabody allows for the exchange of knowledge, as undergraduate and graduate students receive hands-on experience working with VCFC children and conducting research while the children and their families benefit from curriculum integrations, such as standard speech and language screening, a new benefit starting later this year.
Changing landscape
Even with access to the university's abundant resources, there are significant challenges to overcome. The nation faces a crisis of child care "deserts"—long wait lists, expensive tuition, high staff turnover and an increasing demand for services. Vanderbilt has chosen to face these issues head on.
"We must think critically about affordability, labor and balancing the cost of care," Kopstain said. "We also have to look at the factors affecting our ability to provide the very best quality education and care and use creative and bold approaches to start stemming the tide. Fair wages, fair tiered-pricing structures, diversity of staff—we need these to be pillars in our business model moving forward. I am confident that Kathleen and her team are doing just that."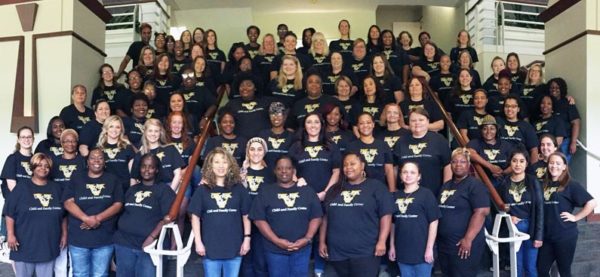 While acknowledging there is much work left to do, Seabolt summarizes the philosophy that continues to drive the Vanderbilt Child and Family Center forward.
"In a world where organizations are saying 'no' or 'we can't,' we are asking, 'why not?'" she said.