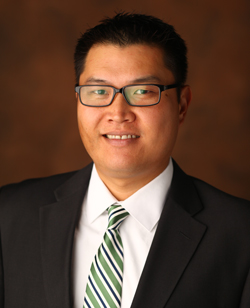 Christopher "Kitt" Carpenter, recently named director of Public Policy Studies, is focused on a reinvigoration to make the major more relevant, rigorous and flexible, increasing its appeal to an even wider set of Vanderbilt students.
"Kitt Carpenter will provide strong intellectual leadership to Public Policy Studies and help steer it to the next level," said John Geer, dean of the College of Arts and Science and Gertrude Conaway Vanderbilt Professor of Political Science. "We look forward to the program's bright and exciting future."
Carpenter, a noted health economist who directs the TIPS-supported Vanderbilt LGBT Policy Lab, is working toward a more robust major with significant upgrades to the curriculum and the addition of more tenure-track faculty.
One of his first projects is the completion of a revised curriculum that will offer several tracks in specific public policy areas. The framework for a new curriculum emerged from a year of meetings of faculty members with specific interests and expertise in public policy.
"We envision a curriculum that will be flexible—but also rigorous and substantive," Carpenter said. "Seniors are already required to take a capstone course in which they do an in-depth dive into a particular policy issue, which can be a great fit with the new Immersion Vanderbilt experience. There's also an honors program track in which students can do an independent study and write a thesis, so they have several options."
Approximately 100 students are currently enrolled in the program, which has been attractive to those with pre-professional interests. "Some of our students plan to pursue law school or graduate school in public policy after graduation," Carpenter said. "Our major pairs well with social science disciplines that include political science, economics and sociology. Public policy studies could also be of interest to science majors who have a strong interest in a policy-related area, like technology policy."
Carpenter works closely with Katherine Carroll, the program's associate director and adviser for all public policy majors. "Our graduates are prepared to take steps toward successful careers in politics, law, business, activism, journalism and much more," Carroll said. "Working in D.C. on Capitol Hill, at a state legislature or for an advocacy organization are just a few of the many options our majors consider." Carroll, a non-tenure track assistant professor of political science, has expertise in Middle East politics, American military policy, and American foreign policy.
Carpenter has assumed leadership of Public Policy Studies at a time in which its number of tenure-track faculty are on the rise. Two new faculty with joint appointments in public policy studies are Lauren Gaydosh, assistant professor of medicine, health and society, and Patrick Greiner, assistant professor of sociology.
Two more faculty searches in partnership with Peabody College of education and human development are underway—one at the full-professor level and one at the assistant-professor level.
"We want our public policy majors to have access to leading scholars in their fields and we also want to bring in more guest speakers—public policy experts with whom the students would not otherwise engage," Carpenter said.
Carpenter's particular focus of research is social policy—understanding how people make decisions about risky health behaviors as well as preventative health behaviors, like vaccinations, seatbelt use, cancer screenings and more. He earned his doctorate in economics in 2002 from the University of California–Berkeley, after receiving his bachelor of arts from Albion College, where he graduated summa cum laude. He came to Vanderbilt in 2013 from the University of California–Irvine, where he previously taught.
Carpenter's research is inherently interdisciplinary. While his primary appointment is in the Department of Economics, Carpenter has secondary appointments in Public Policy Studies, Women's and Gender Studies, Law School, School of Medicine and Peabody College.
"One of the great aspects of being at Vanderbilt is the proximity of the various schools to each other, so trans-institutional collaboration becomes easier," Carpenter said.
Others who teach in Public Policy Studies include former Nashville Mayor Bill Purcell, an adjunct professor who teaches a popular course called "Cities in the 21st Century" and will offer a new course on public advocacy during spring 2019; Carrie Russell, a senior lecturer whose areas of expertise include race and public policy; Zdravka Tzankova, an associate professor of sociology whose research interests include environmental policy and regulation; and Richard Riebeling, former chief operating officer for Nashville, who teaches public finance.