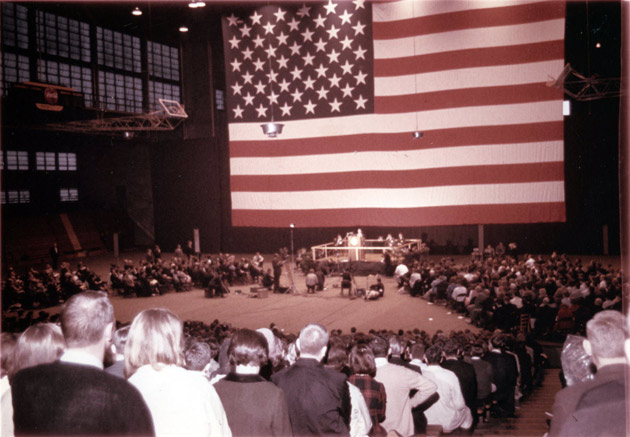 UPDATE 11/09/18: Due to a forecast of inclement weather, the ceremony planned for Monday, Nov. 12, on Library lawn has been moved indoors to the University Library Community Room. An abbreviated ceremony will begin at 11:30 a.m.
An enormous American flag served as the backdrop for the early years of Vanderbilt's Impact Symposium—when Martin Luther King Jr. and many other prominent figures spoke—will be unfurled and refolded during a Nov. 12 ceremony to honor veterans, including those who have served in Vanderbilt's ROTC program.
The remarkably well-preserved flag weighs about 300 pounds and is more than 150 feet long. It will be unfurled and refolded by volunteers—including Vanderbilt ROTC students and Jean and Alexander Heard Library staff—on Library Lawn, weather-permitting, before being properly stored in the Library's archives.
The ceremony, taking place on this year's observed date for Veterans Day, begins at 11:30 a.m. There will be remarks by Provost Susan R. Wente, Lt. Col. Dustin Mitchell of Vanderbilt's Army ROTC, and University Librarian Valerie Hotchkiss along with the singing of the National Anthem.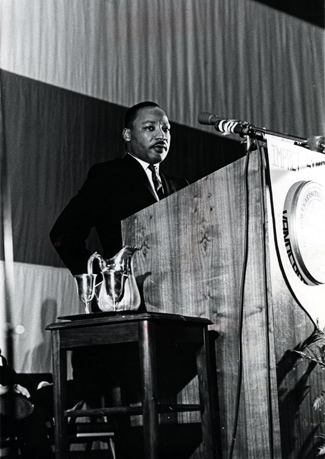 Impact, one of the oldest university lecture series of its caliber, began in 1964 with a group of Vanderbilt students who saw the need to increase the campus' exposure to current issues. An American flag that was hung in Memorial Gym during the various talks can be seen in many of the historic photographs and video.
More recent Impact symposiums have been held in a variety of venues, and the flag ended up being stored for many years in the basement of Alumni Hall.
During the ceremony, volunteers will refold the flag and deposit it in the Library's archives. A special storage unit will protect the historic flag for generations to come.
The ceremony also will recognize the significant contributions of Vanderbilt's ROTC program, the seeds of which began during World War I with the creation of the Students' Army Training Corps.
While the program transitioned into the ROTC program at the end of World War I, mandatory participation for all male students was established. Vanderbilt ended its ROTC contract in 1920, but the program was reinstated for medical students in 1947. Seven years later the university shifted the structure of ROTC to a general studies military science program. In 1965, the U.S. Army approved Vanderbilt's application for the establishment of a Senior Division ROTC unit, which has received honors for its exemplary military leadership.
Light refreshments will be served at the ceremony, which is free and open to the public.
In the case of inclement weather, the ceremony will likely be cancelled. Notice of weather-related changes will be posted by 9 a.m. Nov. 12 on the library website.