Peabody hosts Learning Sciences Graduate Student Conference
Oct. 18, 2018, 1:46 PM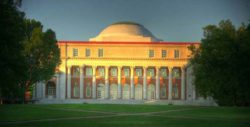 The third annual Learning Sciences Graduate Student Conference was hosted by Peabody College Oct. 12-13. The theme of the 2018 conference was "Designing the Learning Sciences: Thinking Deeply About the Relationship Between Theory and Design."
Approximately 150 graduate students from around the world convened at the Wyatt Center to share their work in paper, poster and workshop form. More than 60 papers were presented on topics ranging from STEM learning to teacher learning to politically situated learning.
Thirty posters were displayed in the Wyatt Center Atrium during a lively poster session in which participants discussed topics from choreography as a metacognitive process to the mathematics of weaving. Seven graduate students led workshops with themes ranging from designing embodied learning environments to utilizing design thinking in research to researchers as ambassadors and advocates for their work.
Noel Enyedy from the Department of Teaching and Learning at Peabody gave a very personal opening keynote address walking participants through his graduate experience and that of his students. Megan Bang (Northwestern University), Dionne Champion (TERC), Mike Tissenbaum (University of Illinois-Chicago) and Sepehr Vakil (Northwestern University) comprised a faculty panel discussing the theme of the conference and their own innovative design work. Susan Jurow (University of Colorado-Boulder) gave a moving closing keynote address titled "Designing for Radical Openness and Possibility in the Learning Sciences." This keynote was recorded and is available on the conference website.
For more information about this conference and to read proceedings from this year and past years, visit the conference website at www.lsgsc.org.