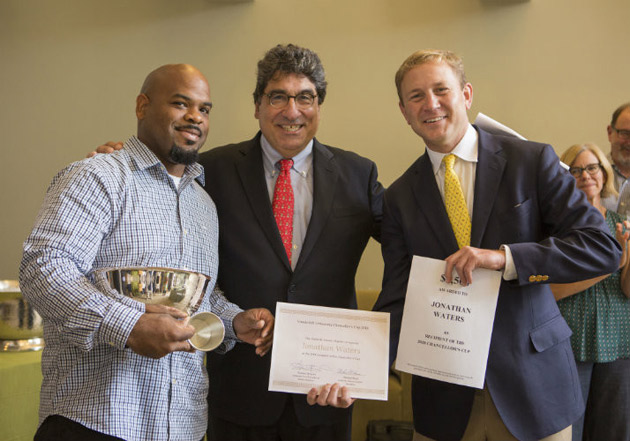 Jonathan Waters' fierce commitment to helping students from all walks of life achieve success in the arts was among several reasons he was awarded the 2018 Chancellor's Cup Oct. 9.
Waters, senior lecturer in cinema and media arts, expressed complete surprise Tuesday afternoon when he walked into the Buttrick Hall Study Lounge, where Chancellor Nicholas S. Zeppos, several faculty colleagues and students had gathered to honor him.
Zeppos praised Waters for his dedication to the craft of teaching, commitment to inclusive excellence, and leadership outside of the classroom.
"We know that you are highly skilled with your work in producing, writing and editing films, but what is especially amazing is how you've stretched the contours of the program to benefit your students in so many ways," Zeppos said. "Your ability to reach young people, including those who might lack confidence in creative expression, has enabled them to go far beyond their own expectations."
The Chancellor's Cup, established by the Nashville Vanderbilt Club in 1963, is presented annually to a professor for "the greatest contribution outside the classroom to undergraduate student-faculty relationships in the recent past."
The selection is made by the chancellor, based on recommendations from Mortar Board, Omicron Delta Kappa, deans of the undergraduate schools and various administrators.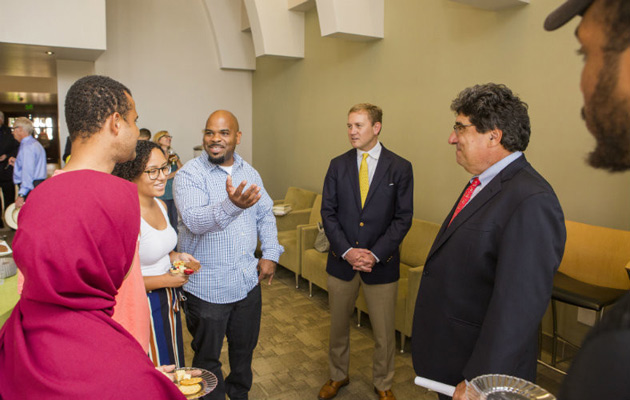 "The kinds of qualities Professor Waters brings to his interactions with students are precisely what we are hoping for as we develop immersion programming," said John Geer, dean of the College of Arts and Science, who was among those commenting on his nomination.
The award includes a cash prize of $2,500 contributed by the club, an engraved pewter cup as a permanent trophy, and one year's custody of the Tiffany and Co. silver bowl that bears the names of all past recipients.
Joining Zeppos for the presentation was Nashville Vanderbilt Club Co-President Michael Bass.
Waters received his bachelor's degree from Webster University and his MFA in filmmaking from Syracuse University, where he also taught for several years before joining Vanderbilt in 2012.
He is a multifaceted filmmaker/artist who also directs and curates the International Lens series. His principal cinema interests are in films that challenge and force viewers to fully engage and to become active participants compelled to ponder and reflect upon the work long after it leaves the screen. He teaches classes related to all aspects of film production, including screenwriting, directing, cinematography, and post-production editing and sound.
Waters expressed his deep appreciation to the chancellor, faculty and students for their support.