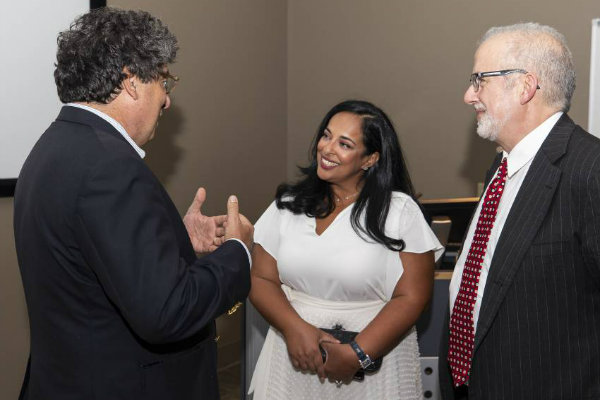 More than 200 attendees filled the Vanderbilt Fine Arts Gallery for the opening reception of I AM: Middle Eastern Women Artists and the Quest to Build Peace on Aug. 30. The event was hosted by Chancellor Nicholas S. Zeppos.
"We fail to leave an impact on the world unless we broadly engage the many ways that people are experiencing it. Vanderbilt and Nashville are uniquely positioned as a beacon for driving global understanding," Zeppos told the crowd. "We welcome all voices and all ways that lead to learning."
Other special guests included The Rev. Paul-Gordon Chandler, founding president of CARAVAN, and featured Bahranian artist Sheikha Lulwa Al-Khalifa.
The exhibit features the work of 31 premier Middle Eastern women artists from 12 countries, visually celebrating the pivotal contributions that women make to the enduring global quest for harmony and peace. It will be on view through Oct. 10.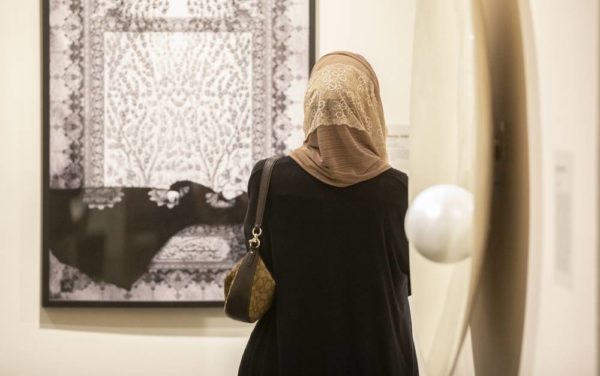 The next program scheduled in conjunction with the exhibit is a panel discussion on Wednesday, Sept. 12, at 5 p.m. in Cohen 203. This panel will include Joseph Mella, director of the Vanderbilt Fine Arts Gallery; Nahed Artoul Zehr of the Faith and Culture Center; and Maria Magdalena Campos-Pons, Cornelius Vanderbilt Endowed Chair of Fine Arts.
The Fine Arts Gallery is located in Cohen Memorial Hall at 1220 21st Ave. S. on the Peabody College campus. Gallery hours are from 11 a.m. to 4 p.m. Monday–Friday, and from 1 to 5 p.m. weekends. All events are free and open to the public.