Heuser receives Vanderbilt's Thomas Jefferson Award
Aug. 24, 2018, 3:40 PM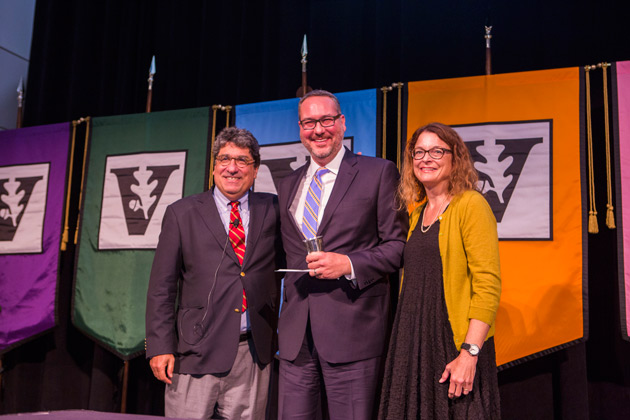 Vanderbilt's most prestigious faculty honors for accomplishments in research, scholarship or creative expression were awarded during the annual Fall Faculty Assembly Aug. 23 at the Student Life Center.
Brian Heuser received the Thomas Jefferson Award "for distinguished service to Vanderbilt through extraordinary contributions as a member of the faculty in the councils and government of the university."
Heuser is associate professor of the practice of international policy at Peabody College for education and human development and serves as the faculty director of the Ingram Scholars Program.
"Over the years, Brian's service to the university has been dedicated, substantial and constant," Chancellor Nicholas S. Zeppos said. "On the Faculty Senate alone, he has served as vice chair, chaired committees and subcommittees, and played a key role on the Faculty Manual committee, where he developed guidelines to enhance the standing of faculty within the university. He has led or served on important committees in his college and the university as well. He is a true citizen of Vanderbilt."
The Thomas Jefferson Award is accompanied by $5,000 and an engraved pewter goblet.