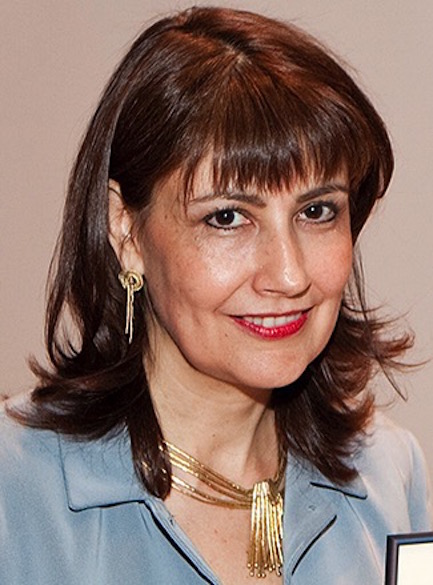 Dr. Nancy Carrasco, a leading figure in the study of iodide transport and its critical role in the thyroid and mammary glands, has been named chair of Vanderbilt University's Department of Molecular Physiology and Biophysics.
Carrasco is expected to join the Vanderbilt faculty in spring 2019. She is currently the C.N.H. Long Professor of Cellular and Molecular Physiology at Yale University.
"Dr. Carrasco is widely recognized not only as an outstanding scientist, teacher and mentor, but also as a dynamic and effective leader," Chancellor Nicholas S. Zeppos said. "We are thrilled that she will be joining our faculty as we continue to advance discovery and train the next generation of leaders in this essential field."
The Department of Molecular Physiology and Biophysics is one of the top five physiology departments in the country in funding support from the National Institutes of Health.
"Dr. Carrasco's vision and experience make her the ideal leader to carry forward the remarkable track record of pathbreaking discovery, doctoral and postdoctoral training, and cross-disciplinary collaboration for which the Vanderbilt University Department of Molecular Physiology and Biophysics is known," Provost and Vice Chancellor for Academic Affairs Susan R. Wente said. "Her pioneering research has already had tremendous impact in advancing understanding of key public health issues, including breast cancer and the impact of certain pollutants on nursing infants, which are just the kinds of real-world impacts our scientists seek to make every day at Vanderbilt."
Carrasco was the first to isolate the coding DNA for the iodide transporter protein (called NIS) that pulls iodide from the bloodstream into the thyroid gland.
"Her work on the iodide transporter has been seminal and absolutely critical for understanding not only an important step in thyroid hormone biosynthesis, but also for understanding the mechanism of action of certain environmental pollutants," Lawrence Marnett, dean of Basic Sciences for the School of Medicine, said. "She is a tremendous addition to our dynamic Basic Sciences faculty and we look forward to welcoming her as chair and as a colleague."
Iodide (a form of the element iodine) is required for the production of thyroid hormones, which regulate metabolism in almost all tissues and play crucial roles in the development and maturation of the nervous system, skeletal muscles and lungs. Infants who do not have the correct levels of thyroid hormones may have impaired cognitive development and intellectual disability.
Carrasco's findings include key mechanistic details about how the protein works, that it actively transports the pollutant perchlorate, and that it is functionally expressed in lactating breast tissue and in breast cancer. Her studies have suggested that NIS-mediated transport of radioactive iodide — a mainstay in the treatment of thyroid cancer — might be a useful therapy for breast cancer.
Carrasco replaces Roger Cone, who left Vanderbilt in 2016 after leading the department for eight years. Roger Colbran has been acting as interim chair of the department.
"I'm especially grateful to Dr. Colbran, who has done a fantastic job as interim chair," Marnett said. "I also want to thank the search committee for its excellent work in identifying Dr. Carrasco as the next leader of the department."
"It was obvious during my visits that it is an extremely exciting time at Vanderbilt," Carrasco said. "I was very impressed with the collegiality that I felt, and I am very excited about the opportunity to continue to build a department that is already recognized nationally and internationally for its scientific excellence."
"I look forward to playing a role in furthering the impact of this excellent department," Carrasco said.
"Dr. Carrasco has a very exciting vision that will enhance the department's historic strength for cutting-edge research across a range of diseases and conditions, extending this important work in new ways that will increase the department's interactions with other areas across the university and medical center," said Jeff Balser, M.D., president and chief executive officer of Vanderbilt University Medical Center and dean of the Vanderbilt University School of Medicine.
Carrasco received her M.D. and master's degree in biochemistry from the National Autonomous University of Mexico in her native Mexico City and completed postdoctoral training at the Roche Institute of Molecular Biology. She joined the faculty at Albert Einstein College of Medicine in 1987 and Yale School of Medicine in 2011.
She has received numerous national and international awards, including the Pew Award in the Biomedical Sciences, Arnold and Mabel Beckman Foundation Award, Maria Sibylla Merian Award, Merck Prize from the European Thyroid Association and Light of Life Award. She has served as president of the Society of Latin American Biophysicists and was elected to the National Academy of Sciences in 2015.
Carrasco is married to Samuel Zyman, M.D., whom she met on the first day of medical school. After completing medical school, Zyman pursued master's and doctoral degrees in music composition. He is a composer and faculty member at The Juilliard School. The couple has a son, Erik Zyman, who recently completed his doctoral studies in Linguistics and joined the faculty of the University of Chicago.