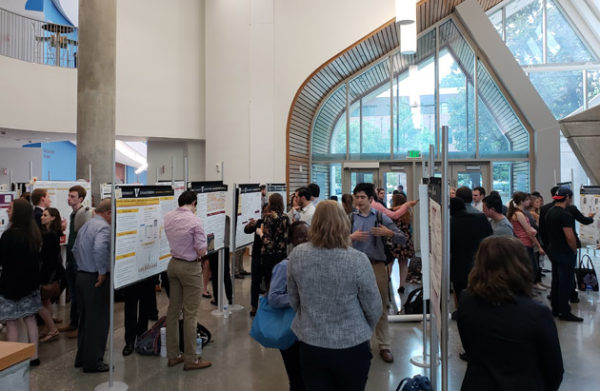 The Vanderbilt School of Medicine's Office of Biomedical Research Education and Training hosted the 16th annual Student Research Symposium at the Engineering and Science Building Aug. 2. The program included presentations from more than 100 undergraduate students showcasing the research they had conducted throughout the summer.
The symposium was the culmination of the students' summer research experiences as part of the elite Vanderbilt Summer Science Academy. Established in 2003, VSSA holds a symposium each year that provides students with the opportunity to highlight their findings and celebrate their efforts after countless hours of conducting research in labs and departments across campus. While not official members of VSSA, students participating in the Vanderbilt Institute for Nanoscale Science and Engineering and the Department of Physics and Astronomy's Research Experience for Undergraduate programs also were invited to participate in the symposium.
The VSSA program—co-directed by Beth Bowman, assistant professor of medical education and administration, and Christina Keeton, program manager in the Office of Biomedical Research Education and Training—unites many of Vanderbilt's various summer undergraduate research opportunities and provides supplementary research seminars, enrichment activities, lectures and social outings. "Participation in the Summer Science Academy is a valuable learning experience that enhances a student's research skills and makes him or her more competitive for acceptance into top graduate or medical programs," Bowman said.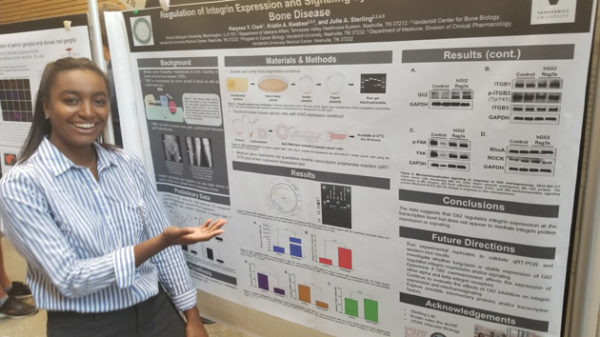 Students participating in VSSA are supported through several funding mechanisms, including internal, regional and national funding sources. Students apply to and are selected by these specific funding programs, which are then grouped into two major tracks within VSSA: the Basic Science Programs for undergraduates interested in careers in research, and the Undergraduate Clinical Research Internship Program for undergraduates who wish to pursue a career in medicine.
Karyssa Clark, a student from Illinois Wesleyan University, is in the Vascular Biology Short-term Training Program for Minority Students. Clark worked alongside Julie Sterling, associate professor of medicine, on a project studying the effects that GLi2 overexpression has on various integrins and focal adhesion proteins in breast cancer that spreads to bones. "This experience has furthered my understanding of the infinite world of cancer research," Clark said. "I learned a lot about my interest during the weekly seminars and my time in the lab. I have a ton of new skills under my belt, and I'm really excited for the future."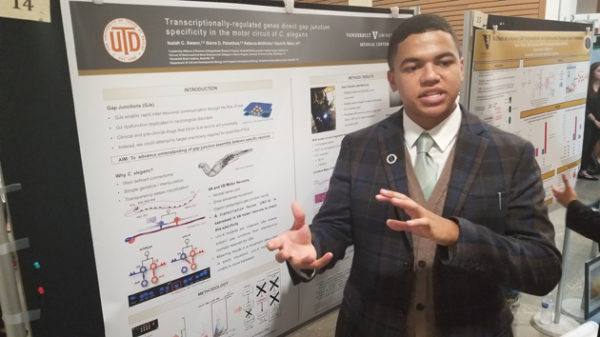 Isaiah Swann from the University of Texas in Dallas participated in the Medical Scientist Training Program. Swann conducted research with David Miller, professor of cell and developmental biology, on how gap junctions relate to movement and disease. Swann said that VSSA was one of the most rewarding experiences he has ever had. "This experience has allowed me to advance my scientific understanding of some of the neurological issues I have watched my family members deal with as well as conduct research that I hope will provide some meaningful results, which can be used to better understand and treat their diseases."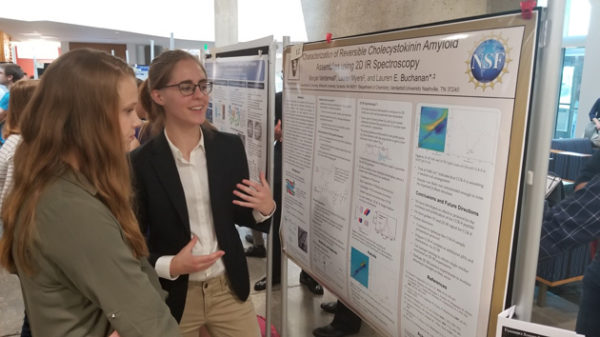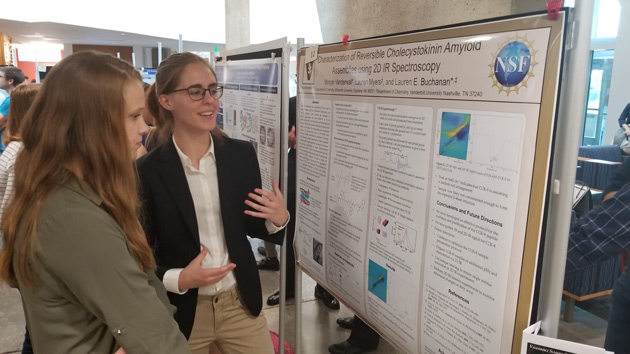 Students also noted how they developed new interests through their summer research experience with VSSA. "Before coming to Vanderbilt for the summer, I considered myself a pure biochemist," said Whitworth University student Morgan Vanderwall, who worked with Lauren Buchanan, assistant professor of chemistry, as part of the Chemistry Biology Program. "However, I have come to realize that the tools of physical chemistry can be used to tackle medically relevant problems. As a result, I see myself developing a research project that combines the techniques of biochemistry and physical chemistry."
Mandy Truelock, a VSSA student from Oklahoma State University in the Molecular and Cellular Biology Summer Program, conducted research with Timothy Cover, professor of pathology, microbiology and immunology, in an Infectious diseases lab. "I am fascinated by the inner workings of infectious disease and what exactly causes these diseases to be so pathogenic," said Truelock. "Getting to work hands-on with a bacteria that does cause these adverse effects such as cancer has not only strengthened my skill set in the lab, but it has strengthened my passion for the field."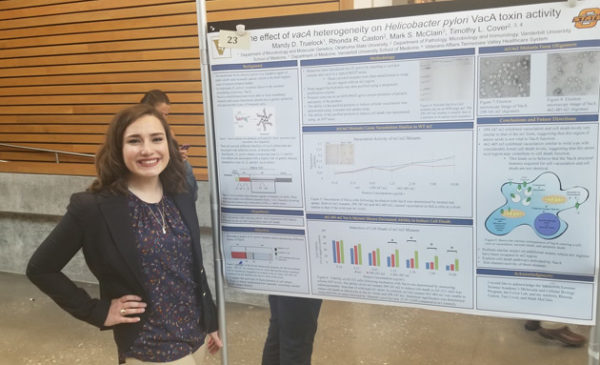 In addition to their time in the lab, students had the opportunity to participate in training sessions and seminars where they could learn about research reporting basics, such as "what makes a good poster, what is a scientific abstract, and how you should structure these things," Bowman said.
Students were also encouraged to build connections with fellow peers and faculty members involved with the program. "I appreciated that the program scheduled some fun social activities, like kayaking, to help us get out of the lab, explore the area, and connect with new people," said Vanderwall.
Students participating in VSSA said they gained substantial research, communication and professional skills that would be helpful in their future careers, which for many include graduate school. "From weekly seminars and journal clubs to lab work to shadowing extremely talented doctors, I have been given a nine-week-long crash course in what it is to be a physician-scientist," Swann said.
For more information about the Vanderbilt Summer Science Academy, visit https://medschool.vanderbilt.edu/vssa.