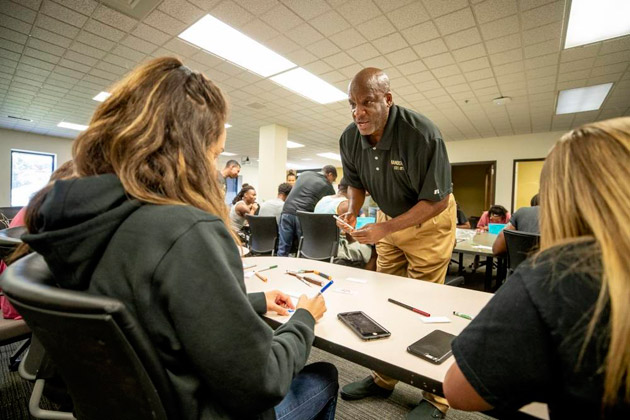 Engaging student-athletes in creative forms of expression and building connections between excellence in sports and the arts are among goals for three summer workshops co-sponsored by Vanderbilt Athletics, the Curb Center for Art, Enterprise and Public Policy and the Wond'ry.
"We would like our student-athletes not only to participate in the arts, but also to consider ways for reflecting and communicating about their unique experiences as athletes," said Elizabeth Meadows, assistant director of the Curb Center and senior lecturer in English. She noted that this summer's workshops build upon the excellent work within the "I am more than…" initiative for Vanderbilt athletes that Alison Wenzel, assistant athletic director for student-athlete development, organized last year.
Alumnus James Threalkill and Omari Booker—two African American artists who grew up in Nashville and played college sports locally—led the July 13 workshop on painting and visual art at McGugin Center.
"When I was a student, the combination of having a football scholarship and majoring in art was unusual, to say the least," said Threalkill, who earned a bachelor of science from Peabody College in 1979. "Now a significant part of my work is devoted to leading community events and workshops where collaborative art is produced."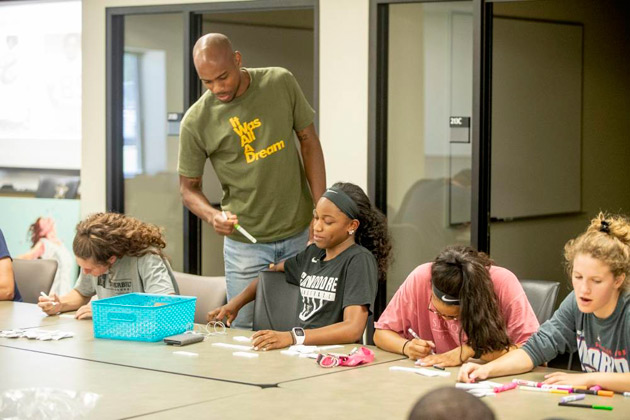 Booker played basketball at Belmont University and later earned a bachelor of science from Tennessee State University. He considers Threalkill a key mentor on his path to artistry, and spoke to the student-athletes about the importance of passion in one's education and career. "If it doesn't wake you up in the morning, you won't be successful," Booker said. "Passion, desire and drive are all vital, and there's a stronger correlation between arts and sports than many people realize."
The two artists guided the student-athletes on a collaborative art project involving strips of foam core board that were provided by the Wond'ry's state-of-the-art maker lab. Participants were requested to use their creativity and markers to decorate the "tiles."
Jordyn Cambridge, a member of the Vanderbilt women's basketball team, said that she very much enjoyed the collaborative art exercise. "Omari and James are both amazing and inspiring artists," Cambridge said. "I play guitar and agree that creative activities like music and art can be very beneficial for athletes."
Peyton Cutshall, who will play soccer for Vanderbilt this fall, agreed with Cambridge about the value of creative expression and reflection on that experience. "The workshop turned out to be a very good bonding experience with other first-year student-athletes I had not met yet. It was also nice to have a short break from everything else that we need to focus on in preparation for classes and games."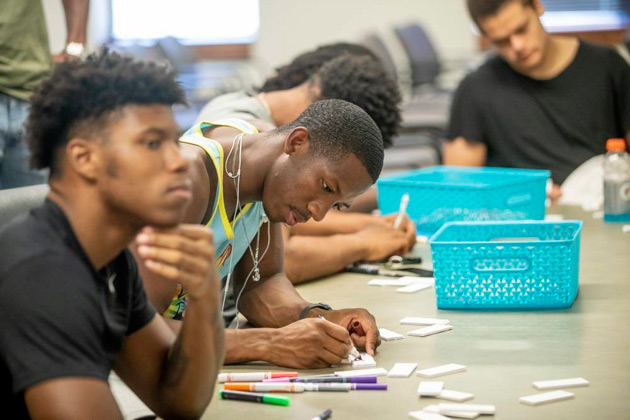 "Draw what you feel," Threalkill told the participants. "Find a way to express that visually." He will use all of the decorated strips to design and create a collaborative work of art, which will be displayed on campus upon completion.
The two other workshops sponsored by the Curb Center for first-year student-athletes will focus on creative writing and personal narrative—led by author and alumnus Andrew Maraniss—and photography.
Meadows encouraged all students who have ideas about creative projects they would like to pursue for the Immersion component of their studies to visit the Curb Center for guidance and mentorship.