Media Inquiries
Latest Stories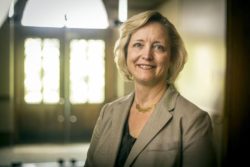 Fourteen faculty proposals have been recognized by the Office of the Provost with Discovery Grants, one of Vanderbilt's primary investments to advance discovery in core disciplines and strengthen the university's overall scholarly profile.
By supporting new ideas, cutting-edge research and infrastructure development, Discovery Grants are designed to serve as a catalyst to significant external funding.
This year's projects include studying the impact of drinking water quality on school outcomes by Assistant Professor of Economics Michelle Marcus, establishing a nanoparticle fabrication and characterization facility by Associate Professor of Biomedical Engineering Craig Duvall, and supporting vocabulary learning for children with Down syndrome by Associate Professor of Special Education Christopher Lemons.
"Vanderbilt's mission is to serve humanity and help solve complex problems facing our global society," said Provost and Vice Chancellor for Academic Affairs Susan R. Wente. "We will need new knowledge to address these problems, and our internally funded Discovery Grants support faculty who are on the cusp of major break-throughs."

The Discovery Grants program has awarded more than $16.5 million to Vanderbilt researchers since its launch in 1998. Previous Discovery Grants include the study of maternal immune activation, the use of direct-current stimulation to manipulate learning and memory, and a study of a psychometric approach to legal decision making.
Discovery Grants are open to VU-employed faculty in all schools and colleges. Proposals for the next cycle of Discovery Grants will be accepted beginning this fall, with the 2019 awards announced next spring.
A full list of 2018 Discovery Grant programs is available here.