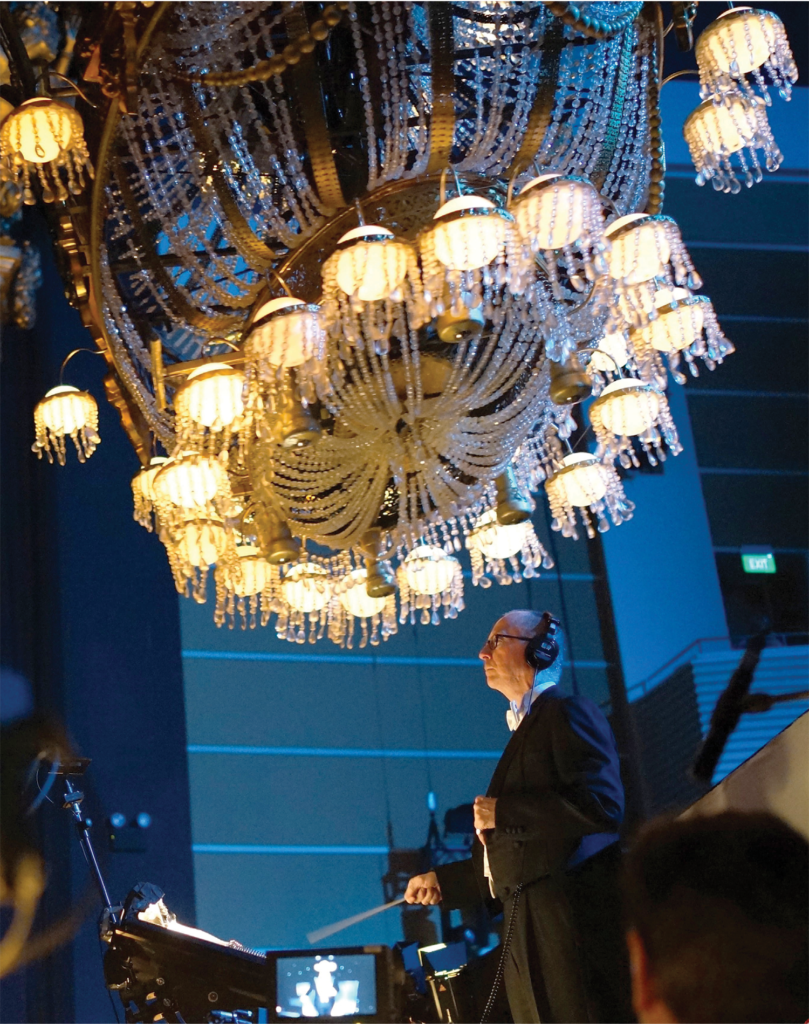 Most nights, for many years, in one exotic locale after another, the Phantom of the Opera's famous chandelier would crash down practically on top of Stan Tucker's head.
But the Broadway veteran, who served as music director for the world tour of Phantom from 2012 to 2016 as well as for the German company (Das Phantom der Oper) in Hamburg for three years, was unfazed.
"Part of the thrill of conducting these kinds of shows is you have the best seat in the house," Tucker says. "You have the orchestra below you, singers and magnificent sets in front of you, and a huge sound around you. It's very exciting."
Serving as music director for the tour and associate music supervisor for seven international companies of Phantom "has given me the world," says Tucker, a precollege scholarship student at the Blair Academy prior to its incarnation as the Blair School of Music, and a 1973 graduate of Peabody College's former school of music. "It has been such a massive part of my career and life, I owe it everything."
The Gallatin, Tennessee, native began his musical career studying voice and singing choral music in high school, while also studying piano with Roland Schneller, senior artist teacher of piano, emeritus, and former holder of the Chancellor's Chair at the Blair School of Music. "I was the second student to enroll in Blair Academy when it opened in 1964," Tucker says. "I met Roland when I was 13, and he was 24 or 25. He was a wonderful role model for me."
At Peabody he continued studying the piano as well as taking voice lessons both there and at Blair. After earning his bachelor's, he studied piano with world-renowned pianist Menahem Pressler and choral conducting with Robert Shaw at Indiana University, where he earned his master's in piano performance.
In 1983 he moved to New York City and within six weeks was a pianist in the pit orchestra for My One and Only, starring Tommy Tune and Twiggy. From there the work came consistently, with Broadway and off-Broadway productions and with national and international touring companies that included not just Phantom, but Les Misérables and Cats.
"I was lucky that I came along in the era of the mega-musical and especially those three shows—there were so many productions, there was just lots of work to be had."
Tucker has taught in the vocal performance program at New York University's Steinhardt School for 12 years. "I learn so much from the kids," he says. "They keep me current." He returns to Nashville in June to collaborate with actress Nan Gurley on a cabaret performance at the Nashville Jazz Workshop.
While on the road with Phantom, Tucker not only served as music director, but he also taught the show to local conductors and musicians in places as diverse as Cape Town, South Africa; Istanbul; and Buenos Aires, Argentina.
"You certainly learn in those circumstances how music is the universal language," Tucker says. "It was a great challenge, but also a lot of fun."
–Bonnie Arant Ertelt