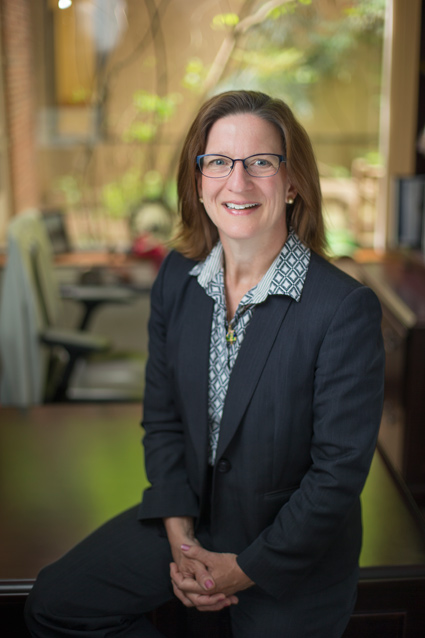 Cynthia B. Paschal, associate dean of the School of Engineering, associate professor of biomedical engineering and of radiology and radiological sciences, has been appointed the next university marshal, the first woman at Vanderbilt to assume the role. The title of marshal has its roots in European higher education and was typically given to the individual responsible for organizing Commencement.
All of the university's academic deans were solicited for nominations this spring. Paschal was nominated by Dean Philippe Fauchet and approved by Chancellor Nicholas S. Zeppos and Provost and Vice Chancellor for Academic Affairs Susan R. Wente. She will begin her three-year term as university marshal on July 1.
Q: What exactly does the university marshal do?
A: The university marshal is the conductor of movement at Commencement, which is such a beautiful event. I've served as one of the 40 or so faculty marshals for many years, so I've been intimately involved in this university tradition. Commencement has so many moving parts, with the students, the faculty, the Quinqs, the Board of Trust, the provost and the chancellor.
What you see at rehearsal looks completely different during the ceremony, and it all works thanks to dedicated faculty marshals, staff volunteers, registrars, Plant Operations, VUPD, Lifeflight, our vendors and more, but most of all, our Commencement office. Together, we work to make the experience convey all that Vanderbilt is, with honor, dignity, pride and joy.
With this new role, I am stepping into the very large shoes left by Professor of English, Emeritus, Roy Gottfried, who served as university marshal for over a dozen years and by the current University Marshal (and Milton R. Underwood Professor of Law) Daniel Gervais who has served for the past three years.
Q: What do you like most about Commencement?
A: It is such a special time—you get to know the students over their years here, and then you see them with their families and all the joy and relief they are all feeling. For the families, Commencement is really the most VU-centric thing that we do. It's important that the whole event—The Party, Senior Day and Commencement—be meaningful. Our hope is that the ceremony cements the students' bond with Vanderbilt as they step into the next exciting chapter of their lives.
Q: What brought you to Vanderbilt initially?
A: I have a long familial history with Vanderbilt. My paternal grandmother earned her bachelor's here in 1927, and I have her framed diploma hanging on my office wall. I almost came to Vanderbilt for my Ph.D., but went to Case Western Reserve University. I joined the engineering faculty in 1992, drawn by the collegial biomedical engineering faculty and by the strong magnetic resonance imaging research program.
Q: After being named associate dean in 2010, you continued to teach. In 2015, you received the Ellen Gregg Ingalls Award for Excellence in Classroom Teaching. What do you enjoy about your multiple roles?
A: I love teaching and working with students, and I also appreciate that my administrative role allows me to help them succeed. In partnership with the Global Education Office, I have advanced our study abroad program to send students abroad at two to three times the national average for engineering, which is difficult in engineering due to the sequential nature of the curriculum. I also work in corporate and industry relations, with the Career Center to help with student placement, and with the School of Engineering's Board of Visitors. Basically, I love that I get to help other people—students, faculty and staff.
Q: What are your goals as the next university marshal?
A: I want Commencement to continue to reflect the dignity and joy of the day with an eye toward how things have evolved. Our changing student body means our audience at Commencement is also changing. More family members attend. Students want to take selfies and videos. We need to accommodate all that while making sure the ceremony runs smoothly.
I've already had conversations with our Commencement office about some of my ideas. I'd like to make the processional and recessional faster and less susceptible to error, while keeping the event meaningful and dignified. Did you know that the processional, from the first students to the chancellor, takes about 30 minutes?
This fall, I plan to have engineering students study the video of Commencement and look for ways we can smooth out the process—make it easier and more efficient without changing the content.
I also want to recruit more faculty marshals. I want to make sure that, as marshals, we reflect the face of the university—all the schools and colleges, races, genders, backgrounds and more. Our ranks should reflect today's Vanderbilt.