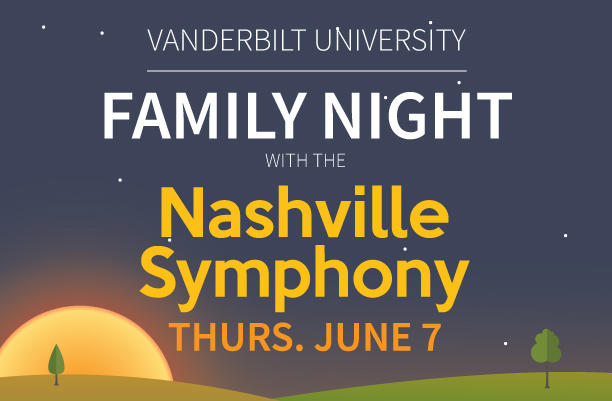 This year's Vanderbilt Family Night with the Nashville Symphony is planned for Thursday, June 7, at the Musicians Corner at the southwest area of Centennial Park. Festivities begin at 5 p.m. and will include special performances by local artists. The symphony, led by Conductor Enrico Lopez-Yañez, will perform beginning at 7:30 p.m.
The Musicians Corner was established in 2010 and focuses on engaging the community, promoting arts education and supporting local artists. Activities at the Musicians Corner include something for all ages. Kidsville is a destination for children to enjoy crafts, fitness and an educational "Musical Meet and Greet." All that fun can work up an appetite, so be sure to stop by one of the food trucks and pick up something good to eat.
The Nashville Symphony's June 7 program includes:
Candide Overture, Leonard Bernstein
That's Entertainment, Arthur Schwartz
Hungarian Dance No. 5, Johannes Brahms
William Tell Overture, Gioacchino Rossini
Armed Forces Medley, Richard Hayman
Fiddle-Faddle, Leroy Anderson
"Russian Sailors' Dance" from The Red Poppy, Reinhold Glière
Capriccio Espagnol, Nikolai Rimsky-Korsakov
PLUS fan favorite selections by John Williams
Visit the 2018 Vanderbilt Family Night with the Nashville Symphony page, or email employeeappreciation@vanderbilt.edu for more information.
Learn more about Vanderbilt University Employee Appreciation events held throughout the year.