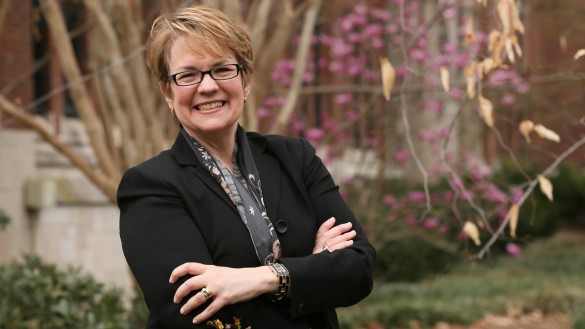 Vanessa Beasley, dean of The Martha Rivers Ingram Commons, has been promoted to a new role leading a redesigned residential college organization aimed at more fully enriching the student experience.
Beasley will assume her new responsibilities as associate provost and dean of residential faculty on July 1.
"This organizational change will bring an enhanced level of support to our residential colleges and increased continuity across all years of the residential experience," said Provost and Vice Chancellor for Academic Affairs Susan R. Wente. "As demonstrated through her leadership and vision on The Ingram Commons, Vanessa is clearly the person to spearhead our residential colleges through this exciting next phase.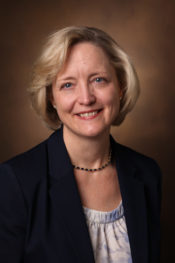 "The residential college system is rooted in the goals of our Academic Strategic Plan, and these changes will further strengthen the qualities that make Vanderbilt's undergraduate experience so distinctive and admired by our peers, parents and students."
In her new role, Beasley will oversee programmatic implementation across all residential colleges, aligning offerings with university priorities and campuswide initiatives; recruit, advise and review residential faculty; promote the academic mission of residential colleges; and advise campus planning on future designs of residential colleges.
Vanderbilt's residential college system launched in 2008 with The Ingram Commons. Warren and Moore colleges debuted in 2014, and the new E. Bronson Ingram College opens in August. Construction is underway for more residential colleges in the West End Neighborhood.
"We've learned so much through our first decade on The Ingram Commons, and I'm excited to further expand those opportunities through the entire arc of the undergraduate student experience," Beasley said. "The academic mission of the residential college system will extend our ability to discover, teach and serve together within spaces designed to help us listen to and learn from each other."
The announcement of the new organizational structure follows the May 7 release of the Residential Colleges Programmatic Visions Committee report. Wente appointed the committee in November 2017, charging them to look for new approaches to enhance students' experiences in a way that educates the whole person and cultivates lifelong learning.
"The committee developed a road map that charts a course for our students through the important undergraduate years," said Beasley, who chaired the committee. "It builds on the strengths of the first-year programming, preparing our students to be influential, compassionate leaders and scholars in their communities."
The committee outlined how the residential college communities could help educate the whole student throughout the undergraduate years, focusing on intellect, community, personal wellbeing, self-discovery and cultural awareness. The committee also recommended the redesigned administrative structure to lead, direct and support the entire system.
Professor of Ethnomusicology Gregory Melchor-Barz, faculty head of North House and the associate dean for academic initiatives on The Ingram Commons, will serve as interim dean of The Ingram Commons for the 2018-19 academic year. A search for the next dean is expected to launch in fall 2018.