MyVU has profiled 14 members of the Class of 2018. We're featuring their stories in the lead up to Commencement on May 11.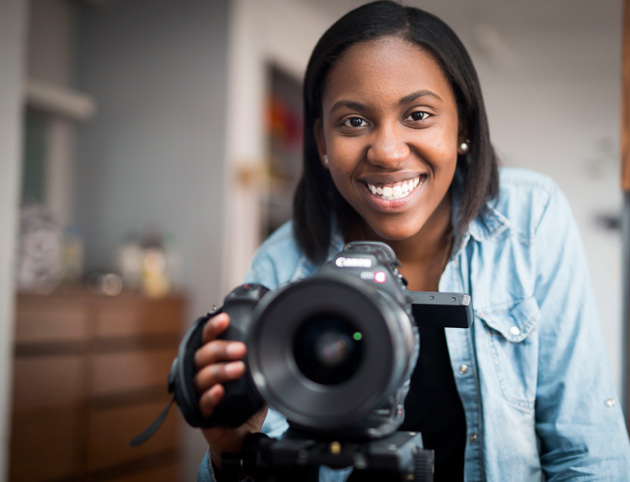 The only thing Briana Francois enjoys more than watching TV and digital content is creating it.
Francois grew up in Woodstock, Georgia, a "TV kid" with an appreciation for the medium's ability to transcend viewers' personal experiences and expectations.
"I'm fascinated by the idea that a lot of people can watch the same thing and have different interpretations of it, but ultimately still be entertained by it," she said.
At Vanderbilt, her double majors in psychology and cinema and media arts have allowed her both to examine human behavior and represent it authentically on film. "In cinema and media arts, we make different short films and videos. It's a lot of group-based work, so I'll be directing on one project and working someone's camera on another.
"I'm hoping to go into television production after college. My dream job would be a sitcom producer," said Francois, who has pursued a minor in corporate strategy. "I enjoy bringing together people's talents and organizing and scheduling, and I like budgets too. The more collaborative a project is, the more interesting it becomes."
Francois gained valuable production experience as an intern for Nashville Public Television. As the Vanderbilt Career Center's first-ever media manager, she created a podcast called Wandering Off for which she interviewed notable alumni about the not-always-linear paths they've taken to career success.
But Francois' passion is representation on TV and in film. For her senior project, she created a three-episode web series loosely based on her and her friends' experiences as college students. Francois wrote and directed the series and shot scenes on and around campus. She cites acclaimed actor-writer-producers Mindy Kaling and Issa Rae as inspirations for successfully mining their personal lives to create distinctive shows that resonate with audiences.
After a stint with Teach for America following graduation, Francois wants to participate in the NBC page program, which would take her to Los Angeles and hopefully a career in the television industry. She realizes that success likely won't come overnight.
"As a college senior, it's easy to feel that you should have your path figured out by the time you graduate. But doing the Wandering Off podcast taught me that's not always the case," Francois said. "People take all sorts of paths to successful careers. I'm ready to start my journey."