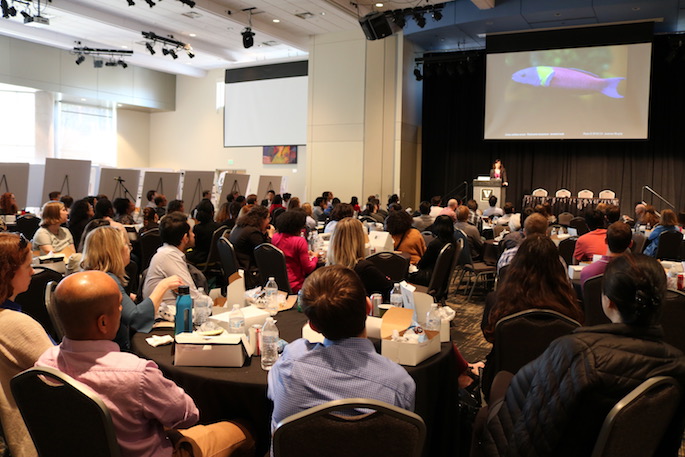 Postdoctoral scholar Natalie Hinkel has been named Postdoc of the Year by the Office of Postdoctoral Affairs for her exceptional scholarship. Since 2008, the Postdoc of the Year award has honored excellence in research, scholarship or creative expression as evidenced by publications, presentations and honors, with special consideration given to service and mentorship. Honorees are chosen by the Office of Postdoctoral Affairs' Postdoctoral Advisory Committee.
The award was presented by Mark Wallace, dean of the Graduate School, at the 12th annual Vanderbilt Postdoctoral Association Symposium on April 12.
Hinkel, a planetary astrophysicist, studies stellar abundance analysis for nearby main-sequence stars, the chemical interplay between exoplanets and their host stars, and computational astrophysics and machine learning algorithms.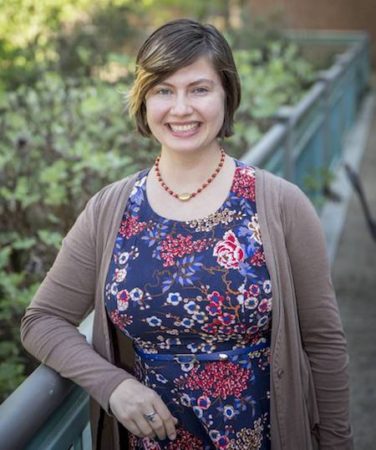 "First and foremost, Natalie is a highly productive and impactful scholar, and her work to understand the chemical relationship between stars and planets is helping to set the research agenda for the field," said Hinkel's mentor, Keivan Stassun, professor of physics and astronomy.
Stassun also noted that Hinkel is a committed mentor of graduate and undergraduate students and has helped to advance multiple institutional priorities, including the Vanderbilt Initiative in Data-intensive Astrophysics and the Initiative for Autism, Innovation and the Workforce.
"Natalie brings what I call 'full human presence' to Vanderbilt, to the profession and to our students," he said. "Truly, she embodies the ideal of Vanderbilt Postdoc of the Year."
Hinkel said she was "deeply honored" to be named Vanderbilt's Postdoc of the Year for 2018.
"As a postdoc, it's expected that you pursue research as diligently as possible," she said. "However, with the transient nature of the job, you can often feel overworked, underappreciated and undervalued—which takes a mental toll. It is because of all this that I, and likely my other postdoc colleagues, appreciate so much what the VPA has done and continues to do for Vanderbilt postdocs. The 'wins' are few and far between in academia, so it's really wonderful to feel like not only the research but also the outreach and academic service you do is recognized and appreciated."
Kareem Mohni and Monica Ridgeway were honorable mentions for the award.
Mohni is a postdoctoral scholar in the lab of David Cortez, professor of biochemistry. As a graduate student at the University of Connecticut, where he published 10 manuscripts as a student, Mohni knew he wanted to be an independent researcher in a major university studying DNA metabolism in the context of viral replication. In the Cortez lab, Mohni has published two first-author manuscripts, which have been cited a total of 82 times.
Mohni's current research, utilizing three experimental systems—human cells, budding yeast and E. coli—has not only demonstrated a new DNA repair protein but also has found that it defines a completely new DNA repair pathway. Mohni has a paper currently under review at Science, a second paper being submitted to Molecular Cell and an additional manuscript planned. His preliminary data was used as the foundation of a new R01 grant application in the Cortez lab.
Ridgeway is mentored by Ebony McGee, associate professor of teaching and learning, and William Robinson, associate professor of electrical engineering in the School of Engineering. She is one of the inaugural Academic Pathways Postdoctoral Research Fellows on campus. Ridgeway's research focuses on STEM teaching and learning for historically marginalized students and faculty of color in P-20 educational spaces. She has a first-authored publication in Urban Review, is heavily involved in the Explorations in Diversifying Engineering Faculty Initiative on campus, and is lead investigator on the study "Positioning the Postdoctoral Researcher: Exploring Motivation and Experiences within STEM."
Ridgeway is also the secretary of the VPA and co-chair of the membership committee for the Critical Race Studies in Education Association.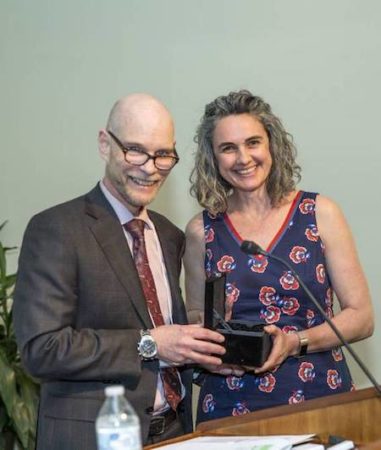 Anita Disney, assistant professor of psychology, was honored as Mentor of the Year. The award recognizes a faculty mentor who demonstrates a willingness to share advice and guidance, is supportive of mentees' own career goals and has a strong record of community service and publication.
In presenting the award, Wallace said, "Anita is an exceptional mentor who embodies the traits that make one so successful in this role. She is an exacting scientist who cares deeply about her research and about the people around her who she mentors and who make up a highly engaged and effective research team. Going beyond her own lab, she has stepped in under difficult circumstances in this past year to help in the mentoring of those who suffered the loss of their own mentor. I can't imagine a better choice for the Mentor of the Year award."
The Vanderbilt Postdoctoral Association Symposium is sponsored by the Graduate School. The all-day event featured lightning-round talks that provided brief introductions to postdoctoral research around campus, breakout sessions for more in-depth presentations and networking events.
"The symposium attracted a record number of abstract submissions this year, and it's wonderful to see contributions from disciplines across the campus," said Associate Dean of the Graduate School and Director of the Office of Postdoctoral Affairs Clare McCabe. "We have a very active postdoctoral association, and under their direction, this event goes from strength to strength each year."
In addition to Wallace, attendees heard remarks from Roger Chalkley, senior associate dean in biomedical sciences for research education and training. Entrepreneur Liz Neeley, executive director of The Story Collider, delivered the keynote address.
For more information on the OPA and events offered to postdocs, visit vu.edu/opa.