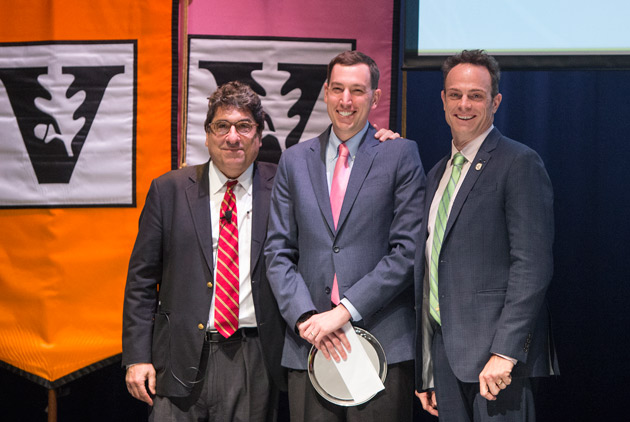 Chancellor Nicholas S. Zeppos honored six Vanderbilt academic leaders at the Spring Faculty Assembly with awards recognizing their teaching, research, service and commitment to diversity.
"These awards echo the mission of our great university and applaud your dedication to our scholarly endeavors," Zeppos told the audience gathered at Langford Auditorium. "These awards represent the many hours invested during your careers in teaching and mentoring and also honor past Vanderbilt leaders who so nobly steered the course of our university."
Read more about the Spring Faculty Assembly. >> 
Recognized during the April 5 ceremony at Langford Auditorium were:
Jesse Ehrenfeld, Joseph A. Johnson, Jr. Distinguished Leadership Professor Award
Alan Wiseman, Joe B. Wyatt Distinguished University Professor Award
Kevin B. Johnson, Alexander Heard Distinguished Service Professor Award
Kate Daniels, Harvie Branscomb Distinguished Professor Award
Sheri Shaneyfelt, Ellen Gregg Ingalls Award for Excellence in Classroom Teaching
Leigh Wadsworth, Madison Sarratt Prize for Excellence in Undergraduate Teaching
Ehrenfeld, the third winner of the Johnson Award, is a professor of anesthesiology, surgery, biomedical informatics, and health policy. He has had a tremendous impact on equity, diversity and inclusion through his work as a clinician, teacher, scholar, filmmaker and leader, with particular attention to gay, lesbian and transgendered people at local, national and global levels. He divides his time among clinical practice, teaching, research and academic service. Ehrenfeld is a combat veteran who continues to serve as a commander in the United States Navy Reserve. For his work on the film Transgender at War and in Love, which documents the lives of transgender service members, he earned a 2016 Emmy nomination and a GLAAD Media Award.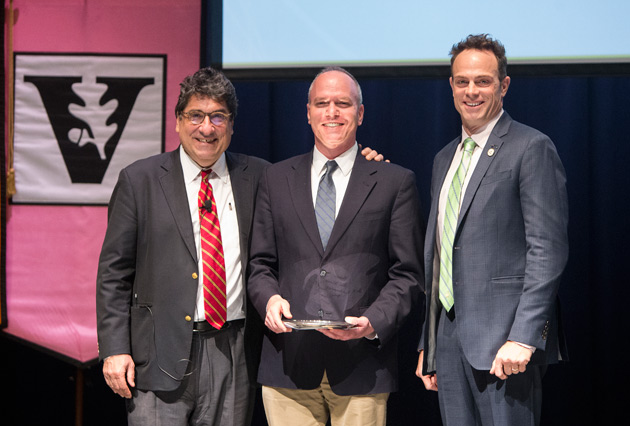 Wiseman, winner of the Wyatt Award, is the Cornelius Vanderbilt Professor of Political Economy. He was recognized for his innovative and impactful work at the intersection of the fields of political science, economics and law; for founding the trans-institutional Center for the Study of Democratic Institutions; and for the creation of a new interdisciplinary and trans-institutional major in analytic methods in the social sciences. His recommendation noted that Wiseman was a leading figure in the growing interdisciplinary field of political economy, adding that he has "translated his deep interest in the intersection of political and economic issues, theories and research methods into energetic and highly effective contributions to scholarship, teaching and institution-building at Vanderbilt as well as nationally and internationally."
Johnson, winner of the Heard Award, is the Cornelius Vanderbilt Professor of Biomedical Informatics and also the department chair. He was recognized for his work as an internationally respected developer and evaluator of clinical information technology as well as for his role in creating a post-Katrina documentary highlighting the real-world hardships that result from a lack of health technology infrastructure. Johnson also had a profound impact on the Medical Center through his work leading the selection and installation of EpicLeap, a new, comprehensive electronic health information system that impacts virtually every aspect of the Medical Center's activities.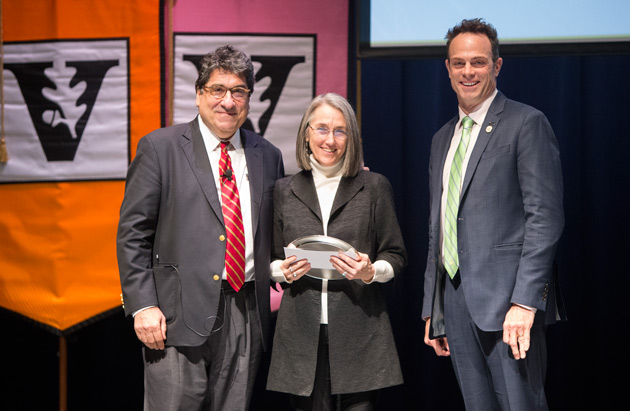 Daniels, winner of the Branscomb Award, is a professor of English and director of creative writing in the MFA program. She was recommended for the award based on her distinguished career as an award-winning poet, her development of the MFA degree program, her substantial contributions in her department, her college and the university as a faculty leader, and her tremendous success as a teacher. She has published several collections of poetry and won a number of prizes. She was named a Guggenheim fellow in 2013. Her recommendation reads: "In her own writing, in her teaching, in her extensive service, Professor Daniels exemplifies the ideal candidate: creative scholar, inspiring teacher and servant to the wider university community and the agile world in which we live."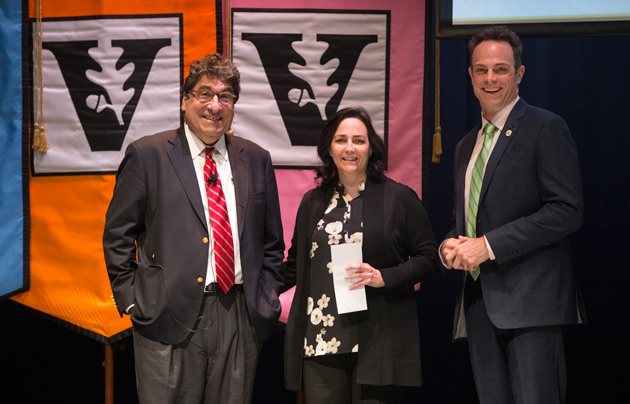 Shaneyfelt, winner of the Ingalls Award, is a principal senior lecturer in the history of art. She is described as a dedicated and beloved undergraduate teacher, deeply devoted to mentoring students in her role as director of undergraduate studies. Shaneyfelt regularly receives near-perfect course evaluations, and her classes are always oversubscribed. She also maintains an active research agenda in Italian Renaissance art. Her letter of support reads: "Her popularity stems from the fact that she works very hard to make her expectations for student performance clear, provides students the support they need to meet those expectations, and generally supports student success in every way possible."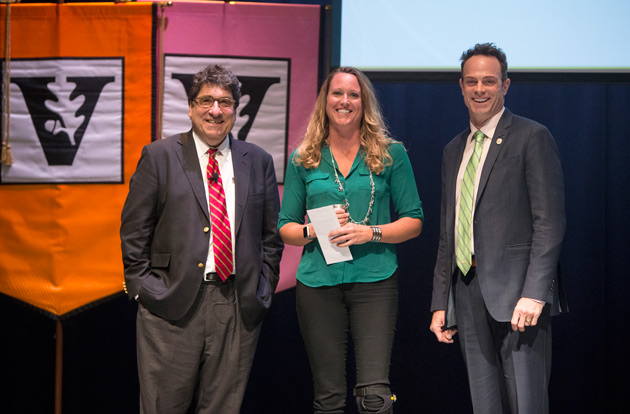 Wadsworth, winner of the Madison Sarratt Prize, is a senior lecturer in psychology and director of undergraduate studies in psychology and human development at Peabody College. She teaches undergraduate classes in child development, adolescent development and educational psychology. She consistently earns some of the very best student teaching evaluations in her department and college. Wadsworth mentors undergraduate students, advising them on courses, careers and ambitions. Since 2009, she has served as a Vanderbilt Visions Faculty VUceptor, guiding a group of first-year students through the challenges, opportunities and adjustments of that important transition. Students frequently praise her in their evaluations, saying that she creates an open and supportive classroom environment for discussion and is clearly committed to the success of every student.
The awards all come with a $5,000 cash prize and a commemorative item. The Sarratt and Ingalls awards come an engraved pewter cup; the Branscomb, Heard, Wyatt and Johnson awards with an engraved silver tray.