Media Inquiries
Latest Stories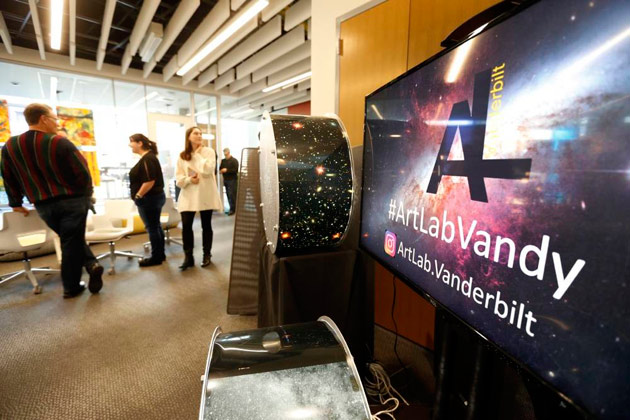 Whether art can actually boost a scientist's creativity is just one of the intriguing questions that a group of faculty, students and staff are exploring in ArtLab, an interdisciplinary workshop started last fall by Kendra Oliver, an instructor of pharmacology.
"This has been a dream come true for me," said Oliver, who describes herself as an "intensely trained scientist" and practicing artist. "I don't have a background in the arts but have a longtime interest in concepts like data visualization. I anticipated that ArtLab would attract artists and scientists who were interested in working together, but was surprised to find that most participants identify as both," she said.
The goal of ArtLab, which is sponsored by the Curb Center for Art, Enterprise and Public Policy and the Wond'ry, is to explore the boundaries of art and science through seminars and project-based exploration. The workshop also receives strong support from the Communication of Science and Technology Program within the College of Arts and Science.
"The Curb Center hopes to expand ArtLab next year, increasing its interdisciplinary focus and embedding artists in some science research projects," said Elizabeth Meadows, assistant director. Funding from the Curb's Catalyst Creativity Grant Program will help make that possible.
Among many research areas represented in ArtLab are pharmacology, biological sciences, biochemistry, physics and astronomy, engineering and psychology.
An ArtLab pop-up exhibition— with more than 50 artists and scientists contributing original works within the art and science intersection—was on display at the Wond'ry March 1-2. Among the exhibitors was David Sweatt, professor and chair of the Department of Pharmacology, whose paintings focus on biostatistics in various fields, such as behavioral assays.
"Professor Sweatt was the first faculty member that I discussed the idea of ArtLab with, and he has been a wonderful mentor," said Oliver, who is transitioning from research fellow in the Division of Nephrology and Hypertension to instructor in pharmacology this month. She has worked closely on ArtLab programming with undergraduate Eve Moll, who has a strong interest in art even though she considers herself a science person.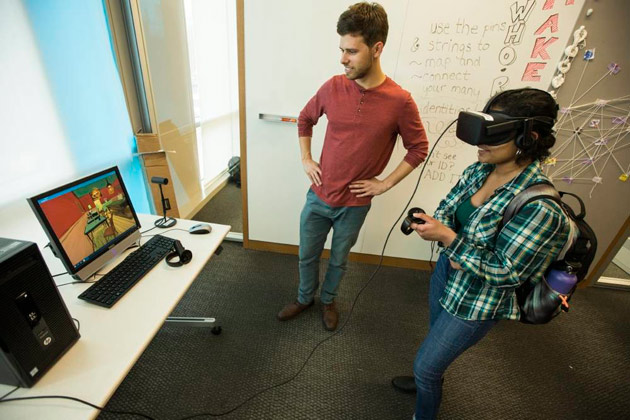 "ArtLab helped me realize these two things aren't mutually exclusive," Moll said. "I plan to study molecular and cellular biology at Vanderbilt, then attend medical school. I am very passionate about academics, particularly science. I will never stop painting, though. It will always be a passion of mine too. The chance to experience these two passions coming together has been such a treat for me and many other participants in ArtLab."
Moll, Oliver and Marilyn Murphy, professor of art, emerita, are collaborating to explore the representation of "Women in Science." Items on display at the Wond'ry include a portrait of four women scientists who were Nobel Prize winners, with blue and red dots as the background. The blue and red dots are based on the demographic data detailing male and female Nobel Prize winners in science. The blue (male) dots outnumber the red (female) dots.
Other works in the pop-up exhibition included time-exposure photography by Dawn Israel, research assistant professor of medicine, that follows the movement of people throughout a lab. "Dawn's work truly captures the busyness of the lab, and you can tell in what area of the lab people spend the most time," Oliver said.
The purpose of a project called "Pinpoints" by David Weintraub is to track stars. "At one time, David's creation had hung from Wilson Hall but had gone into storage when someone thought it might be a fire hazard," Oliver said. "We were delighted to have it as part of the exhibition."
Programming connected to the ArtLab exhibition included a collective discussion with visiting lecturer Daniel Kohn, along with presentations by Vesna Pavlović, associate professor of art; Miriam Lense, research instructor, Vanderbilt Music Cognition Lab; and Sweatt.
Jay Clayton, director of the Curb Center and the William R. Kenan Professor of English, spoke earlier this semester on the history of art/science collaborations at Vanderbilt.
"For me, bridging art and science is a way to open the beauty and complexity of science to diverse learners of all ages and backgrounds," Oliver said.