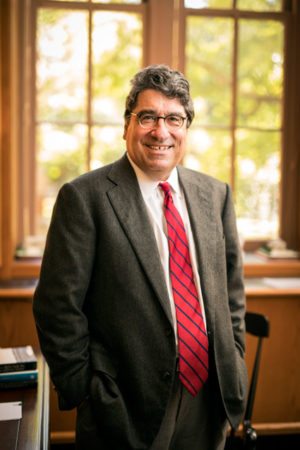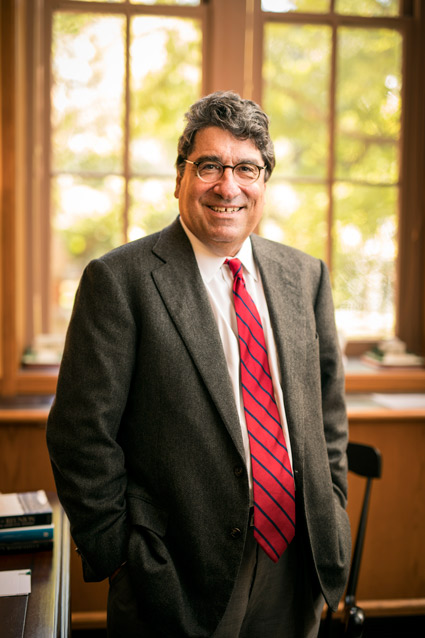 A year after the administration proposed cuts to research and education accounts that were called "draconian," "devastating" and "short-sighted," Congress passed a bipartisan $1.29 trillion spending bill for the current fiscal year that includes some of the largest increases in research and education accounts in nearly a decade.
"Last week's spending bill "rightly reaffirms the longstanding partnership between the federal government and America's research universities and recommits the federal government to essential investments in science and engineering research and education," Vanderbilt University Chancellor Nicholas S. Zeppos said March 23. "This forward-looking funding will help ensure our nation's security and prosperity."
According to AAAS, the spending package approved last week provides the largest year-over-year increases for basic and applied research funding since the FY 09 Recovery Act. Notably, the bill provides:
$37.08 billion for NIH, a $3 billion (nearly 9 percent) increase over FY 17;
$7.76 billion for NSF, a $290 million (4 percent) increase over FY 17;
$6.26 billion for DOE Office of Science, an $870 million (16 percent) increase over FY 17;
$353 million for DOE ARPA-E, a $47 million (15 percent) increase over FY 17;
$2.34 billion for Defense basic research (6.1), a $70 million (nearly 3 percent) increase over FY 17;
$613 million for the Institute of Education Sciences, an $8 million (1.4 percent) increase over FY 17;
$153 million for the National Endowment for the Humanities, a $3.2 million (nearly 2 percent) increase over FY 17;
$6,095 maximum Pell Grant, a $175 (nearly 3 percent) increase in the maximum award over FY 17;
$840 million for Supplemental Educational Opportunity Grants (SEOG), a $107 million (15 percent) increase over FY 17; and
$1.13 billion for Federal Work-Study, a $140 million (14 percent) increase over FY 17.
The final spending package also prohibits the administration from implementing its proposed cap on indirect cost reimbursements to universities, something Vanderbilt advocated strongly against.
"Importantly, Congress soundly rejected the administration's draconian cuts proposed a year ago and instead has made smart, strategic and critical investments in research and education. This is good policy," Zeppos said. "These investments will support efforts at Vanderbilt and elsewhere in higher education to develop new technologies, new cures and new knowledge that are vital to our nation's economy, health and security."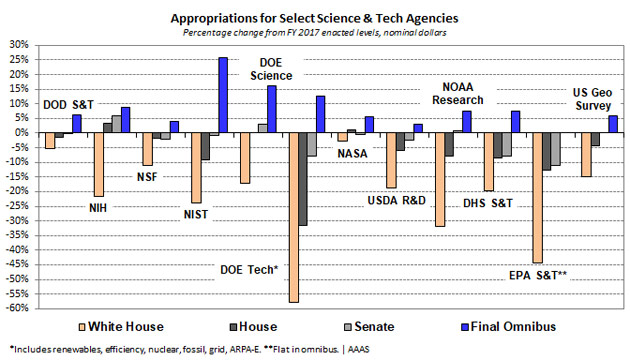 Tennessee's senior senator and appropriator Lamar Alexander (R) led the way for the record funding for the Department of Energy's Office of Science and ARPA-E. "The amount of funding we provided this year demonstrates Congress' commitment to basic energy research," Alexander said. "Supporting government-sponsored research at our 17 national laboratories and research universities is one of the most important investments our country can make to encourage innovation, help our free enterprise system create good-paying jobs, and ensure American competitiveness in a global economy."
Tennessee Reps. Phil Roe, Jim Cooper and David Kustoff joined Tennessee appropriator Rep. Chuck Fleischmann in voting for the spending package, which will fund the government through the end of September.
"We appreciate their commitment to science and engineering research and education, and look forward to working with them and others to sustain these tremendous commitments," Zeppos said after the vote.
Since the administration released its budget proposal last year, Vanderbilt has joined with its peers in forcefully pushing back against the proposed cuts to research and education and instead advocating for robust funding for science and engineering research and education. Vanderbilt's Washington, D.C.-based Office of Federal Relations has spearheaded those efforts, which included multiple letters to congressional leaders, meetings with federal policymakers, social media and op-eds. The office works closely with individuals on campus to help further Vanderbilt's federal policy priorities.
"While months overdue, this spending package is a clear victory for science and education," Assistant Vice Chancellor for Federal Relations Christina West said. "We are extraordinarily grateful to Congress for demonstrating a bipartisan and historic commitment to education and research. This remarkable investment will provide critical support for our researchers and students and will help train the next generation of scientists, engineers and innovators."