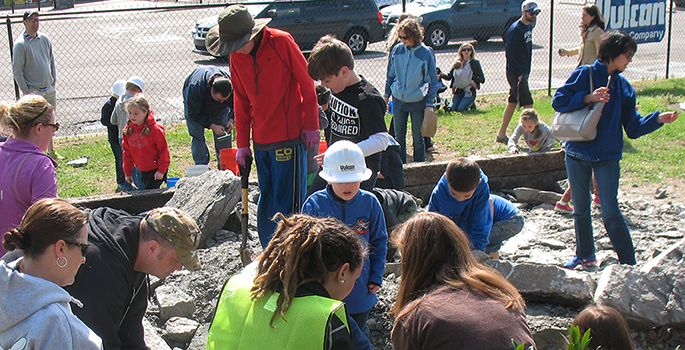 The sixth annual Fossils at the Fort is Saturday, April 7, from 10 a.m. to 1 p.m. at Fort Negley Visitors Center and Park. The event is free and will take place rain or shine.
Vanderbilt's Department of Earth and Environmental Sciences is partnering with Fort Negley Park, Metro Parks and Recreation and Vulcan Materials Co. to provide opportunities to journey into Middle Tennessee's astonishing ancient past.
At the April 7 event, participants will be able to:
bring fossils for fossil identification;
plot and identify major events on a giant timeline;
discover and take home 400-million-year-old fossils from a collection site donated by Vulcan Materials Co.; and
enjoy student-led presentations and tours about Tennessee's ancient past, including learning about bizarre details of early life, dinosaurs from Alaska, saber-toothed cats and our ancestors.
This year's presentations will focus on traveling the globe to discover ancient life.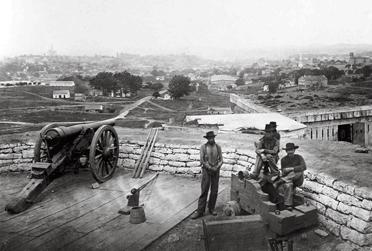 "Regardless of age, kids and adults always enjoy finding fossils. Everyone can find fossils, which they get to take home, and can learn about them in student presentations about ancient life across the globe," said Larisa DeSantis, assistant professor of earth and environmental sciences, who teaches Vanderbilt's Life through Time course.
"This event is a fun opportunity for our students to share their passion with the public, engaging members of the community in a love for finding fossils and understanding our ancient past."
DeSantis is helping continue the event, which was initiated six years ago by Professor Emeritus Molly Miller.
"We often think about history in terms of isolated events, but history is so much more," said Krista Castillo, museum coordinator at Fort Negley Visitors Center and Park. "Fort Negley Park is a perfect example of how history is actually an immense series of interconnections spanning eons. An ancient tropical sea created Nashville's extraordinary limestone landscape. From that limestone, Civil War military engineers created the nation's largest inland masonry fortification. Fossils at the Fort provides a rare opportunity to make vital connections between ancient times and the more recent past."
Guests are encouraged to bring a picnic lunch. For additional information, contact Krista Castillo at (615) 862-8470.