Media Inquiries
Latest Stories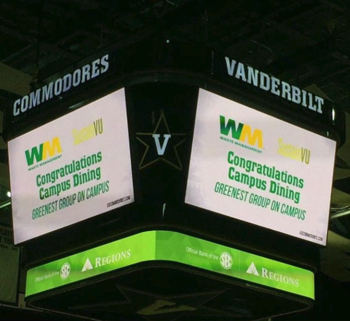 Vanderbilt Campus Dining was named the winner of the 2018 Vanderbilt Basketball Sustainability Competition. The group celebrated its title of "Greenest Group on Campus" at the game against Missouri Feb. 27 with a hospitality event and 20 tickets to the game, as well as in-game videoboard recognition.
The competition, presented by Waste Management, Inc., the Vanderbilt Sustainability and Environmental Management Office and VU Athletics, invited all Vanderbilt groups, teams, departments, classes and campus organizations to compete for the title of "Greenest Group on Campus" by detailing what sustainable actions they routinely implement to reduce, reuse or recycle; save energy or water; use mass transit and alternative transportation options; or any other innovative sustainability programs going on within their department or organization.
Vanderbilt Campus Dining strives to present healthy and sustainable dining options for all Vanderbilt students, faculty and staff. They recently implemented a composting program in partnership with Vanderbilt Facilities to reduce food waste from The Commons Center, Kissam Center, McTyeire International House and the markets in the Branscomb, Morgan and Towers residence halls. At Rand Dining Hall, the ORCA food digester helps to reduce waste going into landfills.
In addition, Vanderbilt recently was named a member of the Menus of Change University Research Collaboration. As part of the initiative, Campus Dining is committed to advancing plant-forward menus to improve the Vanderbilt food system and reduce the university's carbon footprint. Campus Dining's "Eat the World, Save the Earth" program outlines its commitments to making sustainable operational and purchasing choices.
Learn more about Campus Dining, Waste Management and Vanderbilt Athletics on their respective websites. For more information about Vanderbilt's sustainability accomplishments or how you can participate in future sustainability competitions, visit the SustainVU website, or email sustainvu@vanderbilt.edu.
Contact: SEMO, 615-322-9022
sustainvu@vanderbilt.edu