Media Inquiries
Latest Stories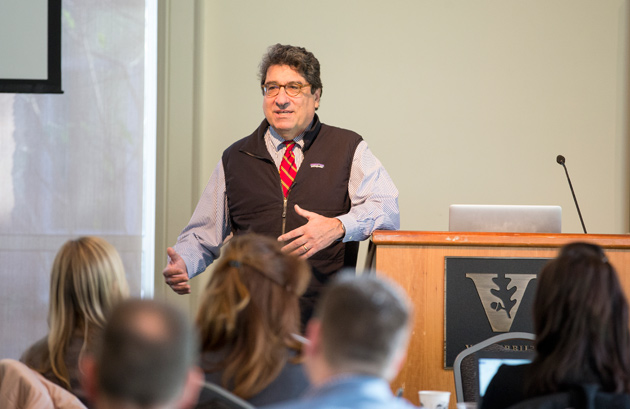 Chancellor Nicholas S. Zeppos spoke to the University Staff Advisory Council on March 13, thanking the group for their service to Vanderbilt and saluting the nearly 4,500 staff members for their role in Vanderbilt's upward trajectory.
"You're the lifeblood of the institution," he told the group at its monthly meeting. "Your feedback, ideas, guidance and direction are absolutely critical to our success."
USAC, with nearly 100 representatives, serves as an advisory group to administration and staff on issues, policies and practices that affect the university and those served by the council. Zeppos speaks to the group each spring.
Zeppos commended the staff members for their efforts in the everyday life of the university. "It's SkyVU, drug discovery, the wellness center, communications, the libraries, IT—all of it," he said. "By putting your shoulders to the wheel, you make Vanderbilt better."
This academic year, the new Heart and Soul Staff Awards and the Equity, Diversity and Inclusion Distinguished Leadership Award joined the expanded Commodore Awards as a way to recognize staffers who go beyond the call of duty in their daily work.
"These awards show where our priorities are," he said. "Diversity is what enriches our community and drives our overall excellence. In understanding our differences, we find our commonalities. This is the only way we can meet our mission, and I'm proud of what we do."
Zeppos also noted the recent increase in the starting wage and expanded time-off policies. "We're always looking at the market and our pay scales," he said, adding that Vanderbilt's generous benefits package sets it apart from most employers. "We have to remember that compensation is more than just an hourly wage."
The 2016 transition of the university and the medical center into separate financial entities has given the university an increased "range of motion" with policies, Zeppos said. "It's critical that we acknowledge the intensity of our work and build in down time," he said. "The increased PTO days, including the day after Thanksgiving and Winter Break, and the Summer Fridays program last year do just that."
Zeppos thanked the group for working alongside him in the intergenerational stewardship of Vanderbilt and its mission. "We have all committed to making something that's bigger than us better, and handing it down to the next generation," he said. "That's what I do, and I love it. It's a privilege to work here."