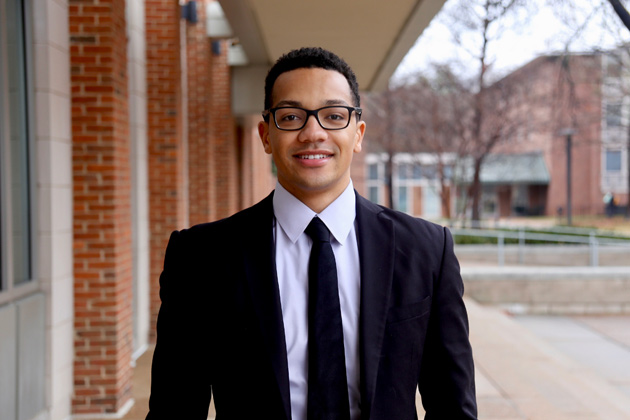 Phillip McGloin, a College of Arts and Science senior from Washington, D.C., has been named to the 2018-19 class of Luce Scholars. A nationally competitive fellowship, the Luce Scholars Program was created to enhance the understanding of Asia among potential leaders in American society. As a Luce Scholar, McGloin will gain new perspectives through immersive living and working experiences in Asia during the next year.
Students from colleges and universities throughout the United States were nominated for the program, and McGloin was one of 18 students chosen following an intensive three-month selection process.
"As a Luce Scholar, I look forward to learning what it means to live, work and have unfettered exposure to Asia," McGloin said. Though his placement isn't final yet, he hopes to pursue an internship in international sports business and branding.
While at Vanderbilt, McGloin has immersed himself in academics, international and professional experiences and athletics. He is a double major in economics and political science and a double minor in Chinese and financial economics. He studied Chinese in Shanghai, China, for a month during the summer of 2015 and for eight weeks at National Taiwan University in Taipei, Taiwan, in summer 2017. While in Taipei, he interned and did market research at Gerber Brand Consulting. He also was a member of Vanderbilt's varsity men's basketball team during his first three years at the university.
McGloin has worked at the Vanderbilt Call Center, interned for Congressman Jim Cooper, and served as a field canvasser for Megan Barry's 2015 campaign for Nashville mayor.
The Luce Scholars Program provides stipends, language training and individualized professional placement in Asia for 15-18 Luce Scholars each year. Applications are welcome from college seniors, graduate students and young professionals who have limited exposure to Asia.
"The opportunity to spend a year working in Asia will give Phillip an unforgettable and invaluable career and life experience," said Kate Brooks, Evans Family Executive Director of the Career Center. "Phillip is a multitalented student who will represent Vanderbilt well in the Luce Scholars Program."
To learn more about the program, visit the Luce Scholars website. For more information about postgraduate fellowships, contact the Career Center.