Perry Eugene Wallace Jr., BE'70, a Vanderbilt Distinguished Alumnus who displayed extraordinary courage, determination and grace while facing resistance and violent threats as the first African American varsity basketball player in the Southeastern Conference, was remembered during a celebration of life service Feb. 19 at Benton Chapel.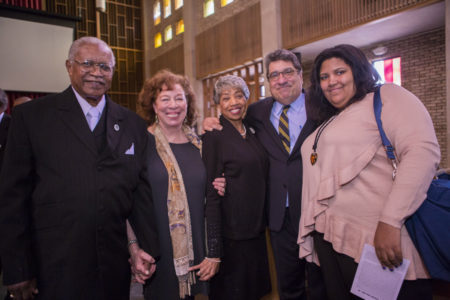 "Perry chose to believe in this university at a time when many would have urged him to go elsewhere," said Vanderbilt University Chancellor Nicholas S. Zeppos. "We cannot possibly imagine what it was like when that young man put himself into harm's way and played college basketball while excelling as a student at Vanderbilt during the 1960s. His place at the university was tested repeatedly."
The service for Wallace, who died Dec. 1, 2017, was held on what would have been his 70th birthday. Among those in attendance were his wife, Karen; their daughter, Gabrielle; and his sisters, Bessie Garrett, Jessie Jackson and Annie Sweet. Benton Chapel was filled with smiles, laughter and occasional tears as Wallace's family, members of the Vanderbilt community, and others whose lives he influenced shared memories of his remarkable life.
Melvin Black, Godfrey Dillard and Greg Sankey spoke about Wallace's accomplishments as a student and athlete. Wallace grew up in North Nashville and played basketball at Pearl High School, where he was a star player and valedictorian of his class. Pearl was Nashville's only black high school for half a decade and a source of academic and athletic pride for the city's black community. "You could tell he was driven by excellence," said Black, who was Wallace's assistant coach at Pearl. "He even shifted from being a student to a 'teacher' as he wanted everyone in the class to do well."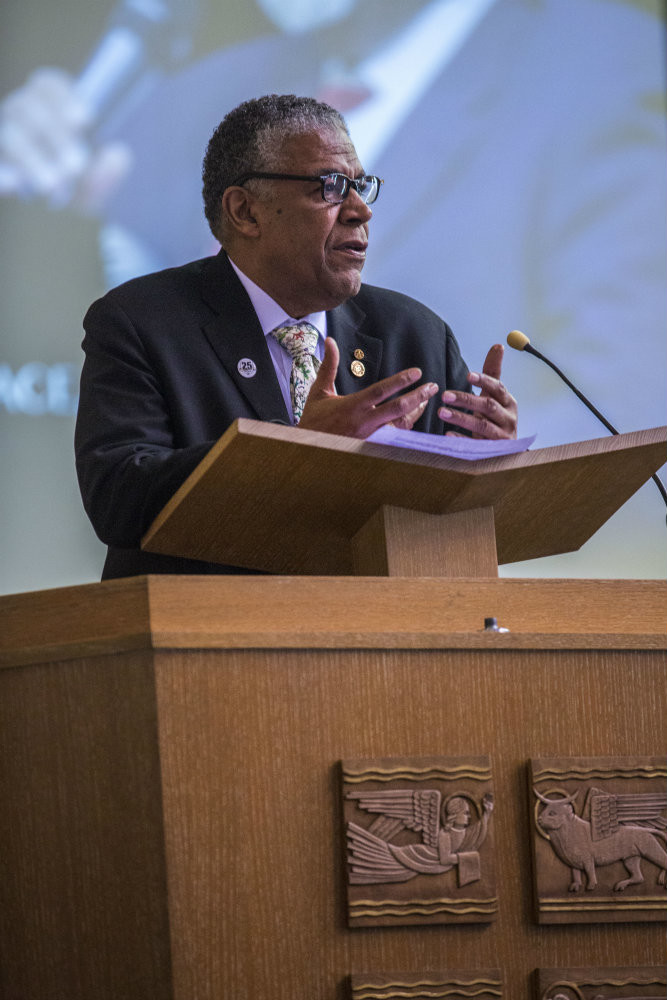 Dillard, '70, who played with Wallace on the Vanderbilt freshman basketball team, noted that Wallace possessed all three characteristics of a great teammate: talent, intelligence and friendship. "Over the years, many commentators have described Perry and I as opposites, but they are wrong," Dillard said. "We complimented each other. We were two examples—two voices—for change."
Sankey, commissioner of the SEC, observed that college basketball was far different when Wallace played at Vanderbilt. "Back then there was no 'one and done,' no shoe contracts, and the NBA draft was something very distant," Sankey said. "Those who endured the early moments of change serve as reminders of our mutual responsibility to support opportunities for today's young people, to make certain we foster their education."
Wallace's love of music, especially classical and jazz, was reflected in the service's opening selection, Carnival of Venice, performed on trumpet by Thomas Lubeck, a senior at the Blair School of Music, and in a classical piece performed at the midpoint of the service by Cornelia L. Heard, Valere Blair Potter Professor of Violin at the Blair School. Heard, accompanied by Professor of Piano Amy Dorfman, played "Allegro moderato" from Antonin Dvorak's Romantic Pieces, opus 75. Heard's father, Alexander Heard, was Vanderbilt's chancellor when Wallace was a student.
Andrew Maraniss, Vanessa Beasley, Sam Edwards and Candice Lee then joined Zeppos in making remarks regarding Perry's life and Vanderbilt legacy.
Maraniss, writer-in-residence and author of Strong Inside: Perry Wallace and the Collision of Race and Sports in the South (2014, Vanderbilt University Press), said that Wallace likely would have used the spotlight to turn the attention back on everyone else. "I think that Perry would have used this occasion to challenge and encourage the rest of us to move beyond the status quo and to work for change among people and institutions."
Beasley, dean of The Martha Rivers Ingram Commons community for Vanderbilt's first-year students, focused her remarks on Wallace's and Dillard's return to campus in September 2016.
"Mr. Wallace's story at Vanderbilt was never really finished until he returned with his teammate Godfrey Dillard to deliver the Lawson Lecture to our incoming students," Beasley said. "I can still hear those students—happy with anticipation for the evening—and I can still see that very long line of students waiting to meet him after the lecture. They were waiting patiently and purposely to have their personal encounter with Mr. Wallace, precisely because his story had moved them so."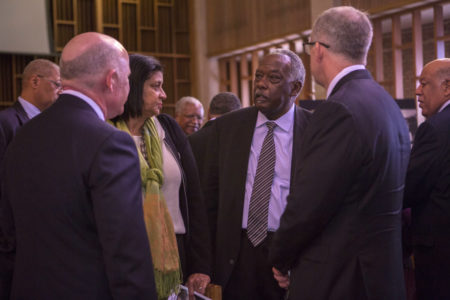 Beasley also shared Wallace's wish to meet with students in Vanderbilt's Next Steps program, a certificate program for students with intellectual disabilities. "Those students gathered in the living room of my house, where he told them that he admired their courage for coming to Vanderbilt," she said. "And in that moment, perhaps a circle was complete, demonstrating the artistry of his own courage and dedication."
Edwards, a Vanderbilt senior, gave thanks for Wallace's efforts to lay the foundation for future generations of Vanderbilt students, noting that today's young people are Wallace's "everlasting legacy."
Lee, deputy athletics director and associate vice chancellor for athletics, announced the establishment of the Perry E. Wallace Jr. Basketball Scholarship, which will provide support for student-athletes at Vanderbilt, rotating recipients between the women's and men's varsity basketball teams. Gail Carr Williams, associate director of community, neighborhood and government relations at Vanderbilt, and David Williams II, Vanderbilt's athletics director and vice chancellor for athletics and university affairs, made the inaugural charitable contributions for the scholarship, along with their children, Nicholas, Samantha, David III and Erika.
Zeppos thanked the Williamses for their generosity, and also expressed gratitude to Wallace's family for selecting Vanderbilt to host the service. "Perry walked the path so that others could follow in working to help our university fulfill the promises it has made, and to reach its full potential. Perry's story has become a critical part of Vanderbilt's story."
View the full celebration of life service honoring Perry Wallace >>