---
---
On the latest episode of The Zeppos Report, best-selling author and writer-in-residence Andrew Maraniss tells Chancellor Nicholas S. Zeppos that his journey to Vanderbilt started with a poster on the wall of a high school in Austin, Texas.
That is where he first learned about the Fred Russell–Grantland Rice scholarship—an award for Vanderbilt students interested in pursuing a career in sports journalism. He received the scholarship in 1988 and put his passion into action a year later when he first interviewed Perry Wallace, the first African American varsity athlete to play basketball in the Southeastern Conference, for a black history class.
"I remember sitting on the floor of my dormitory, scribbling in a notebook and feeling like the world was opening up to me as I talked to the most impressive person I had ever talked to before," Maraniss said.
Twenty-five years later, Maraniss made the final edits to his detailed account of Wallace's groundbreaking story. Strong Inside: Perry Wallace and the Collision of Race and Sports in the South (Vanderbilt University Press) was released in 2014. The book has now been featured as the Commons Reading for first-year students during the last two years.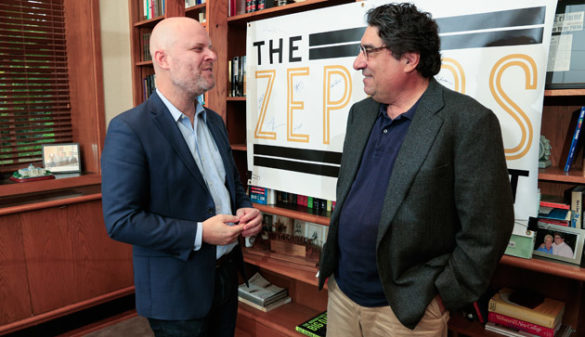 This year also marks the 50th anniversary of integration in the SEC. Wallace and his teammate, Godfrey Dillard, were the first African American players to step onto SEC basketball courts in hostile environments across the deep South. Maraniss considers this moment to be notable, but his conversations with Wallace have revealed something even more impressive about his story.
"The most courageous thing that Perry Wallace ever did wasn't stepping on the basketball court in Starkville or Oxford, it was telling the truth when he knew that people didn't want to hear it," Maraniss said.
In the podcast, Maraniss says that the journey that Wallace endured during his time at Vanderbilt opened the door for diversity to become a strong asset for the institution.
"It's the only way that we'll move forward," Zeppos said. "Vanderbilt is always going to look different. If it doesn't, then we won't survive."