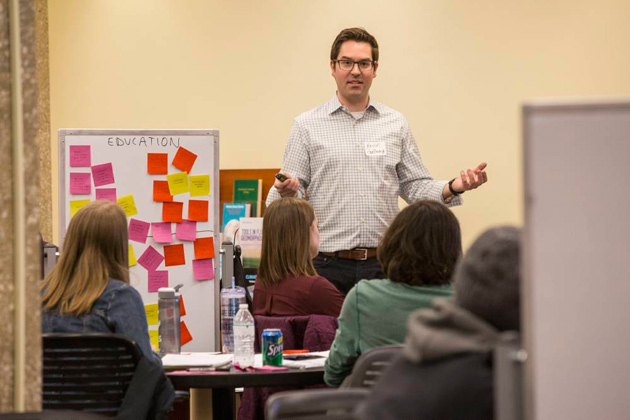 Developing a formal plan to bring more librarians' expertise into the undergraduate research experience was among the winning ideas in a student design competition to make the library's resources more accessible and meaningful for users.
The Wild Bunch Library Design Challenge was open to all Vanderbilt students and organized by the Jean and Alexander Heard Libraries, in conjunction with the Wild Bunch Fund, Design for America, the Wond'ry and DIVE (Design as an Immersive Vanderbilt Experience).
"We were astounded by all the thoughtful—and thought-provoking—ideas of participating students," said University Librarian Valerie Hotchkiss. "They have helped us move forward in our mission to make library resources central to the research needs of students and scholars."
Students across a variety of schools and disciplines came together Feb. 3 for a design-thinking boot camp and discussion led by Kevin Galloway, director of making, faculty director of DIVE and research assistant professor in the School of Engineering; and Karina Gupta, an engineering student active with Design for America.
Honora Eskridge, the new director of the Stevenson Science and Engineering Library, organized and hosted the event. She talked about the mission of the library and the challenges it faces. The students then formed seven teams, each of which had five days to refine its initial idea, consult with librarians and library users, and develop a pitch.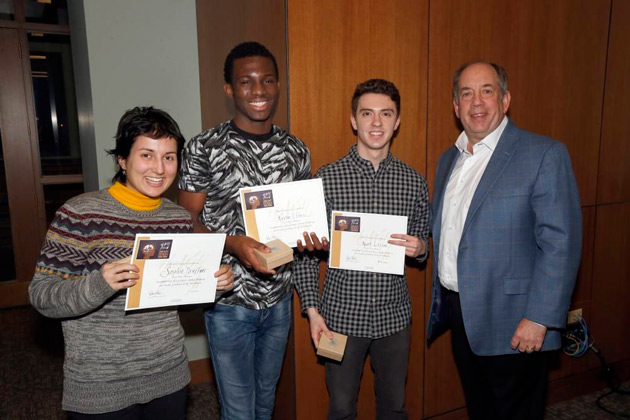 The presentations took place Feb. 8 in the Central Library's Community Room. The judges awarded first place to Sophie Druffner, Kevin Ifiore and Kurt Lezon for their presentation, "Leaders in the Quest for New Knowledge (LiNK)." They propose integrating librarians into the Vanderbilt Visions programming for all first-year students and staging additional pop-up libraries across campus during the semester.
They also recommend creating an email listserv that would send automatic messages from appropriate subject librarians to undergraduate students when they declare their majors. The goal would be to establish one-on-one research relationships between students and librarians to generate a plan of study and research.
Druffner has a double major in mathematics in the College of Arts and Science and violin performance in the Blair School of Music. Ifiore and Lezon, who are both in the School of Engineering, are majoring in chemical and electrical engineering, respectively.
"Our Library SLAYS" received second place in the competition. Samuel Bender, Rasul Dent, Caroline Janssen, Caleb Larmey and Samantha Rowland propose the creation of an app that brings together information about library resources, directions and hours all in one place. They also recommend having librarians participate in the Visions curriculum for first-year students. In addition, they would like to have "tea time" and other specific events geared toward increasing collaboration between students and librarians.
Bender has a double major in viola performance and computer science, while Dent has a double major in Spanish/Portuguese and scientific computing. Janssen and Rowland are both majoring in civil engineering, while Larmey has a double major in civil engineering and economics.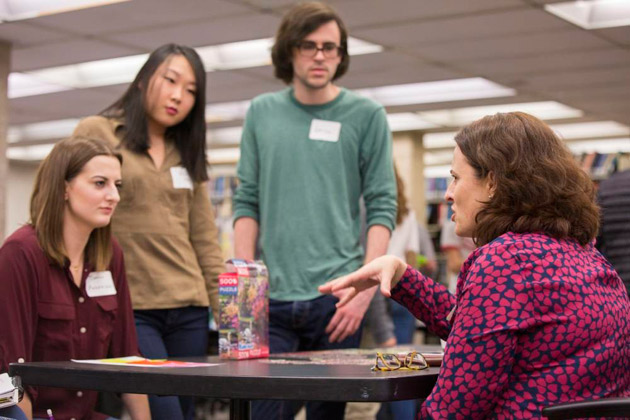 Braden Barnett, Skyler Froese, Alex Luckerman and Rachelle Vang were awarded third place for their presentation, "Interaction as Incentive in the Library." One of their recommendations is installation of LED navigators in the stacks to ease the search process for books. They also propose offering "mural breaks" when students could use chalkboard paint for their own enjoyment and creativity.
Barrett is a mechanical engineering major, while Froese and Luckerman are in the College of Arts and Science, with majors in history and cognitive studies, respectively. Vang is a first-year master's student in the Learning and Design program at Peabody College.
The first, second and third place winners were awarded cash prizes, a certificate and membership in the Wild Bunch, which co-sponsored the student design competition for the second year in a row. Representing the Wild Bunch and serving as a competition judge was David Blum, a member of the Class of 1977.
"We are a group of irreverent—but never irrelevant—Vanderbilt alumni of a certain age who support our alma mater by giving back to the libraries," Blum said. "Chancellor Alexander Heard, for whom the libraries are named, was a friend and mentor to all of us. We support this competition and other similar events because we want to keep the spirit of the Wild Bunch alive and encourage creativity and innovation in the next generation of Vanderbilt students."
The other judges were Carolyn Floyd, associate director of the Office of Immersion Resources at Vanderbilt; Hotchkiss; Keith Loiseau, university architect and director of architecture and construction; and Caitlin Moon, who earned both her undergraduate and law degrees from Vanderbilt. She teaches human-centered design in the Law School's Program on Law and Innovation.
This was the second annual student design competition hosted by Vanderbilt's libraries. The 2017 competition's theme was "Places and Spaces: Mapping Sciences."