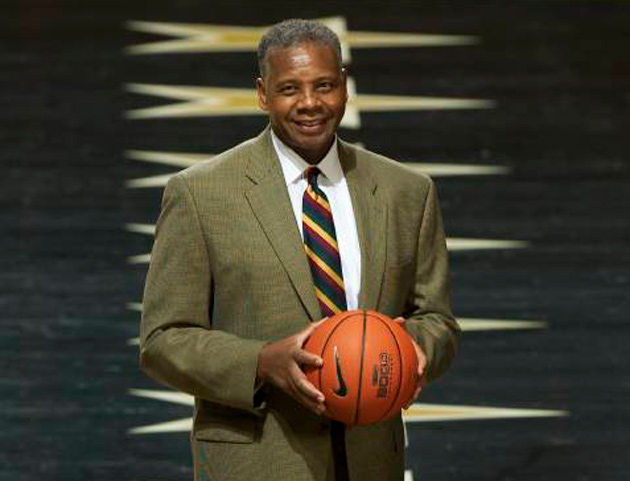 A celebration of the life of Perry Wallace is scheduled for 11 a.m. Feb. 19 at Benton Chapel on the Vanderbilt University campus. The event is open to the public.
Benton Chapel is located at 411 21st Ave. S. Doors will open at 10:30 a.m. Parking will be available in the Wesley Place Garage, located at the corner of 21st Ave. and Scarritt Place, and the Terrace Place Garage, located at 2010 Terrace Place. The service also will be streamed live at vu.edu/courage.
Wallace, the Vanderbilt University student-athlete who integrated Southeastern Conference varsity basketball and Vanderbilt University athletics, died Dec. 1 at the age of 69. Feb. 19 would have been his 70th birthday. He is survived by his wife, Karen, and their daughter, Gabrielle.
On Dec. 1-2, 2017, Wallace was honored by the Southeastern Conference with the prestigious Michael L. Slive Distinguished Service Award at the SEC Football Championship in Atlanta, along with Vanderbilt University teammate Godfrey Dillard and the four Kentucky football players who integrated SEC football. In addition, Wallace is the recipient of the Vanderbilt University Alumni Association's 2017 Distinguished Alumni Award.
Wallace's experience is the subject of Vanderbilt alumnus Andrew Maraniss' New York Times best-selling book Strong Inside, which has since been adapted into a young adult book of the same name. Strong Inside was selected as the Commons Reading for both the 2016-17 and 2017-18 academic years on The Martha Rivers Ingram Commons, Vanderbilt's first-year residential community.
The university is celebrating the 50th anniversary of the historic 1967 season this year with a series of events, including a documentary film, Triumph: The Untold Story of Perry Wallace, which premiered at the university's Langford Auditorium Dec. 4. Triumph, directed by Rich Gentile, was three years in the making and is narrated by Academy Award winner Forest Whitaker.
In lieu of flowers, the family asks that contributions be made to the Perry Wallace Memorial Trust in support of the Wallaces' daughter, Gabrielle. Contributions may be mailed to: The Perry Wallace Memorial Trust Fund, 43 Randolph Road, PMB #109, Silver Spring, MD 20904.
To learn more about Perry Wallace and his legacy of courage, visit vu.edu/courage.