'Triumph: The Untold Story of Perry Wallace at Vanderbilt' premieres in Nashville Dec. 4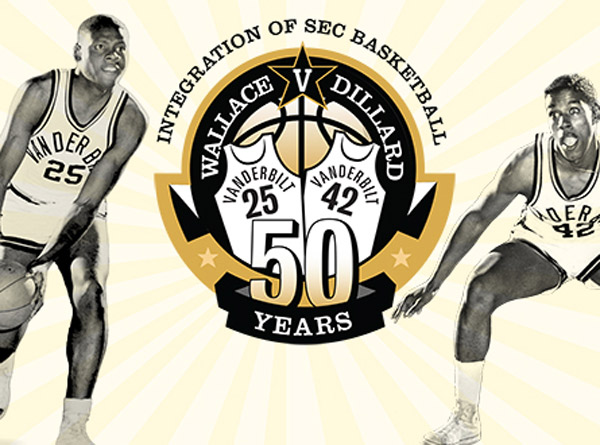 Vanderbilt welcomed its most diverse class in history this academic year – a year in which it will mark the 50th anniversary on Dec. 4 of a young African American man from North Nashville, Perry Wallace, breaking barriers at Memorial Gym and in the Southeastern Conference.
Vanderbilt is marking the 50th anniversary of that historic basketball season and honoring the legacies of the two players who integrated Vanderbilt Athletics, Wallace and Godfrey Dillard, with a series of activities and events this academic year.
As Vanderbilt today works to build a more inclusive and diverse campus community, we are revisiting the Vanderbilt of the past to teach lessons in courage, equity and inclusion, and in being resilient in the face of great obstacles.
"As Vanderbilt today works to build a more inclusive and diverse campus community, we are revisiting the Vanderbilt of the past to teach lessons in courage, equity and inclusion, and in being resilient in the face of great obstacles," Chancellor Nicholas S. Zeppos said.
"We are grateful for the opportunity to honor and recognize the legacy of Perry Wallace and Godfrey Dillard and that first community of African American students," Zeppos continued. "It was many years before their stories and this painful part of the university's history was acknowledged. However, it is imperative that we look critically at our past to become the Vanderbilt we aspire to be – one in which all can feel welcomed, supported and included as they pursue a world-class education."
The Vanderbilt events include a documentary film, Triumph: The Untold Story of Perry Wallace. Vanderbilt provided financial support for the film, which will premiere at an invitation-only event at the university's Langford Auditorium on Monday, Dec. 4. Triumph, directed by Rich Gentile, was three years in the making and is narrated by Academy Award winner Forest Whitaker. The film chronicles Wallace's journey as an academically and athletically talented 17-year-old who was a reluctant pioneer who blazed a trail through Jim Crow racism.
The SEC on Dec. 2 will present both Wallace and Dillard, and the four University of Kentucky players who integrated SEC football, with its prestigious Michael L. Slive Distinguished Service Award at the SEC Football Championship in Atlanta, Georgia.
"Perry Wallace's and Godfrey Dillard's stories continue to have relevance for Vanderbilt and for our country. There is a long tradition of sport as a form of protest – a way to break barriers that has impact beyond the court or the playing field. Certainly, Perry and Godfrey are a part of that tradition, one that continues today," David Williams, vice chancellor for athletics and university affairs and athletics director at Vanderbilt, said. "Perry and Godfrey forever changed Vanderbilt, the SEC and the nation. We are pleased their stories will receive wider recognition through the Triumph film."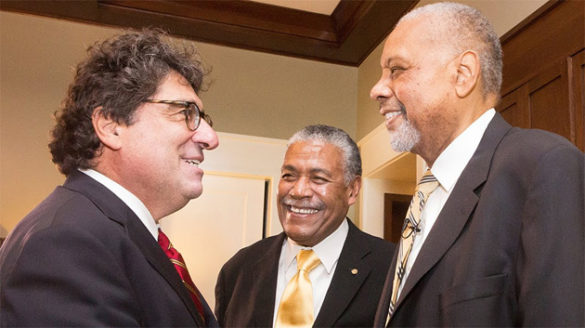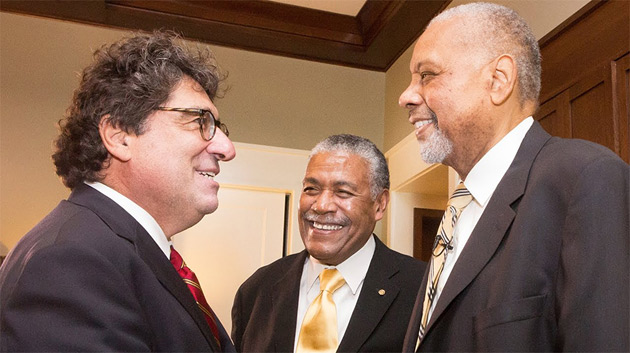 When Wallace arrived on Vanderbilt's campus in 1966, after being recruited by legendary basketball coach Roy Skinner with the support of then-Chancellor Alexander Heard, he was among the university's first African American students. His best friend and Pearl High School classmate Walter Murray and another newly recruited basketball teammate, Dillard, joined him at Vanderbilt that year.
Wallace and Murray had come from the nurturing environment of North Nashville's Pearl High School, the city's only black high school for half a decade and a source of academic and athletic pride for Nashville's black community, to experience mistreatment and isolation as the first black athletes at Vanderbilt. The experience left an indelible mark on those trailblazing students, Vanderbilt and the city.
As members of the freshman basketball team, Wallace and Dillard also faced abuse and hatred on the road from fans throughout the South. Despite these challenges, Wallace made history at Vanderbilt's Memorial Gym on Dec. 4, 1967, as the first African American athlete to play varsity basketball in the SEC.
It is widely believed that Dillard, who did not play in that historic game, did not make the varsity team because of his aggressive style of play and political activism on campus – he founded the Afro-American Student Association and was a vocal advocate for his fellow African American students. Dillard had been a leading scorer as a freshman and had recovered from a knee injury, but was told he would join what was then called the "B" team, which did not get playing time. Because of this, Dillard left Vanderbilt.
Dillard would go on to earn a bachelor's degree from Eastern Michigan University, a law degree from the University of Michigan and a master's degree in international affairs from George Washington University. He has led a distinguished career as an attorney. He worked for the Foreign Service during the Jimmy Carter and Ronald Reagan administrations and was lead attorney in the University of Michigan affirmative action case that was heard in the United States Supreme Court. Dillard has a license to practice law in Michigan, Georgia and Washington, D.C. He specializes in civil rights and international law.
After graduating from Vanderbilt, Wallace earned a law degree from Columbia University and worked in the Justice Department. In 1992, he was appointed to the Environmental Policy Advisory Council of the EPA. He was a professor at Howard University and the University of Baltimore before joining American University in 1993 as a law professor specializing in environmental law, corporate law and finance.
In addition to the film, Nashvillians may also notice special advertising, including on the city's iconic Nashville Sign on Broadway and at Nashville International Airport, to mark the anniversary and honor Wallace and Dillard. Fans at the Vanderbilt women's basketball game at Memorial Gym on Dec. 2 and the men's basketball game on Dec. 3 will receive free commemorative posters. The posters also will be shared with high school students at Pearl-Cohn Entertainment Magnet High School and Martin Luther King Jr. Magnet School, which is in the historic building in North Nashville that once housed the legendary Pearl High School. A new website, vu.edu/courage, chronicles Wallace's and Dillard's journeys.