Media Inquiries
Latest Stories
https://youtu.be/BXMxj1wCM8I
By Amy Wolf
A dozen Vanderbilt students went on a monthlong science adventure of a lifetime, studying super-eruptions, glaciers and earthquakes. It was a hands-on research trip across one of the most volcanically rich countries in the world, New Zealand.
The undergrads became the research assistants to Guilherme Gualda, associate professor of earth and environmental sciences, and Dan Morgan, senior lecturer in earth and environmental sciences and associate dean of the College of Arts and Science.
"Most of the students on the research trip are not science majors, so this is the one month in their lives in which they're going to be scientists," Gualda said.
What is super-massive?
New Zealand is a prime location for Gualda's specialty—super-massive volcanic eruptions.
"A super-eruption would be an eruption that ejects more than 450 cubic kilometers of magma onto the earth's surface," Gualda said. "To compare, Mount St. Helens erupted approximately one cubic kilometer of magma."
Gualda said the most recent super-eruption scientists know of took place in New Zealand around 25,000 years ago.
Gualda's current research in New Zealand focuses on a series of seven very large eruptions—each one between 50 and 100 cubic kilometers—that took place over 70,000 years. They are trying to understand why there were several large eruptions, in place of one super-massive eruption.
Proof of volcanic activity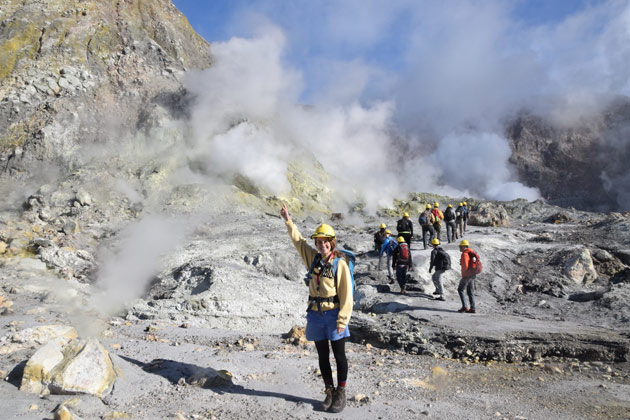 One of the most active volcanic regions students visited was White Island, where magma is just a few kilometers under the surface. Students could see clear proof of volcanic activity.
"There are things like geysers, bubbling water and all sorts of water-related steam features that indicate this is still very much a volcanically active region," Gualda said.
One of the key research jobs for the students was carefully digging and retrieving pumice, a rock that forms when volcanoes explode. Gualda jokingly says he and the students are the "CSI of rocks" because the pumice holds forensic clues to figure out what happened when these volcanoes erupted.
"One of the great things about teaching this field course is that we can show how by reading the geological record you can understand the changes in the dynamic nature of the system," Gualda said.
Maymester memories
Gualda is already planning his next Maymester trip, this time to Brazil.
"What is really satisfying about these Maymesters is the opportunity to have an impact on people that wouldn't have it otherwise," Gualda said. "These students leave to be lawyers, doctors, musicians—you name it. But they have a different appreciation for the earth and the way the earth works and what scientists do. The impact of that is inmeasurable."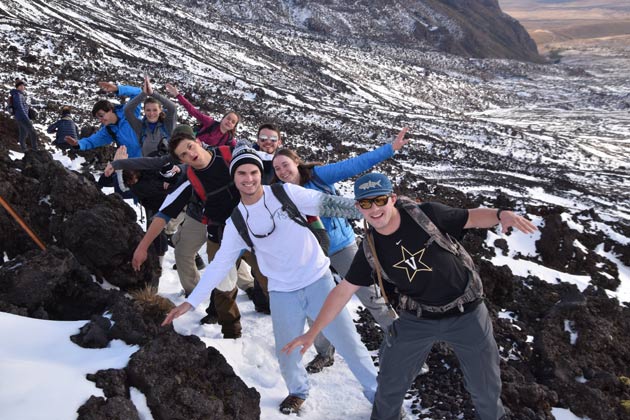 The students said they brought back memories for a lifetime. Here are some of their final thoughts from a blog of the New Zealand trip.
"A textbook can't capture the smell of sulfur from an active volcano on White Island, the sight (and taste) of glaciers in the shadow of the Southern Alps, or the feeling of standing in a fault left by an earthquake. Aside from being just amazingly beautiful, this trip was an extremely inspiring experience—it was incredible to piece together the fascinating history encoded by this breathtaking place." — Liam
"Before this trip, I never would have imagined how much geology is interwoven into our lives. It's given me a new appreciation for our Earth and how powerful it is." — Maddy
You can read more of the Maymester blog here.
Learn about more Maymester trips here.
Read more on Gualda's volcanic research: