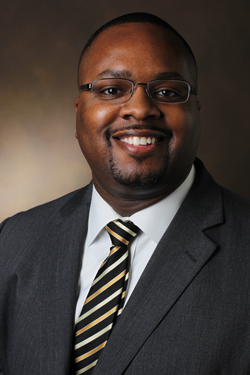 Derek M. Griffith has been selected for the American Association of Health Behavior Fellows Class of 2017. Griffith, who is an associate professor of Medicine, Health, and Society and founder and director of the Center for Research on Men's Health at Vanderbilt, is being recognized for his significant contributions in the field of health behavior research.
Griffith is the second African American man to earn fellow status within the association, the most prestigious membership group among the multidisciplinary organization of health behavior researchers. "I am thrilled; this honor is a testament to the hard work that my colleagues and I put into our research," Griffith said. He primarily focuses on promoting African American men's health and wellbeing and identifying and advancing approaches to achieve health equity.
The Center for Research on Men's Health is one of the first university-wide centers in the United States that focuses on men's health. It has a three-pronged mission of improving men's health, reducing unjust differences in health among men, and improving the health of African American men and other men around the globe.
One of his current studies—funded by the American Cancer Society—is the first randomized trial of an individually tailored weight-loss intervention for African American men. Another study the Center for Research on Men's Health is conducting is focused on integrating precision medicine and individualizing health communications in a weight-loss study for African American and Latino men. It is funded by the National Institute on Minority Health and Health Disparities.
Griffith will be among the fellows being recognized at the association's 2018 Annual Scientific Meeting in Portland, Oregon, March 4-7. The meeting's theme is "An Equity Approach to Health Behavior Innovations."