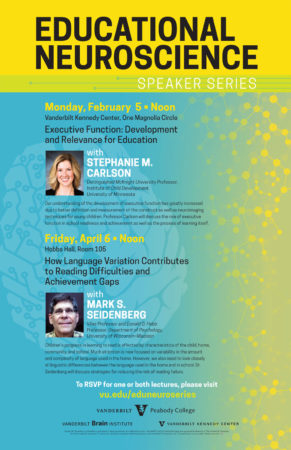 The University of Minnesota's Stephanie M. Carlson will deliver the talk "Executive Function: Development and Relevance for Education" as part of the Educational Neuroscience Speaker Series.
The event takes place Feb. 5 at noon at One Magnolia Circle, room 241. It is hosted by James R. Booth, Patricia and Rodes Hart Professor at Peabody College of education and human development.
Carlson will discuss the development of executive function and the measurement of the construct using neuroimaging techniques with young children.
The event is free and open to the public. RSVP is encouraged as seating is limited. Click on the poster image (right) to enlarge.