Media Inquiries
Latest Stories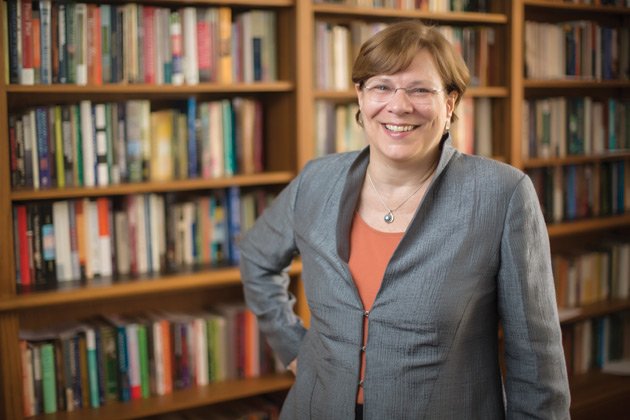 Lauren Benton will step down as dean of Vanderbilt University's College of Arts and Science effective Dec. 31.
"I am grateful to Laurie for her leadership and service to the College of Arts and Science. During her tenure, she brought many important changes and new initiatives to the college, all the while remaining a very active scholar," Provost and Vice Chancellor for Academic Affairs Susan R. Wente said. "While I am disappointed to lose her services as dean, I am delighted she will continue making important academic contributions to the Vanderbilt community."
Benton, who holds the Nelson O. Tyrone Jr. Chair in History and has a secondary appointment in the Law School, will be on sabbatical in 2018 to focus on her research. She will return to teaching in the spring semester of 2019.
"I'm deeply grateful to the exceptional faculty, staff and students in the College of Arts and Science with whom I've had the opportunity to work since joining Vanderbilt. Together we accomplished a great deal in the past few years, and I look forward to continued and future collaboration and partnerships," Benton said.
Wente will announce the appointment of an interim dean and the members of the search committee Jan. 8. A national search will be conducted for Benton's replacement.
Benton joined Vanderbilt on July 1, 2015. Under her leadership, the college was awarded several significant gifts and grants.
Benton also led a successful, $1.5 million proposal to the Andrew W. Mellon Foundation to establish the Center for Digital Humanities. This exciting initiative is designed to further Vanderbilt's commitment to becoming a national hub of innovative digital humanities scholarship.
Benton established a new administrative structure in Arts and Science, the university's largest school, to facilitate academic planning in departments and programs. The divisional deans—David Wright, dean of sciences; Kamal Saggi, dean of social sciences; and Bonnie Dow, dean of humanities—work closely with the dean, with chairs and directors, and with André Christie-Mizell, senior associate dean for undergraduate education, and Keivan Stassun, senior associate dean for graduate education and research.
Benton is an internationally recognized scholar in comparative and world history whose research focuses on law in European empires, the history of international law, and Atlantic world history. She was recently elected president of the American Society for Legal History.
Her most recent book (with Lisa Ford), Rage for Order: The British Empire and the Origins of International Law, 1800–1850, was published by Harvard University Press in 2016. Other books include A Search for Sovereignty: Law and Geography in European Empires, 1400–1900, and Law and Colonial Cultures: Legal Regimes in World History, 1400–1900, which was awarded the J. Willard Hurst Prize and the World History Association Book Prize. Benton has co-edited three books, including Protection and Empire: A Global History, which was published by Cambridge University Press in 2017, and Legal Pluralism and Empires, 1500–1850.
Before coming to Vanderbilt, Benton was professor of history at New York University from 2003 to 2015, where she also served as dean for the humanities and dean of the Graduate School.