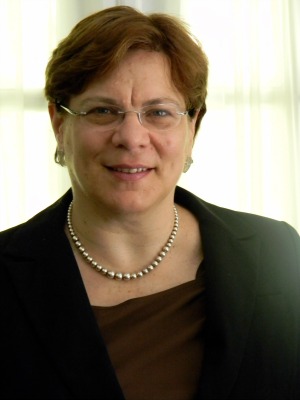 Lauren A. Benton, a prolific scholar and experienced academic leader whose work spans history, law and anthropology, has been named the next dean of the College of Arts and Science at Vanderbilt University, effective July 1.
Benton is Silver Professor of History and affiliate professor of law at New York University, where she currently serves as dean of the Graduate School of Arts and Science.
"Laurie exemplifies excellence as an intellectual leader," Chancellor Nicholas S. Zeppos said. "During her time at NYU, she has focused on strengthening the faculty through hiring and retention, addressing systemic issues and strengthening connections across the university. I am confident she will be an outstanding dean for Vanderbilt's College of Arts and Science and will further advance our efforts to promote interdisciplinary collaboration."
Benton will be appointed to a five-year term as dean and hold an endowed chair as a tenured faculty member, according to Susan Wente, provost and vice chancellor for academic affairs, pending approval of the Vanderbilt University Board of Trust.
"I'm thrilled to have the opportunity to lead Vanderbilt's College of Arts and Science," Benton said. "It will be a pleasure to work with the superb faculty and students to enhance research and deepen intellectual ties across disciplines and schools at Vanderbilt."
Benton's selection was the result of a national search led by Vice Provost for Academic and Strategic Affairs John Geer and a search committee comprising a Board of Trust member, a dean, numerous faculty members, alumni, a graduate student and an undergraduate student.
"Laurie understands that faculty are the foundation of any department or institution. She has a proven track record of working with them to build stronger programs that serve faculty, undergraduates and graduate students better," Wente said. "Her work as an academic leader is grounded in her deep appreciation of how a university can and must advance excellence, and her understanding of how to impact scholarship at the national and international levels. I am so delighted to welcome her to Vanderbilt."
The daughter of a faculty member and dean at Johns Hopkins University, Benton grew up surrounded by scholars and teachers. After earning her undergraduate degree in economics at Harvard University in 1978, Benton pursued doctoral studies at Johns Hopkins, where she became Hopkins' first recipient of a joint Ph.D. in anthropology and history.
Following appointments at the Massachusetts Institute of Technology, the University of Washington, and Rutgers University, Benton was recruited to NYU in 2003 as professor of history. She subsequently served in key administrative leadership positions including chair of the history department, dean for humanities and dean of the graduate school.
Benton is a distinguished and highly influential scholar in international legal history. Her publications feature works on the history of the Atlantic world and the legal history of empires. Benton has written dozens of articles and is the author or coeditor of five books, including A Search for Sovereignty: Law and Geography in European Empires, 1400-1900. Her book Law and Colonial Cultures: Legal Regimes in World History, 1400-1900 was awarded the J. Willard Hurst Prize and the World History Association Book Prize.
"I'm excited to be coming to a university with such a strong commitment to innovative academic programs spanning schools," Benton said. "My own scholarship is highly interdisciplinary, and I have worked consistently to reduce institutional barriers to collaborative research and teaching."
Benton has received numerous grants and fellowships, including a multi-year, $5.5 million grant to found the NYU Humanities Research Fellowship Program in Abu Dhabi and fellowships from the Fulbright Foundation and the Social Science Research Council. In addition to working as a consultant to various organizations, Benton has served on the editorial boards of leading legal history journals and as a member of the Board of Directors of the American Society for Legal History.
Benton will move to Nashville with her husband, Eduardo Garcia, a Spanish language interpreter who was born and raised in Montevideo, Uruguay. The couple has two children, Victoria Garcia, a graduate of Wesleyan University, and Gabriela Garcia, a senior at NYU.
John Sloop will continue to serve as interim dean until June 30. Sloop, who is a professor of communication studies and has also served as senior associate dean for faculty in Arts and Science, was appointed interim dean by Zeppos in May 2014 after former dean Carolyn Dever assumed the role of provost at Dartmouth College.
"I am deeply grateful to John for his exemplary service to the students, faculty and staff of the College of Arts and Science over the past year," Wente said. "His dedicated leadership ensured the college has moved forward and improved during this transition and is much appreciated by me and by his colleagues."  Sloop and Benton will work together to forge a seamless transition for the college leadership.