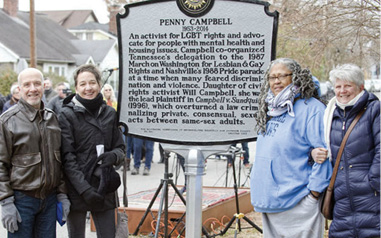 Community leaders, family and friends of the late Penny Campbell, a Vanderbilt graduate, came together to pay tribute to a pioneer in the fight for LGBT rights when a Nashville historical marker was dedicated in Campbell's memory Dec. 8.
The marker, which has been placed outside of her former home, is believed to be the first in the state of Tennessee to honor an activist in the LGBT struggle. It received unanimous approval by the Metro Historical Commission in August.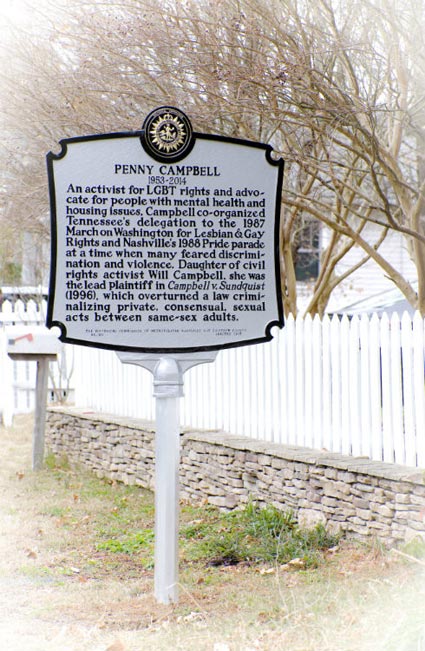 Campbell, who earned two degrees from Vanderbilt—a bachelor of science from Peabody College in 1977 and a master of divinity in 1989—was the lead plaintiff in the 1996 Tennessee Supreme Court case Campbell v. Sundquist, which overturned the state's "homosexual acts" law.
"Penny was very principled and committed to issues of social justice, but was also realistic about the challenges of carrying out that work," said Ellen Armour, who was among the speakers at the celebration. Armour, who holds the E. Rhodes and Leona B. Carpenter Chair of Religion, Gender and Sexuality, knew Campbell when they were both Vanderbilt graduate students during the late 1980s. Armour is also director of the Carpenter Program in Religion, Gender and Sexuality.
"Penny and I were part of an interracial group striving to move the Divinity School forward on concerns raised by African American students about diversity on campus," Armour said. "She understood that it was the nature of human institutions to change slowly on issues like justice and equality, but she was ready for the challenge. As a student, Penny seemed very wise and mature beyond her years."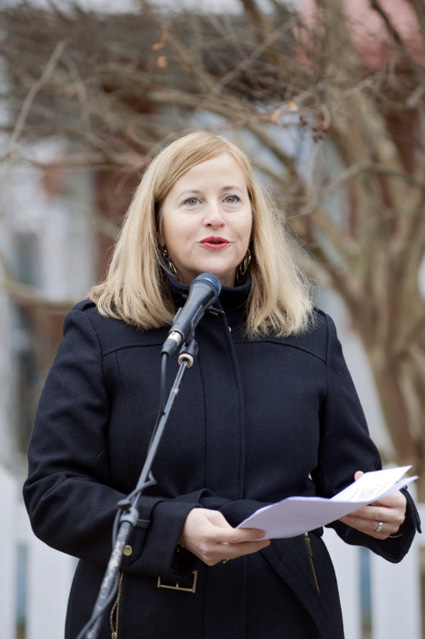 Campbell organized Tennessee's contingent to the second National March on Washington for Lesbian and Gay Rights in 1987 as well as the first gay pride parades in Nashville. When the Presidential Commission on the HIV Epidemic met on Vanderbilt's campus in 1988, Campbell carried a picket sign to protest what she and others viewed as the commission's ineffectiveness.
"Penny was the daughter of civil rights activist Will D. Campbell, so we saw this as an extension of Nashville's involvement in the civil rights movement," said Tim Walker, director of the Metro Historical Commission.
For many years, Campbell served as director of residential services at Park Center, working as an advocate for individuals needing mental health services and affordable housing.
The Penny Campbell historical marker was sponsored by Pippa Holloway, Abby Rubenfeld, Bonnie Campbell and Webb Campbell. It's located at 1615 McEwen Ave. in East Nashville.