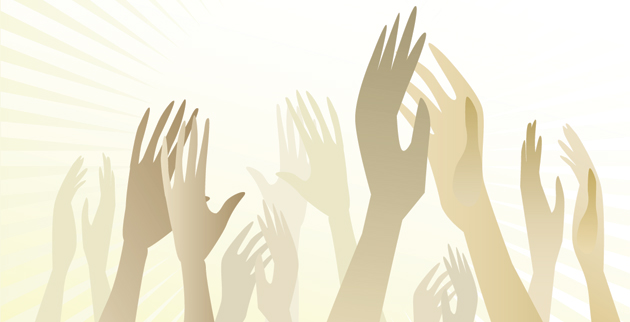 The College of Arts and Science recently honored several staff members with Staff Excellence Awards. Sandra Bohn, assistant to the chair of the Department of English, received the Staff Excellence Award for Humanities; Christen Harper, of the Department of History, received the Staff Excellence Award for Social Science; Peggy McGowan, administrative assistant in the Department of Physics and Astronomy, received the Staff Excellence Award for Science; and Lilliana Rodriguez, administrative assistant in the Department of Spanish and Portuguese, received the college-wide Staff Excellence Award for the College of Arts and Science.
Baratunde "Bara" Cola, BE'02, MS'04, has received the National Science Foundation's 2017 Alan T. Waterman Award, which recognizes outstanding researchers under 35. The award includes a $1 million, five-year research grant. Cola, an associate professor at Georgia Tech's George W. Woodruff School of Mechanical Engineering, directs the NEST Research Group at the university. He works in the field of nanotechnology, pioneering a method of using carbon nanotubes as antennas to capture light, potentially delivering a more efficient method for delivering solar energy.
Xiu Cravens, associate professor of the practice of educational policy, and David Laird, assistant professor of the practice of education, have been named Bold Fellows by the Vanderbilt Center for Teaching. The Bold Fellowship is a new initiative to develop learning projects and provide funding to doctoral students to design and develop online learning experiences. Cravens will work with a Peabody Ph.D. student and Laird will work with an on-campus Ed.D. student to engage them in projects with their Peabody Online classes.
James Fraser, associate professor of human and organizational development, has been named to the Transit and Affordability Taskforce by Nashville Mayor Megan Barry. The taskforce will offer policy, project and programmatic recommendations to help Nashville's decision-makers ensure that planned high-capacity transit corridors are safe, affordable and inclusive for everyone.
Edward Friedman, Gertrude Conaway Vanderbilt Professor of Spanish, and Kirsten Mendoza, a Ph.D. candidate in English, have been awarded a grant from the Newberry Library in Chicago to conduct a one-day workshop for graduate students on "Don Quixote and Its Contexts" during the 2018-19 academic year. Friedman and Mendoza "workshopped" their program at Vanderbilt on Oct. 21 in an event titled "Don Quixote in a Day," which drew 20 participants. Cory Duclos, Ph.D.'13, who is now at Colgate University, was the invited speaker at the Vanderbilt workshop.
John Warren, lecturer in art, recently completed the second of three films made possible in part by the Tennessee Arts Commission's Individual Artist Fellowship. This latest film/video piece, titled Future Tense, debuted at the Seed Space gallery in October and November.