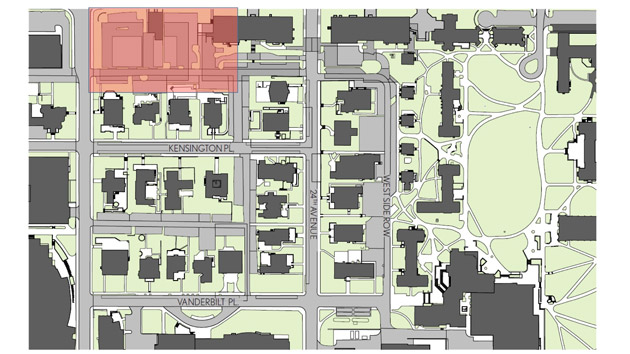 Planned construction and utilities work in the West End neighborhood is set to begin Dec. 18 and will result in the closures of several parking lots throughout the area.
The construction, announced earlier this fall, will bury overhead utilities in preparation for new residential colleges and a beautification effort along the West End corridor of Vanderbilt's campus.
The project is part of FutureVU, the university's comprehensive land use planning initiative.
The construction will start along West End Avenue near Carmichael Towers 3 and 4 and also will include the alley between 25th Avenue and those towers, resulting in the closure of lots 69, 69A and 70 around the Tarpley Building. Vehicles parked in student lots 22, 38 and along Kensington Avenue also must relocate to accommodate the restructuring of these parking areas during winter break. All permit holders with vehicles parked in these areas will be required to relocate to another lot that corresponds to their parking permit by Dec. 18.
Vanderbilt Parking Services has made five floors of the 25th Avenue Garage available to F permit holders to accommodate this closure. A new Vandy Vans stop will be installed at the garage in January to support the increased student traffic in the area.
Students who hold F permits will be eligible for a full refund if they return their permit to Parking Services by Dec. 21 and leave their vehicle at home for the remainder of the academic year.
Contact Vanderbilt Parking Services at (615) 322-2554 for more details about this parking adjustment and reimbursement requests.