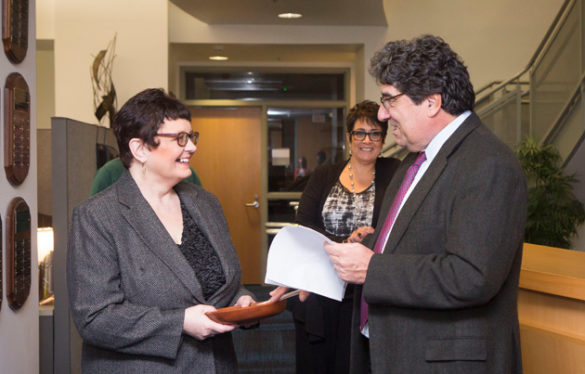 Carol Wiley, grant manager for the Department of Biological Sciences and a 17-year veteran of the university, is the latest recipient of the Chancellor's Heart and Soul Staff Appreciation Award.
Wiley was surprised by Chancellor Nicholas S. Zeppos with the award presentation at her office in MRB III Nov. 8. He came bearing a $1,500 cash prize and a handcrafted wood bowl created by artist Brenda Stein.
"Every day we come to work, and we hopefully take great joy in the many things that happen on this campus," Zeppos said. "But I think it's appropriate to recognize people who really go above and beyond.
"[rquote]They have heart, they have soul, and they show love and dedication, and Carol is one of those people,"[/rquote] he said. "I am here to award you the Heart and Soul Award, given to staff who go beyond the limits of any reasonable expectation, and to say thank you for all the amazing things you are doing."
Staff are nominated for the Chancellor's Heart and Soul Award by their supervisors, managers and colleagues. Nominations focus on a specific instance when a staff member did more than what was assigned or expected and for carrying the spirit and mission of Vanderbilt in all they do.
Douglas McMahon, Stevenson Chair in Biological Sciences and chair of the department, described on Wiley's nomination form an instance when she went above and beyond expectations to fulfill the duties of her job. When severe ice storms were predicted to hit Middle Tennessee a couple of years ago, making travel to and from Wiley's neighborhood treacherous, she volunteered to spend the night on a cot in her office to ensure she would be on campus the next day to meet a crucial grant deadline.
"This may seem like an unusual example, but in fact it is entirely typical of Carol Wiley," McMahon wrote. "On a regular basis she puts in long hours, often into the evenings, in the service of all of us in Biological Sciences and to all of us in the Vanderbilt community."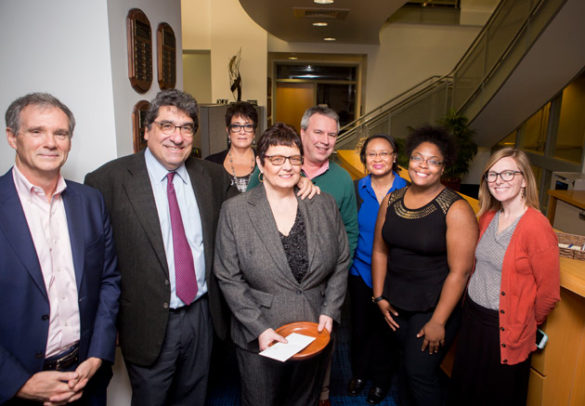 McMahon noted that Wiley is the sole pre-award grant manager for Biological Sciences, which garners more than $10 million per year in grant funding. "To work with her is to understand the true meaning of diligence, competence and dedication," he said.
Zeppos created the Chancellor's Heart and Soul Award out of a desire to find new and creative ways to show staff that their efforts are valued and appreciated. The award, presented by the chancellor during visits with staff in their workplaces or in group settings, recognizes efforts that demonstrate the spirit and mission that distinguish the Vanderbilt community.
A total of 32 nominations for the award were received during the summer for the 2017-18 academic year, and a total of five recipients were selected as winners. Zeppos awarded the first Chancellor's Heart and Soul Award to VU Public Safety's Marty Wright on Sept. 6, and the Facilities Department's Joey Knight and Jeff Bratton were recognized Nov. 1. Zeppos will present the remaining awards during upcoming visits planned throughout the semester.
For more information about the Chancellor's Heart and Soul Awards, contact Gwen Hopkins.