Media Inquiries
Latest Stories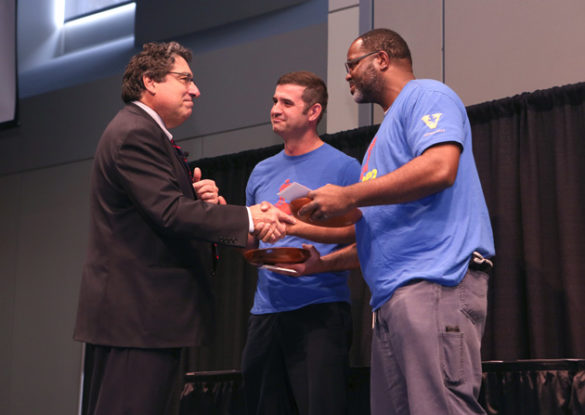 Two staff members from the Division of Administration's Facilities department are the latest recipients of the Chancellor's Heart and Soul Staff Appreciation Award.
Joey Knight, a journeyman electrician at Vanderbilt for the last seven years, and Jeff Bratton, a power distribution specialist for 30 years, were recognized by Chancellor Nicholas S. Zeppos during Facilities' town hall meeting Nov. 1 at the Student Life Center.
"Whether it's a major event such as Commencement, or a night of overnight storms and bad weather, the folks in Plant Operations and Facilities are the most dedicated and energetic people on campus," Zeppos told the assembled staff. "You are on site, behind the scenes, no matter what. You are the ones that make the campus the way we want it to be—not just in the care and expertise and attention you bring to your work, but in the ways that you interact, in the ways that you support others, and in the ways that you care for so many people on this campus."
Zeppos said the Heart and Soul Awards were born out of a desire to find new and creative ways to show staff that their efforts are valued and appreciated. "They are a way for me to acknowledge the special ways, the special moments, the special instances in which staff step forward to make Vanderbilt better," he said. The awards, presented by Zeppos during visits with staff in their workplaces or in group settings, recognize efforts that demonstrate the spirit and mission that distinguish the Vanderbilt community.
Inspired by the chancellor's vision to promote diversity and inclusion at Vanderbilt, Knight and Bratton came up with the idea of Facilities Field Day. Their vision was for Facilities' approximately 440 employees—who occupy diverse roles such as administrators, grounds crews, custodians, tradesmen, engineers and more—to gather for a fun event featuring team activities. The inaugural Facilities Field Day was held July 21 at the Vanderbilt Recreation and Wellness Center. The day's activities were structured so that staff could interact outside of their typical work silos. The event was a success, with some 230 staff members participating.
"[rquote]Joey and Jeff's idea was to provide a setting for the 400-plus disparate staff members—this wonderful community in Facilities—to engage in deeper, more sustainable interactions with each other,"[/rquote] Zeppos said. "I think their event theme said it all: 'Put diversity into action – no labels, just people.'
"Because of their commitment to the values of community, because of this extraordinary extra step to build those stronger bonds to realize the beautiful diversity we have on our campus and how that diversity enriches us, I'm honored to present the Chancellor's Heart and Soul Award to Joey Knight and Jeff Bratton," he said.
Staff are nominated for Chancellor's Heart and Soul Awards by their supervisors, managers and colleagues. Nominations focus on a specific instance when staff members did more than what was assigned or expected and for carrying the spirit and mission of Vanderbilt in all they do. Knight and Bratton each received a $1,500 cash prize and a handcrafted wood bowl created by artist Brenda Stein.
A total of 32 nominations for the award were received this summer for the 2017-18 academic year, and a total of five recipients were selected as winners. Zeppos awarded the first Heart and Soul Award to VU Public Safety's Marty Wright on Sept. 6. The chancellor will present the remaining awards during upcoming visits planned throughout the year.
For more information about the Heart and Soul Awards, contact Gwen Hopkins.